More than a few investors have exited Chipotle Mexican Grill, Inc. (NYSE:CMG) in recent days. I can't say I'm thrilled about the latest price wars in CMG stock, but I can still use the options market to put together a high-profit trade idea.
Chipotle's shares are off by about 4% since I last wrote about the fresh fast food chain (in early May). No one said it would be easy for CMG to return to its former glory, though.
Investors can chalk up the recent weakness to persistent enough campaigns of Chipotle being a permanently tarnished brand, talk of perpetually weaker margins and in-tow worry that CMG stock is overpriced. None of that is helped by those darned expensive, but yummy and healthy avocados.
But is the short crowd — now at about 17% of the float — right in thinking Chipotle has seen its best days? Probably not, at least according to a recent note from Mizuho Securities.
I can't help but agree with their optimism.
From where I'm standing, it might be easy to discount my digs in Portland, Oregon, as being progressive and not reflective of other restaurant markets. But it's also true that the healthy activity I'm seeing is without the "buy one, get one free" discounts that bears regurgitate as gospel, claiming they're the only reason customers still bother to visit Chipotle at all.
Additionally, I don't mind pointing out that history is generally very agreeable to ignoring CMG stock naysayers. It's not a stretch to think that these same bears had similar concerns when past scandals in other competing chains — like McDonald's Corporation (NYSE:MCD), Jack In the Box Inc (NASDAQ:JACK) or maybeYum Brands, Inc. (NYSE:YUM) — surfaced.
Don't let them tell you this time is different. It's not.
But these kinds of shakeouts do take time. Even then, bullish repricing doesn't come in a linear nature. So while I'm optimistic that CMG stock will eventually make new highs, for now, let's focus on the value disguised as diseased fat.
Chipotle's Chart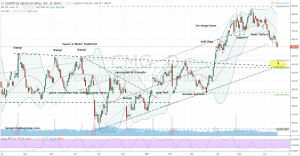 Click to Enlarge When I last discussed Chipotle, the technical expectation was bullish. The anticipation was that a smaller, first-stage weekly base would continue to hold support and resolve itself with a clean breakout above $500.
That was on May 8. As is apparent on the provided daily chart, CMG stock failed to comply.
Over the past few sessions, conditions have become increasingly grave for shorter-term traders as shares broke below a fairly decent-looking hammer candlestick. More important in our view is the $425-$430 area — a critical support area for the current uptrend, and one that remains intact.
From the notations on the provided daily chart, this price zone holds a couple key merging trend lines, as well as the 50% retracement level. Because Chipotle shares could also retreat into this area while still establishing a new higher low pivot within the uptrend, my technical focus lays there.