U.S. equities finished sharply lower on Thursday, pushing the Russell 2000 small-cap index below its 200-day moving average for the first time since June 2016. It's the combination of the release of rather hawkish Federal Reserve meeting minutes on Wednesday (talking up the need for tighter monetary conditions despite low inflation) and the political blowback from Trump's stance on "both sides" being to blame in the wake of last week's violence in Charlottesville that has investors worried.
Specifically, there were some reports that top White House economic adviser — seen as a moderate to populist firebrand Steve Bannon — could be on the verge of stepping down. Also weighing on sentiment was the deadly terror attack in Spain.
In the end, the Dow Jones Industrial Average lost 1.3%, the S&P 500 lost 1.5%, the Nasdaq Composite lost 1.9% and the Russell 2000 lost 1.8%. Treasury bonds were stronger on a safe-haven bid, the dollar was mixed, gold gained 0.7% and oil gained 1%.
Breadth was heavily negative, no surprise, with decliners outpacing advancers 4.8 to 1 on the NYSE with volume at 94% of the 30-day average. REITs led the way with a 0.7% gain while technology — a recent area of strength — was the laggard down 2%.
One of the few bright spots was Alibaba Group Holding Ltd (NYSE:BABA), up 2.8%, after reporting better-than-expected earnings and revenues. Wal-Mart Stores Inc (NYSE:WMT) fell 1.6% after reporting a top- and bottom-line beat on weak guidance.
On a technical basis, the selloff is threatening a break down and out of an epic four-month consolidation range for most stocks. This would end the historic post-election uptrend. And it could set the stage for the first major selloff in the market in more than a year.
Conclusion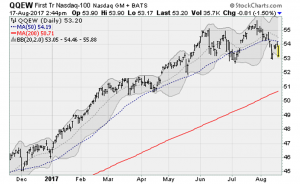 Click to Enlarge One of the most worrisome dynamics of this uptrend has been the narrowness of it. Measures of market breadth have tightened notably in recent weeks, resulting in a large cluster of "Hindenburg Omen" signals on the major averages not seen since the last bull market was peaking.
This was best seen in the way investors focused intensely on the "FAANGs" stocks — a small group of big-tech stocks that carried the major averages higher on account of their large market capitalization. In the last few days, even this has narrowed to a focus on Apple Inc. (NASDAQ:AAPL).
As a result, as the regular market-cap weighted Nasdaq hit new highs the equal-weight QQEW floundered in the middle of a four-month trading range. A break of support near $53 could set up a decline down to the 200-day moving average.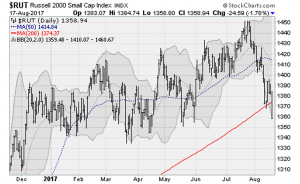 Click to Enlarge The Russell 2000 didn't want around, however, and has sliced through its 200-day average to put the entire post-election uptrend at risk.
The sudden reappearance of market volatility has been a boon to the CBOE Volatility Index, pushing the iPath S&P 500 VIX Short-Term (NYSEARCA:VXX) recommended to Edge subscribers to a gain of nearly 16%.
Check out Serge Berger's Trade of the Day for Aug. 18.
Today's Trading Landscape
To see a list of the companies reporting earnings today, click here.
For a list of this week's economic reports due out, click here.
Tell us what you think about this article! Drop us an email at editor@investorplace.com, chat with us on Twitter at @InvestorPlace or comment on the post on Facebook. Read more about our comments policy here.
Anthony Mirhaydari is founder of the Edge (ETFs) and Edge Pro (Options) investment advisory newsletters. Free two- and four-week trial offers have been extended to InvestorPlace readers.