The analyst community appears to be getting a little nervous as we're seeing a little pick-up in the number of downgrades over the last few weeks. It appears that some of the analysts are following the "buy low/sell high" rule, but are they?
Today's three big stock charts look at the technical pictures of Nike Inc (NYSE:NKE), Sprint Corp (NYSE:S) and Cree, Inc. (NASDAQ:CREE). All three of these companies were downgraded this morning, but should you be selling based on the news? We'll let the charts answer that.
Nike Inc (NKE)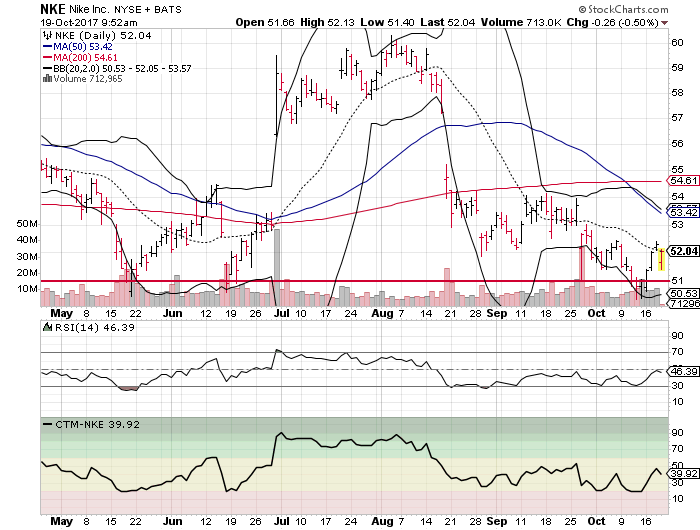 For more than a year, Nike and other active wear companies have been lagging the market as consumers are finding their shoes and apparel in other brands. This morning, Goldman Sachs downgraded the shares from a buy to a hold, but the chart says you shouldn't be holding this stock — you should away.
The downgrade of NKE shares comes after the stock has been trading in a long-term bear market for more than three months when the stock broke below its 20-month moving average again in August.
Despite the strength that Nike stock saw in the summer, the technicals just signaled a "Death Cross" as the stock's 50-day moving average crossed below the 200-day moving average. The last time this happened was May 2016 when the stock was setting a course from $60 to $50.
The $51-price-point has been a chart support level being defended by the technical traders. This morning, NKE stock is seeing support at this price but a break lower will accelerate the selling pressure.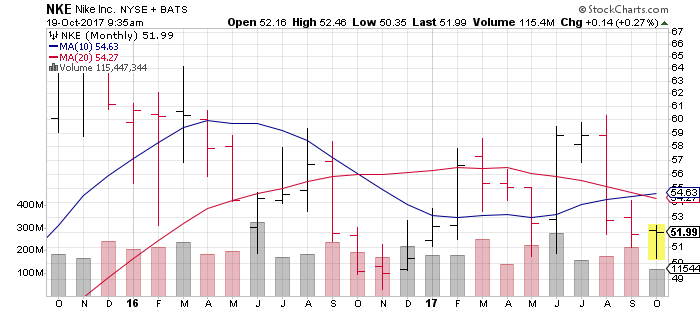 Sprint Corp (S)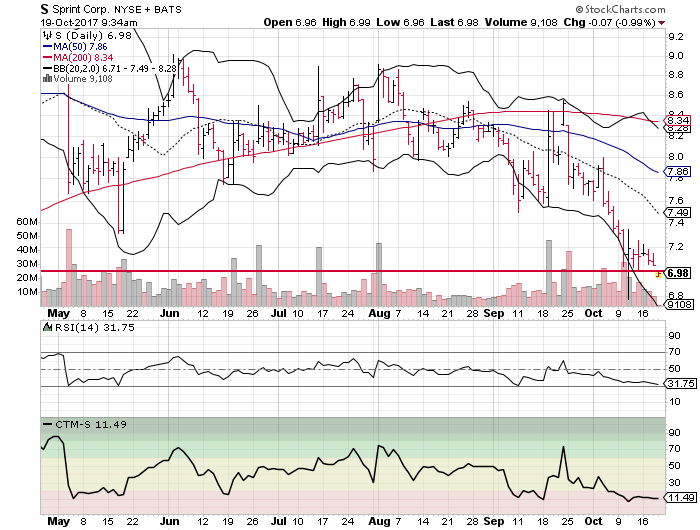 Verizon Communications Inc. (NYSE:VZ) came out with better than expected earnings this morning and the other cell phone providers are weak on the news.
Sprint shares got a downgrade this morning as the news hit the wire, but the charts told you that this stock was a sell a few months ago if you were watching.
S stock's 50-day moving average transitioned into a bearish pattern in the beginning of September after the stock spent more than three months consolidating. This put Sprint stock in intermediate-term bearish mode.
S stock has been trying to consolidate above the round numbered support provided by $7. This morning, the stock is opening below this price, indicating that we're likely to see technical traders increase their selling.
In moving below $7, Sprint shares slipped into a long-term bear market trend as the stock is now trading below its 20-month moving average. Expect to see S trade to $6 before finding significant support.