If you invested in Alphabet Inc (NASDAQ:GOOG, NASDAQ:GOOGL), even as late early spring of this year, you're loving life. Currently, the GOOG stock price is just a few bucks shy of $1,000, bringing its year-to-date haul to over 25%. To put that into context, the benchmark Nasdaq Composite index is up 22%.
Granted, GOOGL stock isn't the sexiest of the so-called FANGs; in fact, it's the worst of the bunch. Amazon.com, Inc. (NASDAQ:AMZN) is up 32% YTD, whereas high-flyers Facebook Inc (NASDAQ:FB) and Netflix, Inc. (NASDAQ:NFLX) are averaging 54.5%. In addition, Alphabet's market capitalization is $682 billion. This figure dwarfs the others, but how much higher can a stalwart grow?
For now, slaphappy investors may find the point irrelevant. The trailing five-year period has mostly been a positive experience, with a few hiccups down the road. But as with anything, we shouldn't ignore some of the signs that the GOOG stock price is signaling.
The last three months have been fairly pedestrian for Alphabet. Ordinarily, such near-term noise wouldn't stick out. But with the exception of Amazon, both Facebook and Netflix shares are driving considerably higher. By comparison, the Google stock price looks weighed down.
Underneath the hood, InvestorPlace contributor Dana Blankenhorn explains that profit margins have been worryingly declining. Even worse, "Analysts are expecting a turnaround for the third quarter, due to be released Oct. 26, but the whispers of $8.30 per share in net income are below the consensus estimate of $8.40."
Additionally, our own Vince Martin argues persuasively that management made, and is continuing to make, questionable decisions. These poor strategies may actually be the company's admission that its core businesses are under threat.
If so, such challenges could spell a swift reversal of fortune for GOOGL stock.
Encouraging Signs in the GOOGL Stock Price Despite the Noise
Long-term, I'm bullish on Alphabet. Still, I can read a chart objectively. And admittedly, I'm frustrated with the Google stock price. As Blankenhorn noted in his article, we're on Google's third attempt at breaking past $1,000. Each failure emboldens the bears, making it more likely that shares will fail yet again.
Adding to my frustration is the fact that GOOGL stock is charting a series of lower highs. In other words, each attempt at $1,000 is subsequently failing at lower price points.
At the first crack of the whip, shares briefly poked its head above the mark for a few sessions before suffering a sudden collapse around the middle of June. The next attempt occurred towards the end of July. The GOOGL stock price crossed above $1,000 on an intra-day basis only, and occurred just once.
On the current attempt, GOOGL stock breached four-digits, but only by pennies. Such a slim margin is not enough to convince investors riding the fence. Needless to say, shares closed underneath the psychological target at $992.31 on October 9.
But before we convince ourselves to short Alphabet shares, we have to consider the other side of the coin. Over the longer-term picture, the GOOG stock price is more encouraging than an initial glance may suggest.
During much of the trailing five-year period, Alphabet shares exhibit a "stepwise" pattern.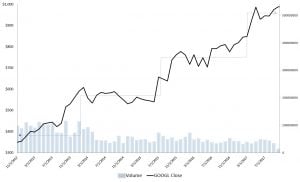 That is, GOOGL stock enjoys a substantial burst, followed by a lengthy consolidation period. After the consolidation is over, shares again shoot upward, repeating the cycle.
I believe this stepwise chart pattern is significant because it's usually exhibited in secular investments like Home Depot Inc (NYSE:HD). If you pull up a five-year chart of HD and compare it to GOOG stock, they look awfully similar.
GOOGL Stock Is Now a Secular Play
Consequently, Home Depot is a company where you time your ideal entry and exit points; you don't outright short it. Like I said, HD is a secular investment. No matter what how robust or terrible the economy is, home repairs and maintenance are unavoidable.
Essentially, the GOOGL stock price reflects the concept that Alphabet has transitioned from a cyclical to a secular investment. Back when search-engine wars were actually a thing, Google was an exciting growth prospect. Today, it's the undisputed leader with 90% market share. The company also owns YouTube, which is the second-most popular site on the entire internet.
If you think about it, it's practically impossible for Alphabet to get any bigger. This is all about maintaining dominance, not achieving. Hence, the Google stock price meanders as the markets absorb this reality. But this isn't a bad thing — you just have to recognize the company for what it is.
I also wouldn't get too hung up on management's curious business acquisitions. Being so dominant gives you the luxury of taking multiple, inconsequential shots. Considering that they have achieved all that can be achieved in their core markets, Alphabet has no choice but to be acquisitive towards new ventures.
I think the bigger question to ask is, what would life be like without Google? For most of us, that's an unimaginable hypothetical. This confirms that GOOG stock is a secular powerhouse, and one that shouldn't be doubted for too long.
As of this writing, Josh Enomoto did not hold a position in any of the aforementioned securities.