I bought Ford Motor Company (NYSE:F) years ago, back when it was about $9 per share. Despite several years of (mostly) good business, F stock price failed to move. Lacking patience, I chose to part ways in 2013, fully expecting that after several years of "meh," Ford would surely rip.
I was wrong, and I'm glad I bailed.
We have covered Ford in the past, saying there was no great reason to buy the automaker. Instead actually, we went with General Motors Company (NYSE:GM). GM stock is up 25% so far this year while F stock price is flat.
That was then, but this is now. So should investors now go with Ford over GM?
Choosing Between Automakers
Despite GM stock rallying 23% to F stock's 0% rally, GM still sports a trailing price-to-earnings (P/E) ratio of 7.4, roughly in-line with Ford. I still expect General Motors to earn $6.25 to $6.50 in full-year earnings per share. The company previously guided for $6.00 to $6.50 and analysts currently expect $6.12. The analysts' estimate assumes 0% year-over-year earnings growth and actually a 4% drop in 2018.
If GM is able to eke out a slight earnings gain this year and achieve just flat growth in 2018 — something I believe is a real possibility — shares could be headed to the $45 to $50 range.
Ford's outlook isn't as good. Earnings are forecast to fall about 1% this year and more than 12% next year. On the plus side, a strong fourth-quarter may let management's guidance for 2018 come in better than analysts currently expect.
Still, if I'm putting money on a horse, it's GM.
Trading F Stock Price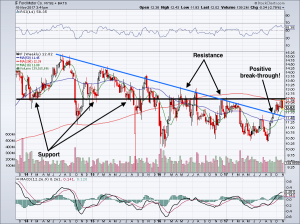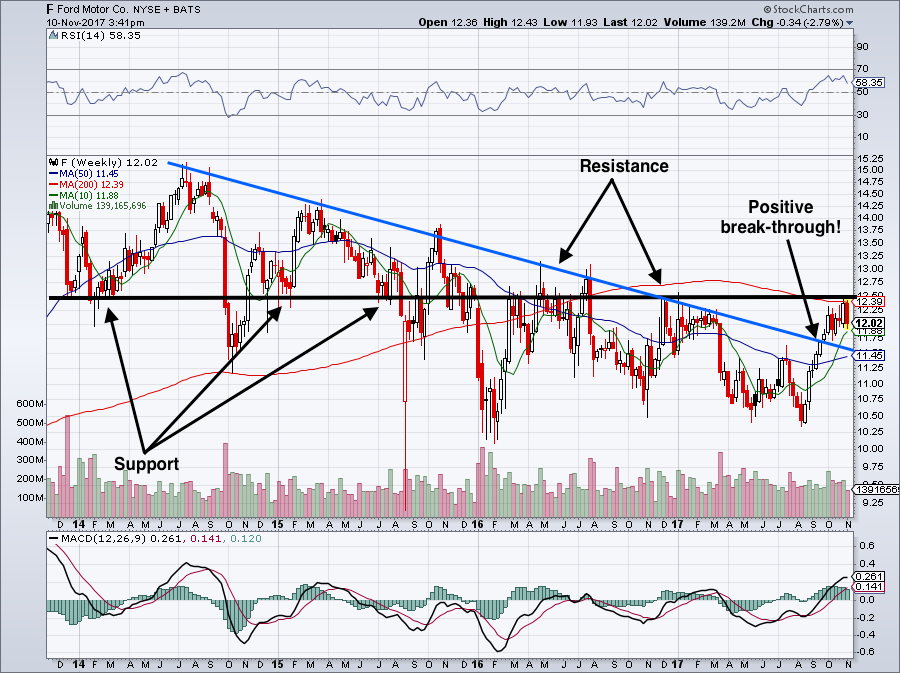 Click to Enlarge
Despite strong earnings and cash flow, U.S. automakers have a volume problem: there's a ceiling in place. There's no significant upside in total auto sales and the market knows it. So essentially it comes down to a question of how much are investors willing to pay for a 5% yield? That answer is about 6 to 8 times earnings.
That won't change without higher margins, a larger addressable market (like China, perhaps), or an increase in total U.S. sales volume. A buyback — like in GM's case — may help, as that earnings figure climbs higher.