I bought Ford Motor Company (NYSE:F) years ago, back when it was about $9 per share. Despite several years of (mostly) good business, F stock price failed to move. Lacking patience, I chose to part ways in 2013, fully expecting that after several years of "meh," Ford would surely rip.
I was wrong, and I'm glad I bailed.
We have covered Ford in the past, saying there was no great reason to buy the automaker. Instead actually, we went with General Motors Company (NYSE:GM). GM stock is up 25% so far this year while F stock price is flat.
That was then, but this is now. So should investors now go with Ford over GM?
Choosing Between Automakers
Despite GM stock rallying 23% to F stock's 0% rally, GM still sports a trailing price-to-earnings (P/E) ratio of 7.4, roughly in-line with Ford. I still expect General Motors to earn $6.25 to $6.50 in full-year earnings per share. The company previously guided for $6.00 to $6.50 and analysts currently expect $6.12. The analysts' estimate assumes 0% year-over-year earnings growth and actually a 4% drop in 2018.
If GM is able to eke out a slight earnings gain this year and achieve just flat growth in 2018 — something I believe is a real possibility — shares could be headed to the $45 to $50 range.
Ford's outlook isn't as good. Earnings are forecast to fall about 1% this year and more than 12% next year. On the plus side, a strong fourth-quarter may let management's guidance for 2018 come in better than analysts currently expect.
Still, if I'm putting money on a horse, it's GM.
Trading F Stock Price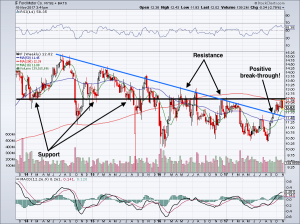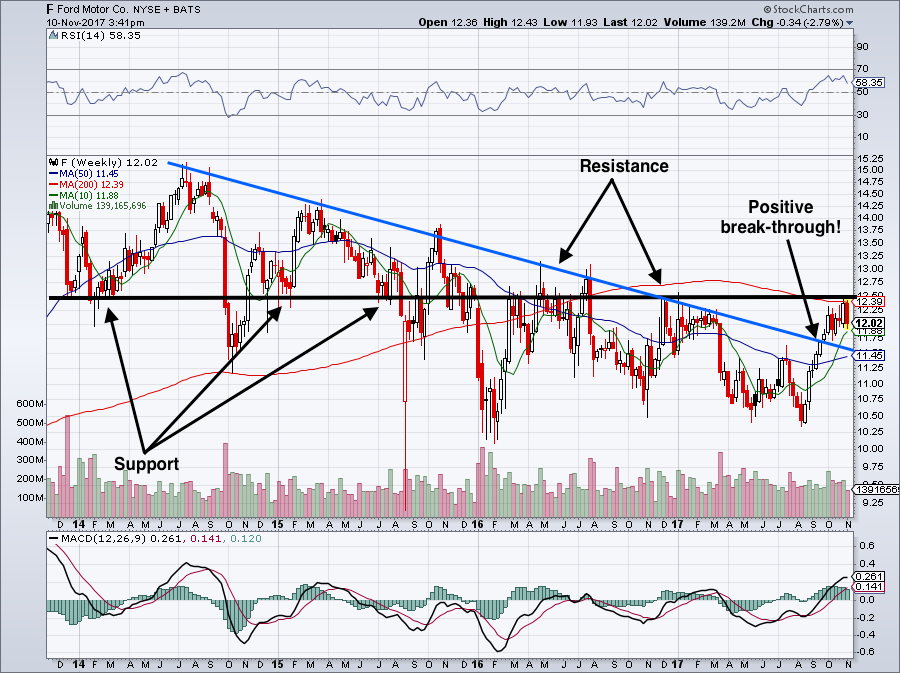 Click to Enlarge
Despite strong earnings and cash flow, U.S. automakers have a volume problem: there's a ceiling in place. There's no significant upside in total auto sales and the market knows it. So essentially it comes down to a question of how much are investors willing to pay for a 5% yield? That answer is about 6 to 8 times earnings.
That won't change without higher margins, a larger addressable market (like China, perhaps), or an increase in total U.S. sales volume. A buyback — like in GM's case — may help, as that earnings figure climbs higher.
We're using a four-year weekly chart. The $12.50 region was previous support and it's now serving as resistance. Should I have been more bullish near $10.50? Yes, absolutely. Now though, I would either wait for a pullback to the backside of its previous trend-line resistance (blue line) near $11.50. A break below its previous trend-line resistance would be a sign to get out. Investors can also buy on a breakout over $12.50 and a stop-loss below that level, say $12. That way bulls have some cushion if F stock price spins its wheel out of the gate.
The Bottom Line on F Stock
I believe Ford will beat earnings expectations for the fourth quarter and revenue could come in ahead of expectations as well. The world has not ended the way many thought it would under President Trump and the economy continues to hum along. That's all great news for Ford and should be for F stock, too.More hiring in labor-intensive jobs require more F-series pickup trucks. A better economy equals more car sales. The operating environment is solid, but there is the issue of "peak auto."
Maybe it should be "plateau auto," but either way, investors worry that the automakers will not be able to increase volume. This is a capital intensive business and margins are razor thin. When times are good, the automakers are rolling in dough. When times are bad, they struggle. It's that simple. They're classic cyclical stocks.
That said, Ford has done pretty darn well over the past five years and will probably do pretty well over the next three to five. But the long-term earnings outlook isn't good, as it shows essentially flat growth through 2020. That leaves a big question mark for F stock.
So while business is going very well and Ford is making the right moves to get into autonomous driving and the sorts, I think it lags its peers like GM and Tesla Inc (NASDAQ:TSLA). With F stock, I see the same thing I've looked at since 2013: a classic value trap. It looks cheap, has a huge dividend and is highly profitable. All of that is very good (and true), but the market isn't buying it. Let's see if that changes going forward.
Bret Kenwell is the manager and author of Future Blue Chips and is on Twitter @BretKenwell. As of this writing, Bret Kenwell did not hold a position in any of the aforementioned securities.