2017 had felt like a struggle for Nike Inc (NYSE:NKE), even though shares mostly just treaded water before the recent rally. But for Under Armour Inc (NYSE:UAA, NYSE:UA), it's been a whole lot worse. The UA stock price has been under serious pressure, down 54% so far in 2017. Can UA stock rally like Nike has, or are we still too early?
When it comes to situations like this, I really prefer to go with the best-in-breed approach, which to me is Nike. Brands come and go with momentum, but the one consistent winner has been Nike.
Most recently, adidas AG (ADR) (OTCMKTS:ADDYY) has been the one nipping at Nike's heels. Before that, UA had been gaining momentum with its Curry shoe. But in the end, Nike held its ground, and that's unlikely to change going forward. Nike's dividend growth doesn't hurt either.
So What Do We Do About Under Armour?
Athletic retail is not a zero-sum game; meaning, Under Armour isn't necessarily a loser just because Nike is the winner. Under Armour can excel too, although there's no doubt UA has been a disappointment lately.
Last quarter, revenue fell almost 5%, and management cut guidance. That doesn't work for a high-valuation company like Under Armour. Full-year earnings expectations are now roughly half of what analysts were expecting before the report (18 to 20 cents per share vs. a 37-cent per share consensus).
Bulls previously made the case that Under Armour — not unlike Amazon.com, Inc. (NASDAQ:AMZN) — is sacrificing profits in lieu of taking market share and growing sales. When revenue was growing 25% or more per year, this argument was valid. However, 2.3% sales growth this year doesn't cut it. Honestly, even the expectation for 10.8% growth in 2018 (assuming this estimate isn't too high) seems too low.
Worse, earnings are only forecasted to grow to 31 cents per share in 2018. While this would represent 63% earnings growth from 2017, remember that a month ago, the 2017 estimate stood at 37 cents per share before management cut guidance.
UA stock still trades at roughly 40 times 2018 earnings estimates, with marginal sale growth this year. This is not a business model that I want to be a part of, nor is the valuation attractive. On the plus side, 2018 is shaping up to be a better year than 2017, and that could help the stock.
Trading UA Stock
Just because UA stock may not make for a compelling investment at the moment, doesn't mean the stock isn't worth a look. Surprisingly, the UA stock price is actually appearing somewhat bullish. We can see that at $12.12, shares are down massively just from the summer highs.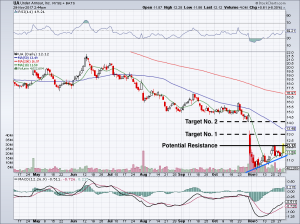 Click to Enlarge
That said, it's also up impressively from its 52-week low of $10.36. We can see that the UA stock price is steadily trending up, making a series of higher highs and lower lows in the short term. However, we're now at a make-or-break level.
The UA stock price desperately needs to push through this $12.15 area to put the top of its gap-down level of $13.25 in sight.
If it can fill the gap, it will represent a rally to about $14 to $14.50. Both of these targets are marked on the chart. Should current levels act as resistance, UA's price will pull back to its trend-line support in blue.
If that level fails, UA stock will be in big trouble. For traders, look to buy on a close above potential resistance. A stop-loss below trend-line support can then be used.
The Bottom Line on UA Stock
From an investment perspective, UA stock still has a ways to go. Management needs to relay to investors that it has a plan to grow revenue, expand margins and either generate positive free cash flow or inflate its bottom line. It cannot sacrifice product quality, either.
If management can do that, a true turnaround can take place. While it's down and out, a takeover cannot be ruled out.
Some have made the case that Amazon should acquire UA. Perhaps a tie-up with Lululemon Athletica inc. (NASDAQ:LULU) would make sense. Given the success of Gap Inc (NYSE:GPS) with Athleta, one could make a case for a larger non-athletic retailer acquiring UA, too.
I wouldn't play UA stock with an acquisition in mind, but it's something to think about. With a low in place, UA stock has set up for a reasonable trade on the long side. From an investment perspective, we need more catalysts before getting long. Until then, we're sticking with Nike, and here's why.
Bret Kenwell is the manager and author of Future Blue Chips and is on Twitter @BretKenwell. As of this writing, Bret Kenwell held a long position in NKE.