Shares of T-Mobile Us Inc (NASDAQ:TMUS) have been surging as of late. Although T-Mobile stock is down from $63 to $60 over the past few sessions, it's still about 10% above its mid-November lows. But I think more upside can be had.
What is the catalyst for TMUS stock? The holidays.
Verizon Communications Inc. (NYSE:VZ) made a big mistake this year, in my opinion. While every significant competitor in the carrier space was offering buy one, get one (BOGO) offers on the new iPhone, Verizon stuck with Android devices.
Admittedly, Android does make up a solid portion of the market share. While this move will likely protect Verizon's bottom line, it will come at a cost. Given the sheer iPhone volume that Apple Inc. (NASDAQ:AAPL) is shipping, it's clear there is very strong demand. With that bevy of buyers stepping up to the plate, what better time to load up on a new device than with a BOGO offer?
AT&T Inc. (NYSE:T) offered a BOGO iPhone deal, as did Sprint Corp (NYSE:S) and TMUS. That's why I think these three likely added a bunch of subs during the fourth quarter. Verizon on the other hand, did not and therefore, its sub count growth should be uninspiring.
While Verizon has a stronger business and balance sheet than T-Mobile, I think the latter won the holidays in this head-to-head matchup. Not offering an iPhone deal was a mistake for Verizon, in my view.
TMUS vs. AT&T and Sprint
That moves the battle onward. While Sprint will definitely add subs because of its low-cost family plans, I think it really comes down to T-Mobile vs. AT&T. AT&T offers HBO with their unlimited plans, while T-Mobile offers Netflix, Inc. (NASDAQ:NFLX), along with a suite of other perks. I'm not a salesman, so we won't get into those.
But in a nutshell, these two were offering very similar plans for similar pricing. Why do I like TMUS? It's upfront pricing, including taxes and fees, along with its perks. What you see is what you pay, and I like that. I think a lot of others do too and that should drive growth.
Have you ever gone into an AT&T store? It's like working with a car salesman trying to hit their numbers that month. I don't like it, but hey, the company still does pretty good business. T-Mobile reminds me of Netflix, with more and more people starting to drift toward Netflix (T-Mobile) and away from big cable (VZ, T). It's pricing is reasonable and clear-cut, and consumers don't feel like they're being swindled.
Will that lead to T-Mobile winning the holidays? If it doesn't win, it will be close and that should be good for T-Mobile stock. AT&T and Verizon are considered network leaders, but TMUS is working hard to change that. By continually improving their network speed and coverage area, its growing popularity shouldn't surprise investors.
Trading T-Mobile Stock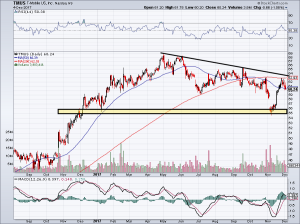 Click to EnlargeTMUS stock does not have the prettiest chart.
T-Mobile stock has spent most of 2017 between $60 and $65, with short bouts near $69 and $55, respectively. On the plus side, support continues to hold up in the mid-$50s. On the downside, TMUS stock has a pretty notable downward trend-line keeping shares under pressure.
Can T-Mobile stock break through? Of course, but it will need solid holiday and quarterly numbers to propel it higher. It will be important to see that support level hold as well. If $55 gives way, investors need to be cautious. Analysts have an average price target of about $71 on TMUS stock. Should it get there, that implies about 18% upside from current levels.
Compared to its peers, T-Mobile stock is expensive, trading with a forward price-to-earnings ratio of 22.2. VZ stock and T stock trade at 13.4 and 12.7 times forward earnings, respectively.
In that scope though, TMUS is forecast to grow earnings 44% this year and another 11.5% in 2018. Expectations for VZ and T call for negative earnings growth this year and sub-3% growth in 2018. Sales expectations are similar for the two giants, with even lower growth forecasts for 2018.
If you want a low valuation and a big yield — VZ and T pay out 4.5% and 5.25%, respectively — then they're your best bet. If you want profitable growth in telecom, it's got to be T-Mobile stock. Of course, investors can use a basket approach as well.
Bret Kenwell is the manager and author of Future Blue Chips and is on Twitter @BretKenwell. As of this writing, Bret Kenwell did not hold a position in any of the aforementioned securities.