What was the reason Bristol-Myers Squibb Co (NYSE:BMY) sold off Monday? Was it based on the company's earnings report or did BMY stock take a fall thanks to the overall market?
After all, the SPDR S&P 500 ETF Trust (NYSEARCA:SPY), SPDR Dow Jones Industrial Average ETF (NYSEARCA:DIA) and PowerShares QQQ Trust, Series 1 (ETF) (NASDAQ:QQQ) fell 4.2%, 4.6% and 3.95%, respectively. That certainly didn't help BMY stock.
The question now is, are the fundamentals good enough to justify a long position after BMY fell 4% Monday?
I don't know that they are.
Fourth-quarter revenue climbed about 4%, while non-GAAP earnings jumped 8%. Both results topped analysts' expectations. As a result, shares were higher by almost 5% in pre-market trading and opened higher on Monday. However, it didn't take long for the stock to fall into negative territory.
Aside from beating both estimates, there was more good news. The company's Opdivo/Yervoy combination was successful in its Phase 3 testing. Called Checkmate-227, the treatment "met its co-primary endpoint of progression-free survival (PFS), a first for an immuno-oncology/immuno-oncology combination."
That's a huge accomplishment and one reason why investors were buying the stock in early trading. However, the treatment's other co-primary endpoint won't be completed until December 2020, almost three years from now. Until then, there are more pressing matters at hand.
Valuing BMY Stock for the Now
For one, there's the guidance. 2018 earnings per share guidance calls for earnings per share of $3.00 to $3.15 and revenue growth in the low- to mid-single digits. However, analysts were looking for 2018 earnings of $3.23 per share on revenue growth of 3.4%.
While 3.4% growth is well within management's range, their earnings midpoint ($3.075) was about 5% short of consensus estimates.
This is where we have some trouble.
Earnings guidance was disappointing, while revenue was roughly in-line. That's bad news, although if the backdrop of a more bullish market was in play Monday, perhaps Bristol-Myers stock would have rallied rather than fallen.
The biggest problem with the earnings guidance though? Growth. With analysts expecting earnings of $3.23 per share, investors were looking for 7.5% growth. If that were the case on top of 3.4% sales growth, we could get behind BMY stock.
But that didn't turn out to be the case. With an earnings range of $3.00 to $3.15, it's possible for BMY to have 0% growth in 2018. Granted, BMY stock would need to report its full-year earnings at the bottom of its range. But still, even at the top of its range, we're only talking about sub-5% growth.
It also leaves open the possibility that, if sales growth outpaces earnings growth, margins may contract. None of this would be a good sign. While this is a worst case take from the guidance, it could come in stronger as well. But the possibility needs to be noted.
For all of this, we're paying almost 20 times 2018 earnings estimates. To me, that's too high. Especially when I can buy a company like Apple Inc. (NASDAQ:AAPL) or Celgene Corporation (NASDAQ:CELG) with a lower valuation and better growth.
Trading Bristol-Myers Stock
Is Bristol-Myers stock my favorite pick? Obviously not. I said as much in the following paragraph. But it's not because it's a terrible company. In fact, far from it. BMY is a great company that's obviously making great strides in its treatments. Down the road, that will pay off very big.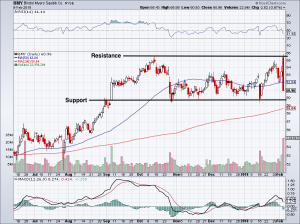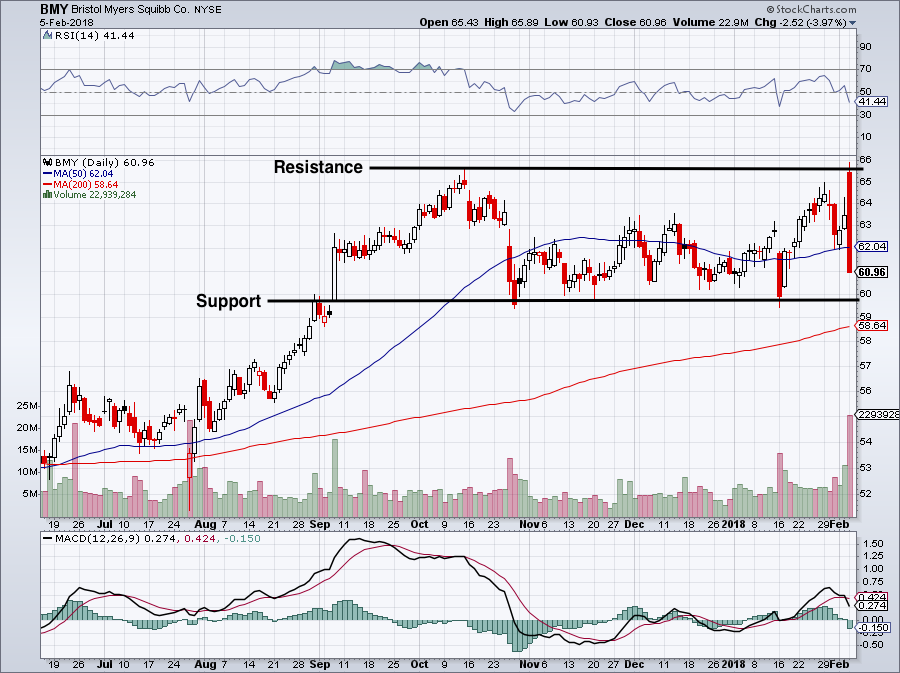 Click to Enlarge
In the short-term though, it appears overvalued. In its space I can buy Celgene. In the broader market, I can buy Apple. And in a market as volatile and vulnerable as this one currently is, I don't want to roll the dice with something I don't feel comfortable holding onto for a while.
With all that in mind, Bristol-Myers stock still looks all right on the charts. Plus, BMY stock pays a 2.5% dividend yield to boot.
When things get complicated, it's best to go simple. With Bristol-Myers stock, it's a piece of cake. Resistance is clearly sitting at $66, with support, for now, resting at $60. By looking at the price action since September, there could be some "slippage" below this level, perhaps down to $59. Luckily, the 200-day moving average is near this level.
Below that and $57 is in play, with possibly lower prices to follow.
Bret Kenwell is the manager and author of Future Blue Chips and is on Twitter @BretKenwell. As of this writing, Bret Kenwell held a long position in CELG.