For the year, FireEye Inc (NASDAQ:FEYE) is up 12.2%. Meanwhile, the SPDR S&P 500 ETF Trust (NYSEARCA:SPY) is down about 45 basis points. A big part of this outperformance, in fact, all of it, is due to the two-day 14.3% rally by FEYE stock after reporting earnings.
Earnings of a penny per share came in two cents per share ahead of expectations. Revenue grew 9.5% year-over-year to $202.3 million, topping analysts' estimates by $8.7 million. More impressive than last quarter though was management's outlook.
First-quarter revenue guidance of $192 million to $197 million easily came in ahead of consensus expectations of $187 million. Earnings guidance was roughly in-line. However, full-year revenue guidance was also inspiring. Management is looking for sales of $815 million to $825 million, ahead of analysts' estimates calling for $800 million.
More good news? The company grew operating cash flow almost 400% to a positive $33.6 billion in the quarter. FireEye recorded a 16 cent per share loss in 2017 on a non-GAAP basis, ahead of the 99 cent per share loss the year before. In 2018, management expects non-GAAP earnings of breakeven to 4 cents per share.
Overall, a good quarterly report.
Time to Buy FEYE Stock?
Not yet. For starters, while the company is nearing profitability on a non-GAAP basis, it's worth pointing out it's not even close on a GAAP basis. On a GAAP basis, FEYE stock actually saw a loss of $1.71 per share in 2017. Admittedly though, this is vastly better than the $2.94 it lost on a GAAP basis in 2016.
There's no denying that FEYE had a vastly better year in 2017 than it did in 2016. This is largely thanks to the big shakeup the management team has undergone. Business is more consistent and transparency is higher. Profitability is around the corner while cash flows are improving.
Even more impressive? FEYE stock has been able to withstand the volatility onslaught in the broader market. Everything from Nvidia Corporation (NASDAQ:NVDA) to Apple Inc. (NASDAQ:AAPL) has felt the pinch. Heck, the PowerShares QQQ Trust, Series 1 (ETF) (NASDAQ:QQQ) as a whole as been hit pretty hard.
But FireEye stock has been able to outperform. I'm just not a buyer at today's levels. One reason? Palo Alto Networks Inc (NYSE:PANW).
Valuing FireEye Stock
FireEye stock withstood the market selloff, but largely speaking, so too did PANW stock. Analysts expect FireEye revenue growth of 8.4% in 2018 and 8% in 2019 to go along with solid earnings growth (albeit, they only expect 19 cents per share in profit for 2019). For this, we're paying 106 times 2019 profits and four times last year's sales.
The problem is, PANW is more attractive on almost every metric. The stock trades at "just" 37 times 2019 earnings and notably at 7.5 times last year's sales. However, the company is much more profitable, while analysts expect sales growth of 23% this year and 20% in 2019.
That's almost triple FEYE's growth rate this year and more than double its 2019 growth rate.
Aside from profitability, PANW also wins the gross margin fight. Its trailing twelve months of gross margins eclipse 72%, while FEYE's, although still good, come in at just 64%.
Trading FEYE Stock
Is PANW's superiority enough of a reason to ditch FEYE stock? The simple answer is, "no." However, the charts lend a hand to a more complex answer. FireEye stock is not a screaming buy right here, right now. But it could be.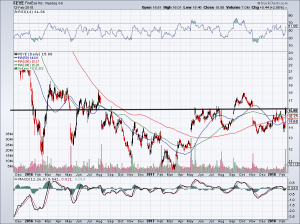 Click to Enlarge
It's running solidly into a wall of resistance right near $16. However, should this level give way, investors have new reason to be optimistic. For starters, if $16 fails as resistance, it's likely to give FEYE stock a spark up to $18.
That would be my upside target. But second and perhaps more importantly, $16 becomes support to a stock with an improving fundamental outlook.
That's always great!
So would I buy today hoping that it breaks resistance? No, I'd rather wait for the break to happen and then buy. So if I had to choose a stock right now, I'd rather go with PANW as its chart and fundamentals both look better.
But FEYE is anything but ugly, especially if it breaks over resistance in convincing fashion.
Bret Kenwell is the manager and author of Future Blue Chips and is on Twitter @BretKenwell. As of this writing, Bret Kenwell held a position in AAPL.