In September of last year, and then again in October, I touted Shopify Inc (NYSE:SHOP) as a great trade, even if it wasn't yet a great investment. Although Shopify stock lacked the fundamentals it needed to justify its then-lofty price, there was enough newness and euphoria in the market's ether to keep SHOP edging higher for the foreseeable future.
I'm reversing that call now.
That's not to suggest Shopify isn't going to become what it looked like it would become just a few months ago. This is still a company with a clever idea and, in time, it will collect a large number of customers that drive recurring revenue. It's simply to suggest that, for the time being, Shopify stock has gone about as high as it can feasibly go.
Crunching the Numbers
For the unfamiliar, Shopify simplifies the process of setting up and operating an online store — something that e-commerce giants Amazon.com, Inc. (NASDAQ:AMZN) and eBay Inc (NASDAQ:EBAY) don't quite do. It's not a threat to either, but in light of a 71% year-over-year increase in revenue in the fourth quarter — extending a long string of such growth — it's a company that should be turning the heads of investors and competitors.
And it has.
Since its mid-2015 IPO, Shopify stock has gained more than 700%, and has rallied 35% just since the end of last year. In fact, shares hit another record high just last week.
There comes a time, however, when euphoria-driven rallies run out of gas and investors realize the results don't even come close to justifying a stock's price.
That may be where we are with SHOP stock now — and it's not just me saying it.
Kudos to the company for an incredible 2017. Revenue was up 73% last year, and the company is inching towards profitability. Analysts are looking for a profit of 11 cents per share this year and an earnings explosion in 2019, with the bottom line growing to 51 cents per share. That's almost "normal," relative to what would be revenue per share of around $14.88 per share. [That translates into profit margins of around 3.4%.]
Problem: Even when profits hit "normal" levels in 2019, Shopify stock is still priced at 291 times its projected 2019 earnings.
Analyst Support Ended $4 Ago
Veteran traders have seen worse and can attest to the idea that a company's trajectory is often more than enough to keep a stock's rally in motion, even when the value argument doesn't hold water. Even analysts, who are usually rather generous with their optimism, aren't seeing any more upside in Shopify stock's foreseeable future though.
The evidence? As of the latest look, the consensus target for SHOP stock is $144.46 — more than four points below where share are trading now. It's a rarity for an equity to reach its aggregate target price, let alone exceed it. More often than not, analysts will up their expectations before shares get there. It's telling that they haven't done so this time around.
It's also telling that, despite the stock's haphazard bullishness since the latter part of last year, the volume behind the bullish waves hasn't been all that impressive. If a rally is to last, it needs to gather more and more buyers on the way up.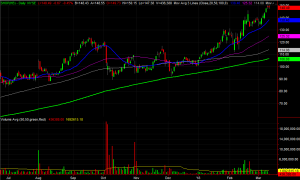 Click to Enlarge
There's also the not-so-small reality that Shopify shares are simply technically overbought.
Bottom Line for Shopify Stock
The one downside with this sort of reality check is timing; just because we're overdue for a pullback right now doesn't mean we'll necessarily get one. There are still enough bulls out there, and enough momentum, that the bears and would-be profit-takers don't want to bother putting up a fight.
From a risk/reward perspective though, there's not a great argument for sticking with it for just the last bit of crumbs you may be able to glean for this move. And, there's certainly no reason for a newcomer to bother plowing into SHOP stock now.
It's still a buy-on-the-dip kind of name though. The trick is just waiting for a clear bottom to be made.
As of this writing, James Brumley did not hold a position in any of the aforementioned securities. You can follow him on Twitter, at @jbrumley.