Another tough day in tech is really weighing on some of the market's biggest stocks. As earnings season is starting to pick up pace, here's a look at some the top stock trades in the stock market.
Top Stock Trades #1 Apple Stock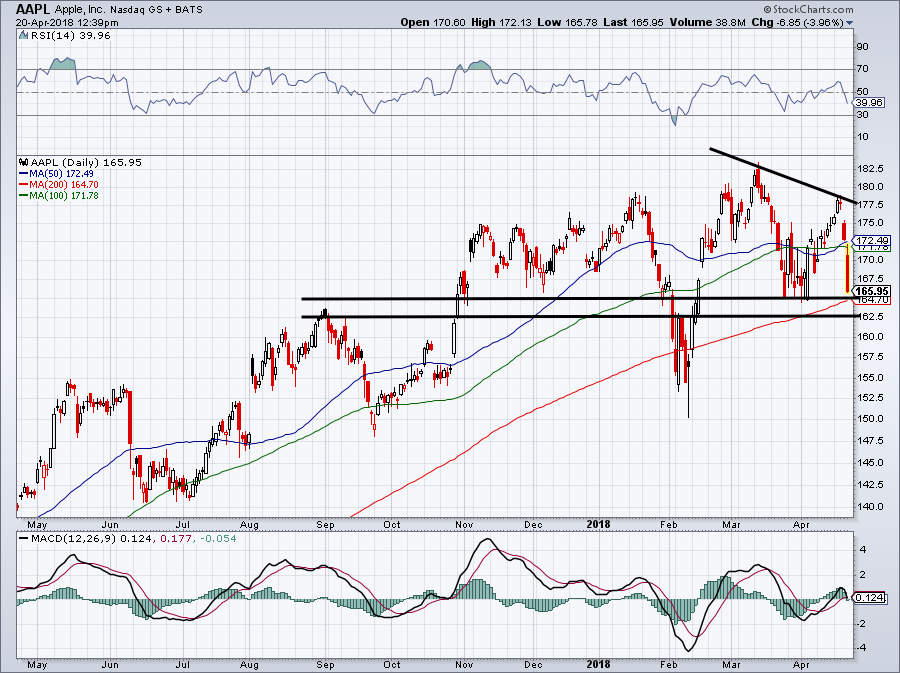 With shares of Apple Inc. (NASDAQ:AAPL) down more than 4% Friday, it's no wonder tech is having a tough day. Many investors are trying to figure out what to make of Apple's 7% slide over the past three trading sessions.
There's support hovering around the $162.50 to $165 area and the 200-day moving average could give it some support as well. I say "could" because the 200-day didn't stop Apple from falling below $150 in February, although it did slow its decline. A bounce would be nice for the bulls, but they really need to see it clear downward resistance in the mid-$170s.
That likely won't happen before Apple's earnings report on May 1st. For now, bulls want to see this level of support hold and bears want it to break. A close below puts February's lows back on the table. If you're into fundamentals, don't be afraid to buy it.
Top Stock Trades #2 JD.com Stock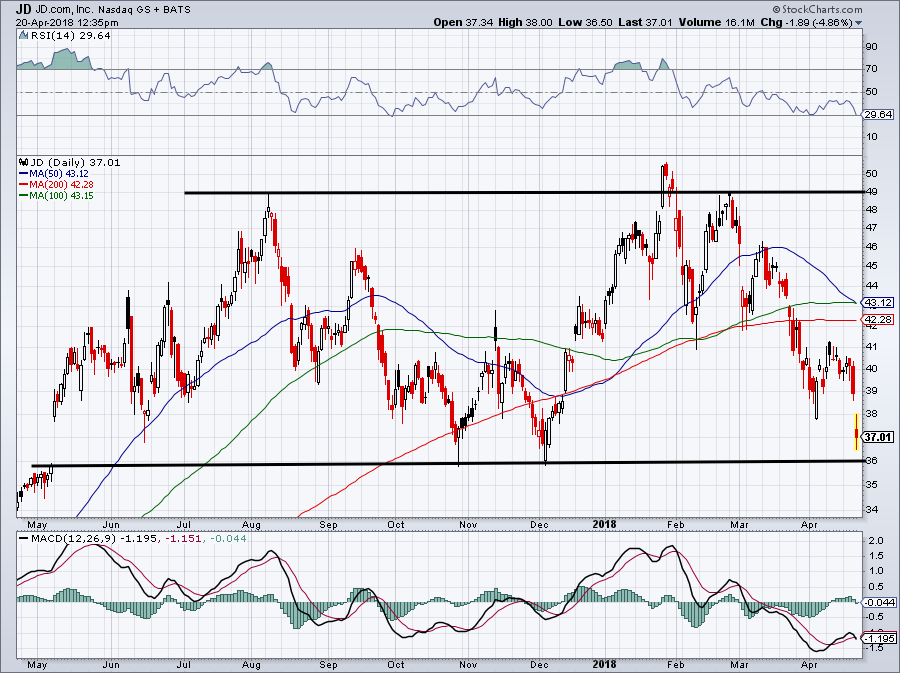 JD.Com Inc(ADR) (NASDAQ:JD) has a very definitive chart, with support at $36 and resistance at $49.
Resistance has done its part and now it's almost time for support to kick in. With JD stock about a buck above this one-year level of support, I would consider this a must-hold level. If it breaks, it gives bears a great risk/reward to push it lower. Likewise, bulls have a solid risk/reward should it hold.
Worth considering: Is JD.Com Miles Ahead of Amazon?
Top Stock Trades #3 J&J Stock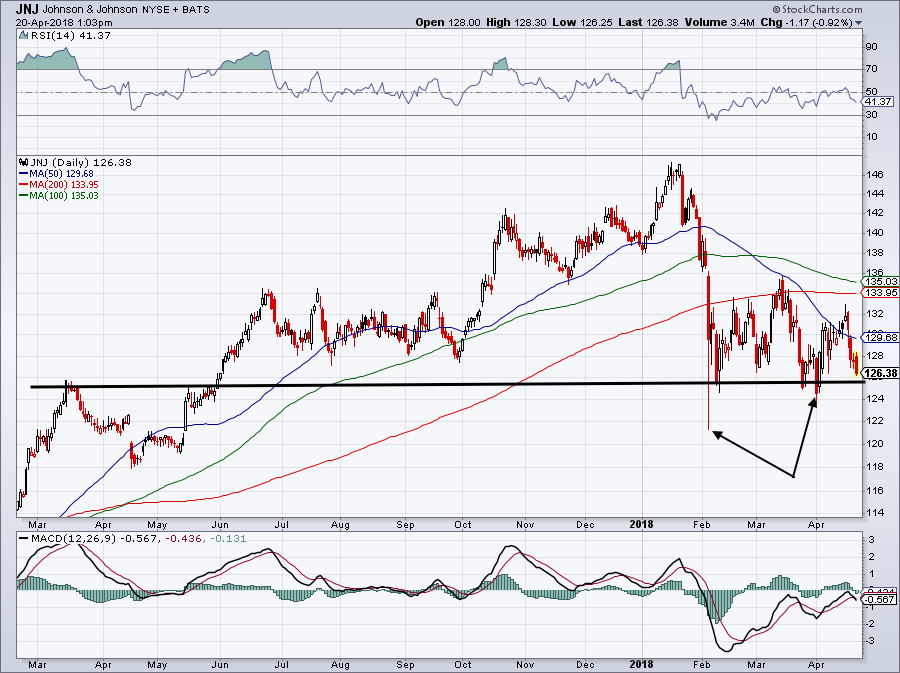 Despite a reasonable valuation, solid growth and what I considered a good earnings result earlier this month, Johnson & Johnson (NYSE:JNJ) has had trouble finding its mojo.
For the reasons I noted above, long-term bulls may feel just fine holding onto J&J, whether it's at $120 or $140. For the short-term traders out there though, it's hard to feel bullish. JNJ has been pulverized since mid-January and hasn't recouped any of those losses, as it now rests below all three key moving averages.
This $124 to $126 level has been support lately. Below that and it's hard to say where JNJ goes. It's recent closing low and recent low could be in play if that's the case. It probably won't get there without a big market decline, but JNJ would yield 3% near $114, where income buyers would surely start to step in. Also worth noting is that the average price target for JNJ sits up at $141.50.
J&J is a fund-favorite. So as long as they're buying equities, I expect JNJ to have a bid, with or without $125 holding.
Top Stock Trades #4 Cleveland-Cliffs Stock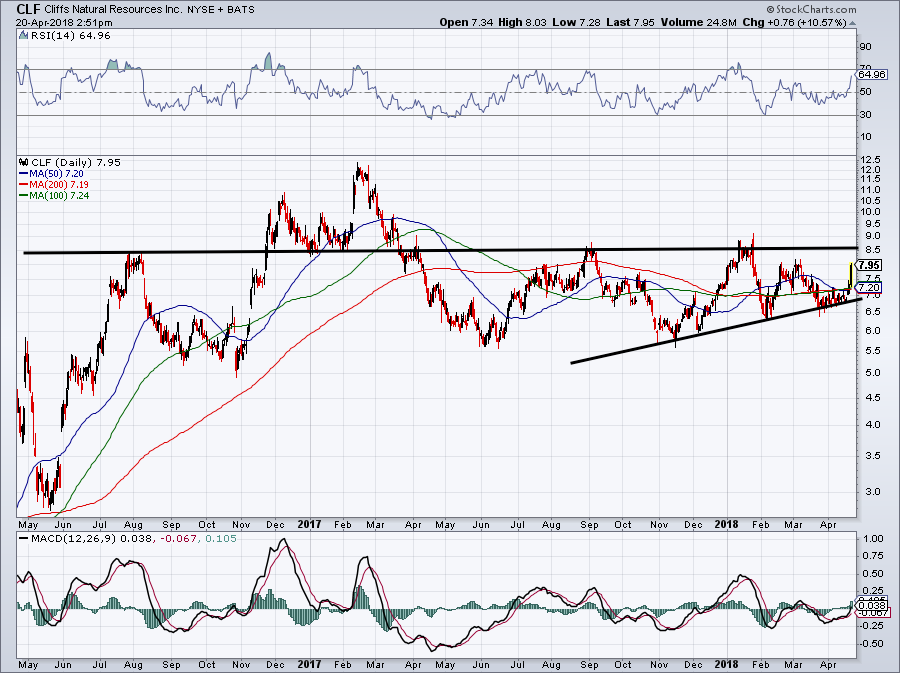 Cleveland-Cliffs Inc (NYSE:CLF) is one of the few stocks enjoying Friday's trading session, up more than 10% after beating on earnings and revenue expectations.
The trend-line of support looks good, especially with CLF rocketing higher on the day. But bulls will have a big test soon if they keep taking CLF higher: $8.50. This level has been Major — with a capital "M" — level of resistance over the last few years. Bears will surely take a shot on the short side at this level, but if bulls can ultimately push through, $10 becomes the next target. It helps that energy prices have been strong.
Keep this one on your radar.
Top Stock Trades #5 Skechers Stock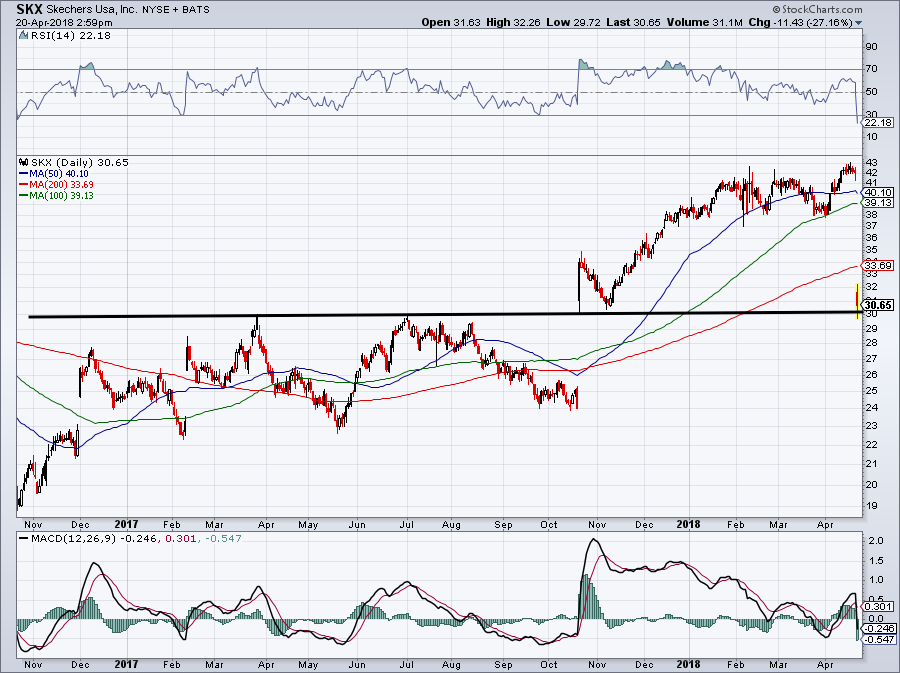 What's the opposite of Cleveland-Cliffs, at least on Friday? Skechers USA Inc (NYSE:SKX). Despite an earnings beat, shares are tanking almost 30% as investors punish the stock for management's guidance.
Surprisingly, SKX found support right where it needed to, near $30. That's not to say everything is fine and dandy. After all, we're talking about a real beatdown here, one that drove Skechers stock below all of its major moving averages after ending the last session above all three.
Should this area of support — roughly $29 to $30 — give way, SKX stock will officially be in no man's land. Traders who are tempted to play it, and I'm not one of them, can take a stab at it above this level of support. Below though, and bears would be in full control.
Bret Kenwell is the manager and author of Future Blue Chips and is on Twitter @BretKenwell. As of this writing, Bret Kenwell held a long position in AAPL and JNJ.