Stocks broke a two-day winning streak on Wednesday as an imminent U.S. strike on Syria gave investors pause Wednesday. The Dow Jones Industrial Average gave back 0.9% while the Russell 2000 outperformed with a gain of 0.2%.
All eyes remain on Syria Thursday, which is now pushing futures into positive territory this morning as President Donald Trump tweeted yet again:
Never said when an attack on Syria would take place. Could be very soon or not so soon at all! In any event, the United States, under my Administration, has done a great job of ridding the region of ISIS. Where is our "Thank you America?"

— Donald J. Trump (@realDonaldTrump) April 12, 2018
Futures markets for the S&P 500 indicate an implied opening of 11.36, while the Dow and Nasdaq are expected to open 131.55 and 37.06 points higher, respectively.
Meanwhile, the release of relatively hawkish Federal Reserve meeting minutes (including a warning that a trade war could damage the U.S. economy) and some solid inflation data points this week has provided more reason for caution in the days and weeks to come.
Here are three stock charts that are worth watching today:
Exxon Mobil (XOM)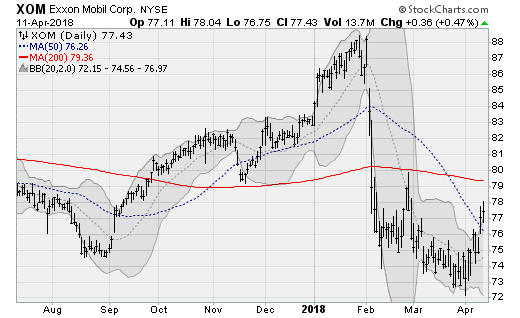 Energy stocks have been perking up — since crude oil prices should benefit from both dynamics — with the group gaining 1.0%. Exxon Mobil Corporation (NYSE:XOM) gained 0.5% as it emerges from a multi-month consolidation range with a push toward its 200-day moving average.
Bank of America (BAC)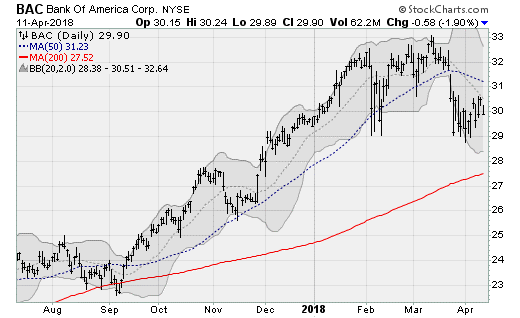 Financials were the laggards, down 1.3%, on reports higher interest rates is dampening mortgage activity. Bank of America Corp (NYSE:BAC) fell 1.9% to drop back through the $30-a-share level as the start of the first-quarter earnings season looms later this week.
Facebook (FB)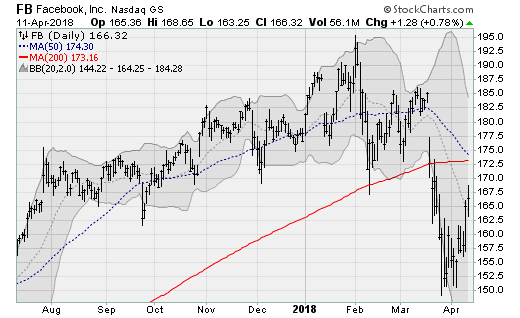 And Facebook, Inc. (NASDAQ:FB) gained another 0.8% as CEO Mark Zuckerberg successfully wrapped up his appearance before Congress without a hitch. It seems some increased regulation is coming down the pike, but the politicians seemed more enamored with Mark and his creation than angry.
Lastly, earnings season is gearing up and both BlackRock, Inc. (NYSE:BLK) and Delta Air Lines, Inc. (NYSE:DAL) posted better-than-expected Q1 numbers before the bell.
Check out Serge Berger's Trade of the Day for April 12.
Today's Trading Landscape
To see a list of the companies reporting earnings today, click here.
For a list of this week's economic reports due out, click here.
Anthony Mirhaydari is the founder of the Edge (ETFs) and Edge Pro (Options) investment advisory newsletters. Free two- and four-week trial offers have been extended to InvestorPlace readers.