Roku Inc (NASDAQ:ROKU) climbed about 1% in Monday's regular-hours trading session but jumped in after-hours trading. Confirmation that the new streaming product from Walt Disney Co (NYSE:DIS), ESPN+, will be available on Roku devices was the driver. ROKU stock erupted Tuesday in response and was up more than 12% at one point in the session.
The recent blowout earnings report from Netflix, Inc. (NASDAQ:NFLX) surely only added fuel to the fire.
Will the addition of ESPN+ on Roku will be a huge needle-mover? Perhaps not. But Tuesday's move is more about streaming and the fact that fewer and fewer people are arguing against the cord-cutting movement.
What's at Stake for Roku
I think there are other implications at play here. With ESPN+ available on Roku, that likely means that Disney's next streaming platform for movies and TV shows coming out next year will also be available on Roku. In my view, that platform has more upside and appeal to consumers.
It could fuel the gains for Roku, too. Why? Because ultimately, the over-the-top (OTT) offerings continue to get better and better.
Be it with Disney and Disney's ESPN+, NFLX, HBO from Time Warner Inc (NYSE:TWX) and AT&T Inc. (NYSE:T), (assuming the latter is able to acquire the former) or the YouTube TV offering from Alphabet Inc (NASDAQ:GOOG, NASDAQ:GOOGL) at $40 a month.
More and more consumers are asking themselves, why not cut the cord? A sports package would be one reason, but as Disney has already shown with its ESPN suffering, sports aren't proving to be the end-all be-all to TV traffic. Although, admittedly, live sports is still the best performer out there in terms of ratings.
The combinations are endless, but here's the point: What's to stop waves of consumers — millions — from ditching their cable or satellite service and tacking on a few OTT services instead? Even big-name players like Disney are now catching on, and we can't call NFLX a small company anymore.
The momentum in streaming is strong, and that wave won't stop anytime soon. Given that Roku collects a cut from sales and generates ad revenue should mean its future is bright, too.
The average analyst estimate is about $41, implying about 25% upside from current levels. However, the highest price target sits at $50, which, before Tuesday's move, represented about a 50% gain. Can it get there? Let's look at the charts.
Trading ROKU Stock
Roku Inc is deserving of some investor love, but a 12% move isn't chump change.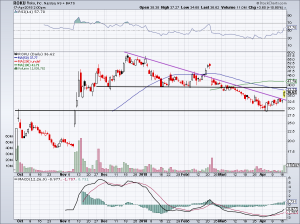 Click to Enlarge
Looking at the chart above, there's good and bad. On the plus side, support around $29 held up. Also on the positive end is Roku stock bursting through its downtrend resistance line (in purple).
For the most part, this downtrend has been in place since December, driving shares down from almost $60 to less than $30 in just a few months. Clearing this hurdle was a big move, and Tuesday's big pop delivered it.
Now it's key for Roku stock to stay above it, especially as Roku comes upon some of its negatives. The first is the 50-day moving average. Dating back to January, this moving average has mostly acted as resistance and did so again on Tuesday. If investors can push ROKU through it, though, they can challenge their second problem: $39.
Previously serving as support, $39 could act as resistance. That's not to paint a poor picture for the bulls because, make no mistake, above that purple downtrend line and ROKU stock is in much better shape. Should the stock retest this level or get close to it, bulls can buy with an attractive risk/reward.
Below $29 support or that purple line, though, and traders should consider no longer holding a long position. It's a volatile stock, to be sure. But for those that believe in the story, an attractive risk/reward is there with Roku stock in the $32 to $33 area.
Bret Kenwell is the manager and author of Future Blue Chips and is on Twitter @BretKenwell. As of this writing, Bret Kenwell held a long position in DIS and GOOGL.