No one was expecting the Switch to be as wildly successful as it has. That's vaulted shares of Nintendo Ltd/ADR (OTCMKTS:NTDOY) higher by almost 60% over the past 12 months. While NTDOY stock is already up a quick 16% so far in 2018, Nintendo stock has traded sideways since mid-January.
Could that change going forward and is NTDOY stock actually a screaming-good buy right here? Let's look at three reasons why Nintendo is still a solid stock to own.
NTDOY Stock Growth and Valuation
Originally, management was looking to ship 10 million Switch units in fiscal 2017. Then they took that forecast up to 14 million and then to 15 million, before ultimately selling that many units for the full year. In the first year, management topped its original expectations by 50%. In the second full fiscal year of Switch, they are looking to sell 20 million, a 33% increase on last year's results.
Revenue more than doubled and operating profit soared more than 500% for the year, but analysts expect more growth to come.
Current expectations call for Nintendo to grow sales a whopping 32% this year, to go along with 60% earnings growth. Admittedly, growth is expected to cool next year though, with sales and earnings forecast to grow 6% and 26.5%, respectively.
There's a silver lining here, though. First, after triple-digit growth last year, this year's growth is still pretty impressive. Second, next year's estimates still call for growth — just not as rapid as the years before. Finally, next year earnings growth is still about five times that of revenue growth, meaning margins should continue to expand.
For all of this, investors are paying 25 times this year's earnings.
Video Games and Mobile
Switch isn't the only game console doing well. Xbox by Microsoft Corporation (NASDAQ:MSFT) and the PlayStation from Sony Corp (ADR) (NYSE:SNE) both continue to sell very well too. Video game makers like Activision Blizzard, Inc. (NASDAQ:ATVI), Electronic Arts Inc. (NASDAQ:EA) and Take-Two Interactive Software, Inc (NASDAQ:TTWO) have all been doing well too.
The secular trend in video games has no reason to slow down, at least any time soon. As the economy continues to do well, consumers are more encouraged and feel less guilt about picking up a new game or two. E-sports leagues and streaming channels like Twitch make for a more interactive community among gamers.
It helps too that gamers are getting older, but aren't leaving their consoles behind. In theory, as the average age of video-gamers climbs, so too should their disposable income. At least, that's one of the takeaways from a recent presentation from Nvidia Corporation (NASDAQ:NVDA). Seeing as though its graphics processing unit sales continue to explode, it would seem this claim is true.
Further, Nvidia supplies the Nintendo Switch and I don't see anyone critiquing Nvidia's gaming revenue numbers.
Finally, after seeing how successful an augmented reality game like Pokemon Go can be, Nintendo management isn't ignoring mobile. New CEO Shuntaro Furukawa wants to grow the company's mobile gaming revenue to 100 billion yen (a little more than $910 million). "From what I can see, smartphone games are the ones I want to expand the most," he says.
Trading NTDOY Stock
For a long-term bull with a lower cost basis and some patience, I see no reason to bail on the company now. But what do new investors do?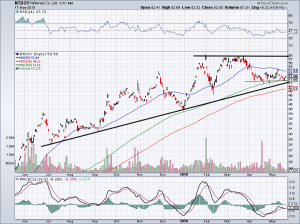 Click to Enlarge
The 100-day moving average has been pretty decent support at this point — although aside from a few times this year we haven't seen many tests of it. Even if it fails though, there's plenty of support below. The 200-day moving average should give NTDOY stock a lift, as should trend-line support.
So long as these levels hold up, a run back to its highs near $58 is on the table. Back in February, here was our take:
"For now — and unfortunately — I'm holding off on Nintendo stock … Despite the potential upside, I would feel more comfortable waiting for ~10% correction in NTDOY stock. This would put Nintendo stock somewhere in the low-$50s, depending on where the high is."
We're sticking with that thesis and think NTDOY stock now presents a reasonable risk/reward now that it's down near our previous target.
Bret Kenwell is the manager and author of Future Blue Chips and is on Twitter @BretKenwell. As of this writing, Bret Kenwell held a long position in NVDA.