Now is a good time to look at dividend stocks to buy and hold. While there's no doubt that the market averages were on a roll going in 2018, that incredible momentum slowed a bit when January changed to February. The tax cuts in late December added a lot of fuel to stocks' fire, but a market correction was lurking around the corner.
If the economy expands and the global economy stays in recovery mode, this could see stock indexes soar once again. Especially when you look to the big blue chips that dominate the averages.
The big firms are doing business outside the U.S., and the dollar is weakening as interest rates rise. As Treasury Secretary Steve Mnuchin observed in Davos recently, a weaker dollar is good for exports and the Trump administration is in favor of boosting exports.
But for all this good news, a changing market — with the potential for an inverted yield curve in interest rates, rising inflation and less consumer strength than anticipated — may bring on a correction.
That's why now is a good time to buy some solid insurance while it's cheap. That's why I've come up with nine impressive dividend stocks to buy and hold. They have longevity and will weather any near-term storms.
[Editor's Note: This article was originally published on Feb. 2, 2018, but it has been edited to reflect changes in the markets.]
Impressive Dividend Stocks to Buy and Hold: Verizon (VZ)
Dividend: 59 cents, paid quarterly
Verizon (NYSE:VZ) is a blue-chip communications pick with a solid 4.65% dividend.
Whether it's fiber optic cable, mobile communications or content delivered directly to its customers, Verizon is focused on maintaining its dominant position in the market. Recent deals on the content side show that VZ is very aware that how your subscribers get content is less valuable than what content they get.
There will certainly be competition in the space, which could mean customers come and go, but VZ has shored both its 'cable' end and its wireless side, so any cable cutters will still find value in sticking with VZ.
And the dividend is rock solid.
Impressive Dividend Stocks to Buy and Hold: AES Corp (AES)
Dividend: 13 cents quarterly
AES Corp (NYSE:AES) was a major player in the utility deregulation boom that swept through the markets in the 1990s. Think Enron, as both the bullish story and the cautionary tale.
AES has operations in the U.S., South America, Central America and the Caribbean. But it is one of those independent energy producers that doesn't get a lot of press because it doesn't fit into a tidy box.
AES remains a solid company, however, and delivers a 4% dividend. What's more, emerging markets are starting a boom phase after their bottom. And with Brazil making a comeback — and AES having operations there — things are looking up for this stock on the growth side of equation.
Impressive Dividend Stocks to Buy and Hold: Public Storage (PSA)
Dividend: $2.00, quarterly
Public Storage (NYSE:PSA) launched its first storage facility in 1972. That kind of longevity demonstrates that management knows how to build a business and sustain it, regardless of the economic environment.
With 142 million square feet of rentable space across the US and Europe, Public Storage is one of the largest self-storage firms in the world.
And it's set up as real estate investment trust. That means investors are considered owners and net profits are distributed to the owners — by law — in the form of dividends. That makes PSA very stockholder friendly.
After a strong run in the past few years, investors are looking for the new sexy story and PSA stock has sold off in the past year. But there's plenty of life left and its 3.6% dividend pays you for your patience.
Impressive Dividend Stocks to Buy and Hold: Catchmark Timber (CTT)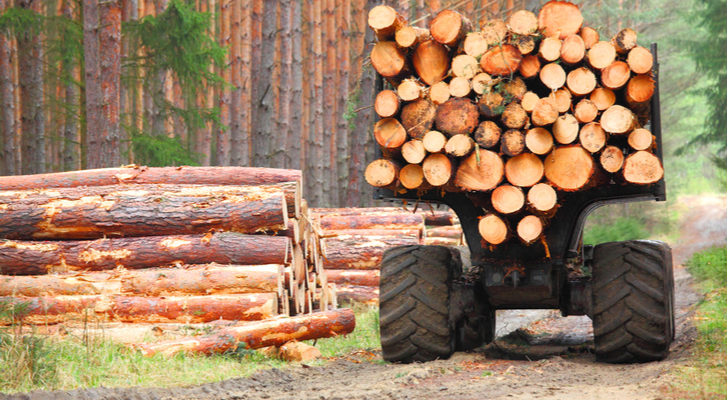 Dividend: 13.5 cents quarterly
Catchmark Timber (NYSE:CTT) is a timber company that is organized as a real estate investment trust (REIT). That means you get a solid dividend and a company that is focused on its shareholders, because technically, its shareholders are considered owners.
Timber prices are directly correlated to housing demand. If housing demand rises, as it is now, timber prices rise and timber companies make more money.
It's not surprise then, that CTT is up 9% in the past 12 months. That trend should continue. And this REIT is throwing off a respectable 4.2% dividend to boot.
CTT is a relatively small player in the space, which means its growth is leveraged when demand grows, like it is now.
Impressive Dividend Stocks to Buy and Hold: Duke Energy (DUK)
Dividend: 92 cents quarterly
Duke Energy (NYSE:DUK) is a major energy utility in the US. That means it might not have the growth component that other sectors have, but it does have a lock on its service territory, which is predominantly North Carolina, but it has more than 7 million customers in six states overall.
What's more, DUK has been a long-time proponent of renewable energy resources and has been adding wind and solar to its energy mix long before it was in vogue. It also has significant natural gas operations and subsidiaries.
With an impressive 4.6% dividend, DUK is very shareholder friendly and is a great foundation stock for any long-term investor.
Impressive Dividend Stocks to Buy and Hold: Macy's (M)
Dividend: 37.75 cents, quarterly
Macy's Inc (NYSE:M) seems like an odd stock to recommend after its travails in the past couple of years, as it tries to pivot from the traditional department store model to a sleeker, more online retail model.
But M has been around since 1858. It has been through the Civil War and two World Wars. It has seen greater challenges than Amazon.com. And it has not only survived, but thrived.
While the market beat up this sector and then moved on, M has been retooling over the past year and even delivered some impressive holiday numbers. There's still life in this company and it's now a bargain.
Its 3.9% dividend will pay you for your patience.
Impressive Dividend Stocks to Buy and Hold: Seagate Technology (STX)
Dividend: 63 cents quarterly
Seagate (NASDAQ:STX), a hard drive maker, has been doing well in 2018, up 32% year-to-date. Some of that comes from its recent earnings numbers, having beaten Wall Street estimates across the board.
All this while still delivering a 4.4% dividend to shareholders.
But the real excitement here is STX's involvement with Ripple, a company that has launched the cryptocurrency XRP. Ripple is also looking to use the blockchain technology at the heart of the cryptocurrency market to build a financial trading platform that would revolutionize how all investments are traded.
At this point no one can monetize STX involvement in either the currency or the trading platform, but we know there is significant interest in Ripple by STX.
Impressive Dividend Stocks to Buy and Hold: Carlyle Group (CG)
Dividend: 27 cents quarterly
The Carlyle Group (NASDAQ:CG) is a global asset management firm. Basically that's another way to say it's a private equity firm — it uses investors' money to buy companies or invest in projects.
It currently has $174 billion in assets under management spread across more than 300 investment vehicles.
CG used to be privately held and was a firm that managed the assets of world leaders — from the Bush family to the Saudi royal family — discreetly and successfully for decades. It went public in 2012 and has had its ups and downs since then.
But right now, it's in an upswing as the economy recovers. In the past 12 months, the stock is up 17% and it's still delivering a healthy 4.5% dividend. And the good times have just begun.
Impressive Dividend Stocks to Buy and Hold: Enterprise Products Partners (EPD)
Dividend: 43 cents quarterly
Enterprise Products Partners (NYSE:EPD) is a midstream U.S. energy company.
Basically, that means it's a pipeline company. And it's one of the biggest.
This is a very good time to look at midstream energy companies. The midstream companies are the first ones back when the economy begins to recover.
Pipeline companies make money off the volume of the products shipped through its pipes, regardless of cost. EPD carries oil, natural gas, natural gas liquids, petrochemicals and refined products through its 50,000 miles of pipe.
As demand for energy increases, so will EPD revenues. EPD stock is still treading water, so its 5.93% dividend is a good way to get paid for your patience while this sector gains traction once again.
Louis Navellier is a renowned growth investor. He is the editor of five investing newsletters: Blue Chip Growth, Emerging Growth, Ultimate Growth, Family Trust and Platinum Growth. His most popular service, Blue Chip Growth, has a track record of beating the market 3:1 over the last 14 years. He uses a combination of quantitative and fundamental analysis to identify market-beating stocks. Mr. Navellier has made his proven formula accessible to investors via his free, online stock rating tool, PortfolioGrader.com. Louis Navellier may hold some of the aforementioned securities in one or more of his newsletters.