Earnings season is upon us and that means we're about to get a look at the banks. Specifically, Wells Fargo (NYSE:WFC), JPMorgan Chase (NYSE:JPM) and Citigroup (NYSE:C) report on Friday before the open. Does that mean we should look to buy WFC stock or any of the others ahead of the event?
With little doubt, the companies will report great results; 2017 featured historically low volatility, and even though 2018 is actually similar to the long-term volatility average, it feels like a much larger jolt. That bodes well for institutional trading desks.
What else bodes well? A strong economy. With more lending, spending, new car loans and mortgages, consumer banks like WFC are sure to benefit. While there are worries about trade wars, the economy continues to chug along nicely.
Finally, increasing interest rates work in the banks' favor — especially ones like WFC stock. Why? With higher rates, banks are able to generate a higher return on customer deposits. Because of this improved profitability, banks that have big deposits like Wells Fargo are able to increase their net interest margins. This gives a nice, virtually risk-free boost to the bottom line.
One red-flag though? As the yield curve threatens to invert, that's bad news for the banks. The 10-year, 2-year spread is now less than 30 basis points — its lowest mark since the Great Recession. I think this is what's been weighing on the banks and it has me cautious to buy them with many names not showing confidence on the charts.
Valuing WFC Stock
I like the banks because they have low valuations, solid growth profiles and return a decent amount of capital. Wells Fargo is lacking on the sales growth side of things, but generally speaking, fits that general thesis.
Analysts expect revenue to fall 1.4% this year before growing 1.8% in 2019. In other words, 2019 revenue of $88.74 billion is just ahead of the $88.39 billion in generated in 2017.
The earnings front looks much better though, with estimates calling for 15.2% growth in 2018. In 2019, analysts currently expect an acceleration up to 16% growth. With sales muddling around flat over the next two years and earnings growing in excess of 15%, that bodes well for margins, which should expand this year and next.
It also leaves investors paying less than 12.5 times this year's earnings estimates for a double-digit earnings grower.
While one could make a case for owning JPM and Bank of America (NYSE:BAC) instead — admittedly, that would be my preference if forced to choose — WFC is a solid company at a reasonable price.
After the recent stress tests, Wells Fargo gave a ~10% bump to its quarterly dividend up to 43 cents a share. WFC stock now yields over 3%, while the company was approved to buyback up to $24.5 billion in stock, more than double its 2017 total. Worth noting is that Wells Fargo currently has a market cap of about $275 billion.
Trading WFC Stock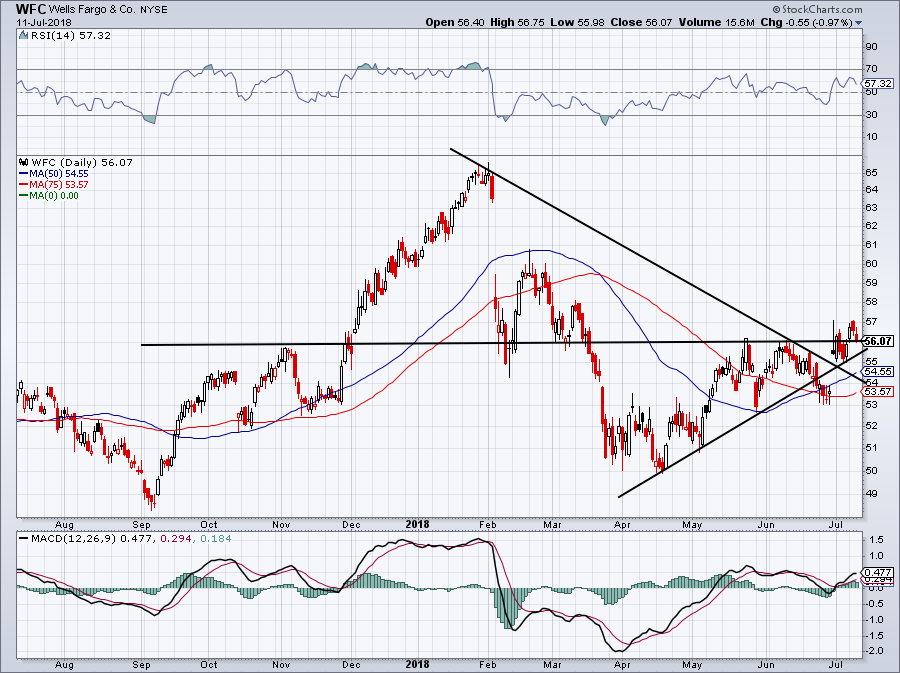 There are so many lines you could draw on the chart for WFC stock it's nauseating. But we only put up a few to make it easier on the eyes. Above both the 50-day and 200-day moving average, WFC doesn't look as sick as it once did.
Over $56 is another solid sign for the bulls and so is the fact that it's holding onto trend-line support. The 2018 high technically sits all the way up at $65, so if WFC stock reacts favorably to earnings, $60 then $65 are our upside targets.
Lately, the banks have had a tendency to rally on good earnings initially, only to tumble lower hours or days after the report. That may happen again. If it does, watch WFC stock. Ideally shares will stay above $55, but they must stay this $53.50 area. That's where the 200-day moving average and the backside of previous downtrend resistance currently stand.
Below that, I don't want to own WFC stock. Above all these levels and the $60 target is in play.
So should you buy? I don't like to pull the trigger ahead of earnings because it's a toss up. If you really like WFC stock as a long-term investment, consider buying a partial position ahead of earnings. That way you have a position if it goes higher and if it falls, investors can buy a name they like on the dip.
Bret Kenwell is the manager and author of Future Blue Chips and is on Twitter @BretKenwell. As of this writing, he did not hold a position in any of the aforementioned securities.
---
Legendary Investor Louis Navellier's Trading Breakthrough
Discovered almost by accident, Louis Navellier's incredible trading breakthrough has delivered 148 double- and triple-digit winners over the past 5 years — including a stunning 487% win in just 10 months.
Learn to use this formula and you can start turning every $10,000 invested into as much as $58,700.
Click here to review Louis' urgent presentation.