If you like shopping for discounts, it's time to purchase Walmart (NYSE:WMT). But if you're going to buy the big-box retailer, it may pay off if you spend less by thinking outside of the box with a bull call spread. Let me explain.
WMT stock has not been a favorite equity to buy on Wall Street in 2018. Shares are off roughly 10% compared to the S&P 500's gain of nearly 5%. And as most investors are also aware, Walmart's ability to iron out its e-commerce strategy and take on retail's 800-lb gorilla Amazon.com (NASDAQ:AMZN) has been the most challenging item weighing on market sentiment and the price chart.
But Walmart has been taking strides in the right direction with key alliances such as China's JD.Com Inc (ADR) (NASDAQ:JD) and India's Flipkart to ensure the company not only survives, but competes effectively in the new retail omnichannel environment. The latest move on this front was announced Tuesday.
Walmart said plans to open up a fulfillment center for Jet.com, which it purchased about two years ago, in the Bronx, New York.
Initially, the operation will be mostly focused on delivering electronics and groceries — and in the process, muscling in on some of Amazon's Whole Foods and Prime Now action — in the lucrative New York market.
WMT Stock Weekly Chart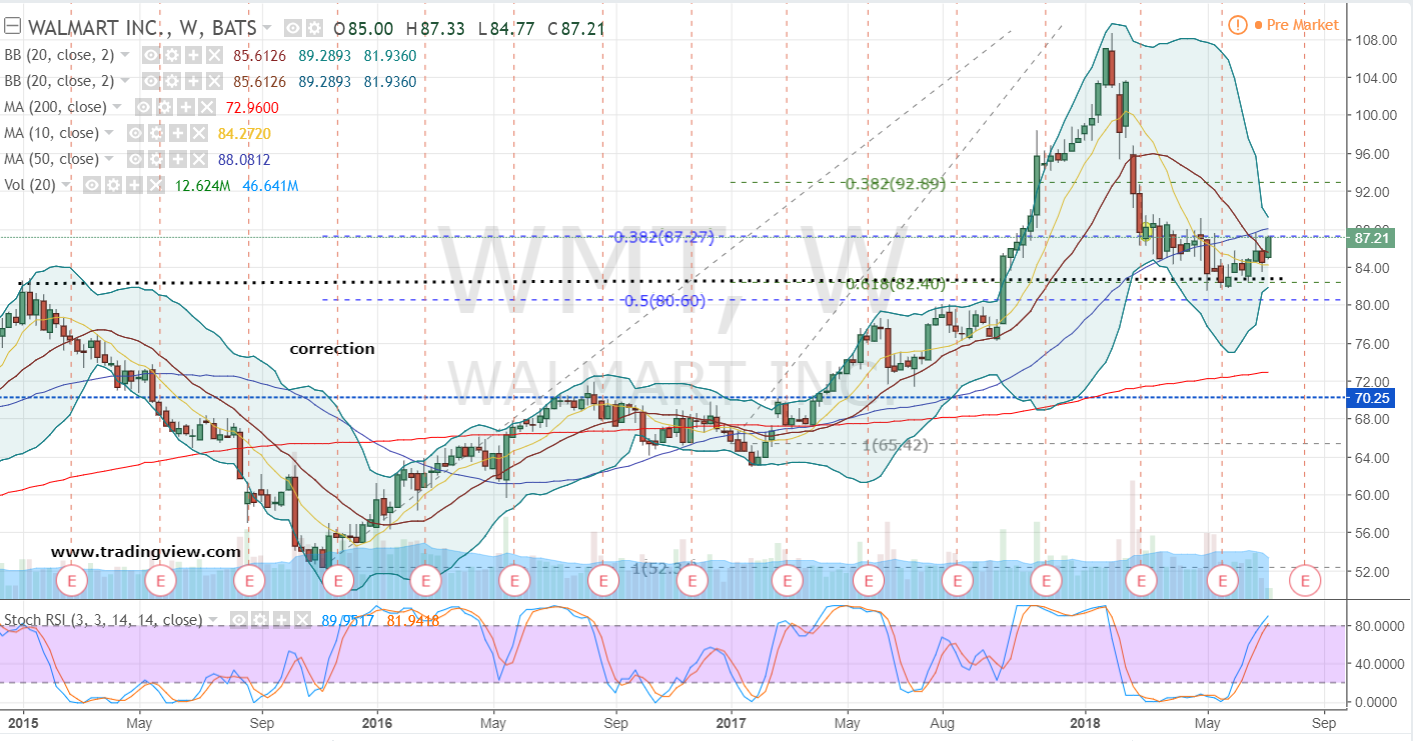 As noted above, if you like discounts WMT stock is a technical bargain on the price chart. Wall Street's disdain for shares in 2018 has established a solid corrective move to 25% off its all-time high near $108.
What's more, after a couple months of lateral consolidation work that successfully held Walmart's prior high and key Fibonacci support — shares are turning the corner higher and poised to break out into the right side of the weekly base.
WMT Stock Long Bull Call Spread
We believe shares of Walmart are headed higher, but as a cost-conscience shopper who wants an extra layer of risk control not available with a simple stock purchase, an out-of-the-money bull call spread is a good strategy to initiate a position.
Reviewing the options on WMT stock, one such combination that looks attractive is the Dec $90/$97.50 call spread.
Priced for $2.20 with shares at $87.21, this vertical offers up plenty of bang for the buck — or couple of bucks, in this case — with a max payout of $5.30. That's a return of nearly 250% with less than 3% of the exposure tied to purchasing shares of Walmart. And with plenty of time on the calendar and this play only requiring WMT to take back roughly half of its price decline in 2018, this is a gift and an early Christmas present for investors.
Investment accounts under Christopher Tyler's management do not currently own positions in any securities mentioned in this article. The information offered is based upon Christopher Tyler's observations and strictly intended for educational purposes only; the use of which is the responsibility of the individual. For additional market insights and related musings, follow Chris on Twitter @Options_CAT and StockTwits.
---
Legendary Investor Louis Navellier's Trading Breakthrough
Discovered almost by accident, Louis Navellier's incredible trading breakthrough has delivered 148 double- and triple-digit winners over the past 5 years — including a stunning 487% win in just 10 months.
Learn to use this formula and you can start turning every $10,000 invested into as much as $58,700.
Click here to review Louis' urgent presentation.