U.S. stock futures are trading higher this morning. Credit for the overnight optimism goes to the government which finally came up with a deal to sidestep another shutdown.


Heading into the open, futures on the Dow Jones Industrial Average are up 0.8% and S&P 500 futures are higher by 0.68%. Nasdaq-100 futures have added 0.75%.
In the options pits, put volume fell off a cliff yesterday, even as overall volume sunk well below average. Specifically, about 14.5 million calls and 10.9 million puts changed hands on the session.
Because both calls and put activity dwindled, little changed over at the CBOE. The single-session equity put/call volume ratio ticked lower to 0.60. Meanwhile, the 10-day moving average slipped to 0.62.
Options traders zeroed in on earnings yesterday. Activision (NYSE:ATVI) options activity soared as the stock plunged amid worries ahead of its quarterly report. Aurora Cannabis (NYSE:ACB) calls were active ahead of its release. Finally, Disney (NYSE:DIS) fell on continued selling pressure after failing to impress during its recent conference call.
Let's take a closer look: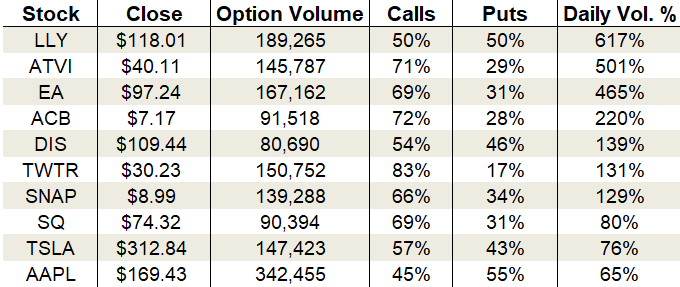 Activision Blizzard (ATVI)
Investors fled Activision Blizzard in droves, driving shares of the struggling videogame titan down by 7.6%. With earnings looming Tuesday after the bell, the massive losses show jittery shareholders would rather exit stage left than hold into an uncertain quarterly report.
ATVI stock is limping at a two-year low. The price action remains ugly. with sellers controlling trends across all time frames. So, unless Activision pulls a rabbit out of the hat, the path of least resistance remains lower. It's worth noting both Electronic Arts (NYSE:EA) and Take-Two Interactive (NASDAQ:TTWO) cratered after their respective reports, so perhaps ATVI traders decided to get the sell-fest started ahead of the main event.
On the options trading front, calls dominated the session despite the thrashing. Activity swelled to 501% of the average daily volume, with 145,787 total contracts traded. 71% of the trading came from call options.
Implied volatility jumped to 61%, placing it at the 72nd percentile of its one-year range. Premiums are baking in a $3.85 or 9.6% post-earnings move. In light of Monday's plunge, I wouldn't be surprised if we move less than that.
Aurora Cannabis (ACB)
Aurora Cannabis stepped up to the earnings plate last night, allowing investors to see if the recent boom in pot stocks is built on firm footing. ACB stock is down over 5% pre-market.
The Canadian-based company reported losses of C$237.8 million on C$54.2 million in revenue. For a more in-depth break down of the numbers check out our coverage here.
On the options trading front, calls were hot ahead of the report. Total activity grew to 220% of the average daily volume, with 91,518 total contracts traded. Calls accounted for 72% of the day's take.
Heading into the event implied volatility traded at 107% — a four-month high. Given the snoozer of a reaction, we should see some pressure in today's trading session. Ahead of the report, options were pricing in a move of 89 cents or 12.4%.
Disney (DIS)
Disney shares continue to struggle after sellers emerged to reject its post-earnings gap higher. The two bearish engulfing candles that have formed since then are warning off would-be buyers. Volume patterns add further legitimacy to the cause for caution. Three of the past four sessions have seen distribution.
Keep the $109 support level on your radar. It has acted as a clear line in the sand over the past year. If it fails as support on the current test, DIS stock could take a troubling turn.
On the options trading front, calls outpaced puts by a small margin. Activity increased to 139% of the average daily volume, with 80,690 total contracts traded. Calls added 54% to the session's tally.
With earnings now behind us, implied volatility has fallen into the basement. At 20%, it stands at the 19th percentile of its one-year range. Premiums are pricing in daily moves of $1.40, or 1.3%.
As of this writing, Tyler Craig didn't hold a position in any of the aforementioned securities. Check out his recently released Bear Market Survival Guide to learn how to defend your portfolio against market volatility.