Off and on the price chart, bears can plead their case for lower prices in Shopify (NYSE:SHOP) stock. But a more-thorough investigation looks to uproot that mistaken verdict and argues the grounds for buying SHOP today. Let me explain.
Software-as-a-service (SaaS) and e-commerce growth upstart Shopify stock have been on a technical tear. But with their almost-200% gain in 2019, SHOP shares have left e-commerce peers in their dust, as compared with the 34% gain this year by the 40-stock Global X E-commerce ETF (NASDAQ:EBIZ). Even a headline-grabber like Apple (NASDAQ:AAPL) can't compare despite its own nearly 84% year-to-date gains. Nice, right?
Arguably, Shopify's remaining bear population of around 4% might warn the Canadian outfit's best days are behind it. Investors calling for lower prices in SHOP might point to late October's third quarter results. Shopify stock posted a surprise loss which paints a weaker earnings picture compared to last year's, same quarter profit.
This same prosecution might draw investors' attention to the Shopify stock price chart which shows the possibility of a bearish double-top. But don't believe the evidence. SHOP isn't guilty as charged.
Quarterly Loss Not Worth Griping About
Bottom-line, Shopify is still very much a growth stock at its core and more conservative metrics aren't going to send RSVP's to investors uncomfortable with those risks. More importantly, sales grew by 45% compared to 2018's third quarter. And international revenues fared even better. That's the kind of evidence which matters most for this type caliber of stock right now.
Additionally, if investors want to gripe about a quarterly loss, they shouldn't. In large part the red ink needs to be appreciated as part of a one-time tax provision and calculated strategy by management to smartly invest in its business to take on Amazon (NASDAQ:AMZN) and further distinguish itself from the competition.
Lastly and about the bears' double-top pattern. If you're agreeable to lower prices in Shopify stock, I'd also argue you're not looking at the big picture the right way.
SHOP Stock Price Weekly Chart
Even the best stocks correct. Further, growth stocks like SHOP stock are more prone to longer periods of weakness. The fact is in healthy markets this kind of technical pressure can lead to fairly routine, but stomach-churning declines of 30%. And Shopify stock isn't immune. In fact, shares corrected by a near perfect 31% from their August all-time-high to October low.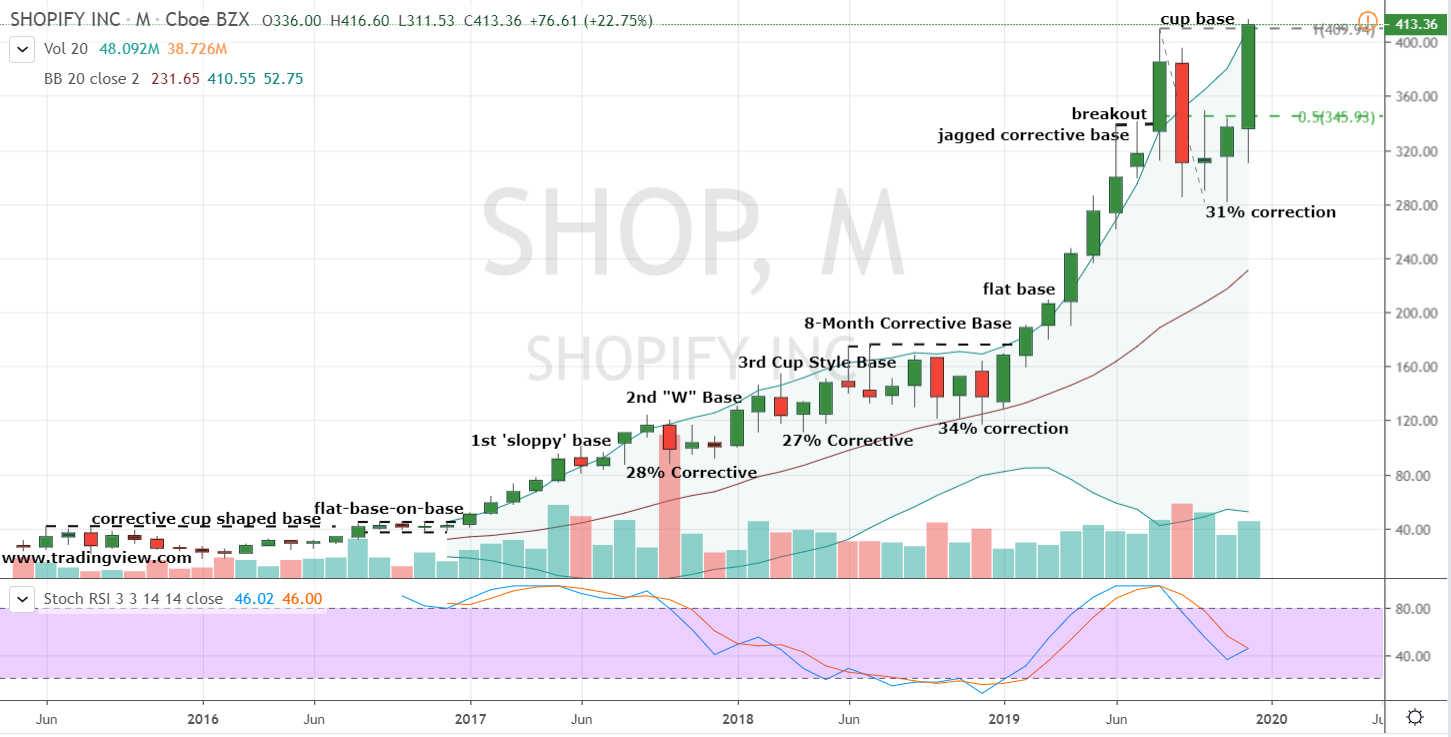 Source: Charts by TradingView
The good news is this type of price activity can often lead to additional and significant gains. The resetting of bullish expectations and overbought conditions to more neutralized levels allows shares to break out from a more durable base or platform. And right now SHOP stock is confirming this kind of scenario as shares stage a pattern cup breakout.
SHOP Stock Buy Strategy
With SHOP stock's classic base breakout being confirmed by a neutralized stochastics setup on the cusp of a bullish crossover, Shopify is in position for buying today. To guard any long SHOP stock merchandise against adverse damages, I'd suggest a stop-loss of 10%. In lieu of this exposure and given the size of the pattern, I'd set a price tag of $500 for taking initial profits in a growth stock with unfinished business still to come in 2020.
Disclosure: Investment accounts under Christopher Tyler's management do not currently own positions in securities mentioned in this article. The information offered is based upon Christopher Tyler's observations and strictly intended for educational purposes only; the use of which is the responsibility of the individual. For additional market insights and related musings, follow Chris on Twitter @Options_CAT and StockTwits.