Many alternative energy vehicle stocks have gone from enviable green gains to toxic red losses. But when it comes to Hyliion (NYSE:HYLN) have these challenges created a solid buying opportunity? Let's take a look at the technical and fundamental aspects behind the investment case to see if it's worth your time and money.
Nikola (NASDAQ:NKLA). Workhorse (NASDAQ:WKHS). Fisker (NYSE:FSK). Lordstown Motors (NASDAQ:RIDE). Kensington Capital Acquisition (NYSE:KCAC). Switchback Energy (NYSE:SBE). If you follow the market with the tiniest bit more interest than what Apple (NASDAQ:AAPL) or Microsoft (NASDAQ:MSFT) are doing on any given day, there's a likely chance you've heard of one or more of these stocks. But these stocks aren't AAPL or MSFT by a longshot.
What all these stocks have in common is that each is among today's heavily traded Special Purpose Acquisition Companies otherwise known as SPACs or blank check/reverse merger companies. Moreover, each is also built on the chassis of a unique business angle within the booming electric vehicle space, which has flooded the market in 2020.
It's a siren song to be wary of.
The thing is, the investor hype behind SPACs isn't unlike cannabis stocks a couple years ago. Most of the names in that space are still experiencing deep pain in 2020. While the scale in the SPAC/EV market isn't the same, it's also similar to the wave of get-rich-quick, turn-of-the-century internet IPO schemes, which never survived the Dot.bomb crash.
To be fair, there should be a winner or two within this group of alternative energy transportation stocks. That's not to say the next Amazon (NASDAQ:AMZN) is going to emerge. But that's OK. Amid the fast EV cars, light duty trucks, commercial vans, battery or electric-charging plays, Hyliion's proposition is as an EV manufacturer of heavy-duty commercial vehicles or HCVs. Think big rigs. Really?
Long-haul transport and 18-wheelers may not sound as flashy as a SUV, but there's no denying this vehicle's critical importance for transporting goods. It's a market that has even caught the eye of EV champion Tesla (NASDAQ:TSLA). But before you pull the plug on HYLN in fear of Tesla crushing the competition, Hyliion's Hypertruck ERX powertrain platform is powered by RNG or renewable natural gas. And as InvestorPlace.com's Luke Lango explains, the advantages are compelling.
Luke does a deep dive into HYLN's advantages over its battery and hydrogen powered competition. The cliff-notes version is the company's Hypertruck ERX offers exceptionally low fuel cost, existing natural gas infrastructure, superior driving range, environmental sustainability vis-à-vis RNG's methane capture, better payload capacity, faster recharge time and superior horsepower under the hood.
Right now, Hyliion is offering investors a couple other newer potential advantages as well.
First, given a Biden White House and split Congress, I'd propose that Hyliion's chances for success have grown. The observation is Hyliion's greener RNG technology can be embraced as a win-win compromise between proponents hoping for a doomed Green New Deal and those vested in seeing our fossil fuel economy continue its relevance well into the future.
Secondly, and unlike in recent days past, today's HYLN investors have a technical platform built for some heavy-duty motoring.
Hyliion Stock Weekly Price Chart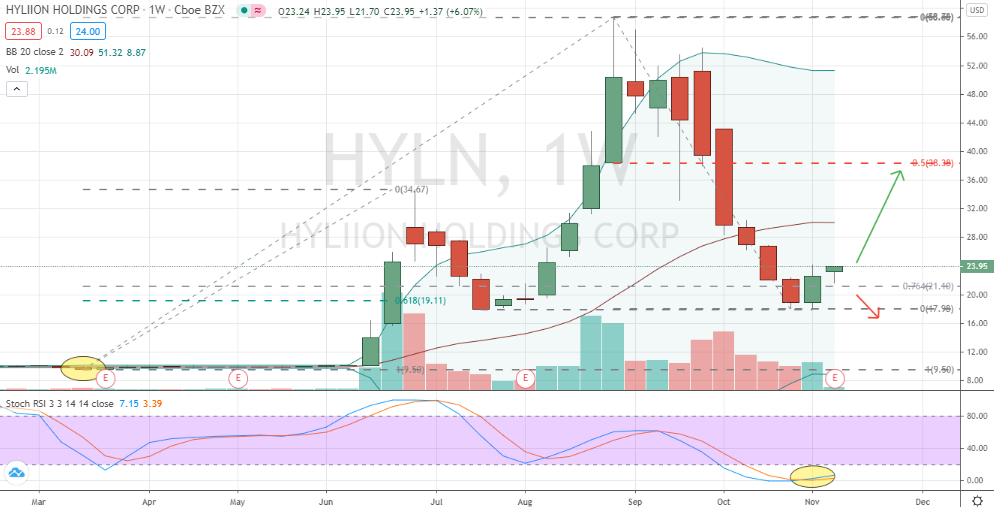 Source: Charts by TradingView
Technically, the past couple months have proven a harrowing ride for many HYLN investors riding momentum from late summer. Not that Hyliion shareholders were alone, but an abrupt U-turn which collapsed the stock nearly 70% inside of two months is a lot. The good news for investors who believe HYLN has an exploitable opportunity within the EV market is that today's stock chart offers a decent spot to gain exposure at a decided advantage.
As the price chart reveals, this past week, HYLN confirmed a two-week long bullish reversal pattern off its corrective lows. The technical picture looks bullish. Especially considering that it's backed by a bullish oversold crossover stochastics setup and price action that's finding support off a pair of deeper Fibonacci levels. I'd even estimate shares will clear the base's 50% retracement level near $38.50 within the first half of 2021. So, it's a buy, right?
Relative to the pattern bottom, an initial price target at the 50% level skews the risk-to-reward ratio heavily in favor of buyers. But let's not put the carriage in front of the horse. HYLN is also a highly volatile stock where substantial and larger-than-expected downside risk exists no matter what the price chart is suggesting. As such, a limit order to pay up to $1.50 for the April $30 / $40 bull call spread is a favored risk-adjusted vehicle for profiting smartly from potential upside in Hyliion, while smartly avoiding a larger crash.
No Stocks Owned: On the date of publication, Chris Tyler does not hold, directly or indirectly, positions in any securities mentioned in this article.
Chris Tyler is a former floor-based, derivatives market maker on the American and Pacific exchanges. The information offered is based on his professional experience but strictly intended for educational purposes only. Any use of this information is 100% the responsibility of the individual. For additional market insights and related musings, follow Chris on Twitter @Options_CAT and StockTwits.