Despite a global pandemic, many marijuana stocks saw a strong rally in 2020 with demand for cannabis on the rise.
Some dispensaries were even deemed an essential business during the widespread lockdowns. As the strong momentum of the cannabis sector carries into the new year, investors are hoping for some big gains.
The growth of the marijuana industry will also be bolstered by mass legalization of marijuana across the country. Nearly 15 states have sanctioned the use of recreational marijuana and more are expected to join soon. The incoming Biden administration and "Blue Wave" Democrats are seen as pot friendly.
With greater expansion on the horizon for the cannabis sector, this is the perfect time to place your bets on the top stocks. Here are seven names that show a lot of potential for the future:
Marijuana Stocks: Curaleaf Holdings (CURLF)
Investors looking for a cannabis pure-play should consider investing in Curaleaf. The company focuses on medicinal marijuana and even developed one of the first vaporizers for a medical dose. Today, the company has 93 retail locations across 23 states. The potential for growth remains vast with the widespread acceptance and legalization of medical cannabis.
In addition to its medical marijuana products, Curaleaf is also marking its territory in the recreational pot sector. In an effort to develop its retail brand, the company has made a number of acquisitions since going public in 2018.
A vertically integrated business model and the potential for future growth makes CURLF stock one of the top marijuana names to have on your radar this year.
Cresco Labs (CRLBF)
One medical marijuana stock that's at the top of its game right now is Cresco Labs and it has the potential to deliver strong returns for investors in 2021. With multistate legalization underway, the company's massive footprint across the nation will be a major catalyst for growth. Revenue in its previous quarter came in at an impressive 326.6% year-over-year.
Cresco Labs' growth in 2021 can be attributed to a number of reasons. For one, the company will score big with its retail operations. While its retail footprint doesn't match up to larger peers in the sector, Cresco does have 10 locations in Illinois which is a limited-license state. This means there is a cap on the number of licenses authorities will hand out. Cresco's dominant position will help them capitalize on the market share.
Wholesale operations which bring in 59% of the company's revenue will be its winning ticket. In its previous quarter, wholesale revenue amounted to $90.5 million. As the largest wholesaler in the cannabis market, Cresco Labs can benefit from greater economies of scale as it continues to grow.
As far as marijuana stocks go, CRLBF stock is worth watching in 2021.
Aphria (APHA)
Marijuana grower Aphria is often overlooked in favor of bigger names in the sector but shows a lot of promise for the future. Although the company is yet to produce a net profit, revenue increased by 15.5% for the period with the double-digit growth expected to continue.
As one of the key players in the Canadian cannabis sector, Aphria is in a great position to expand into the U.S. market as mass legalization continues.
Another catalyst for growth is Aphria's announced $4 billion merger with Tilray (NASDAQ:TLRY). As per the terms of the agreement, Aphria shareholders will control 62% of the company with Tilray managing the rest. The newly formed company will have combined annual sales of $874 million which is higher than the sales value of cannabis heavyweights like Canopy Growth (NASDAQ:CGC).
The merger between the two marijuana players makes APHA stock one of my top picks this year.
Trulieve Cannabis (TCNNF)
Trulieve Cannabis earns a majority of its revenue from its dispensaries — a majority of which are located in the sunshine state of Florida.
While this single-state presence is a huge revenue generator for the company, it also means that Trulieve has the opportunity to expand across the country. In addition to Florida, the company has a presence in five other states. This includes Massachusetts where the cannabis market is set to hit $1.35 billion in 2024.
As for the numbers, Trulieve is widely considered to be one of the most successful pot stocks on the market right now. In its previous quarter, the company saw a 92.7% increase in revenue at $136.3 million and EBITDA of $67.5 million.
This puts the cannabis producer in a great position to grow and expand this year. Florida is also expected to legalize the use of recreational marijuana which will open up a huge market, firing up TCNNF stock's future.
Planet 13 Holdings (PLNHF)
In its previous quarter, sales increased by 36% and EBITDA up by 84%. Looking ahead, Planet 13 plans to expand its footprint in high-growth markets across the U.S.
As the world emerges from the pandemic and travel resumes once again, Planet 13 expects to earn big in 2021. Revenue will be bolstered as demand returns to its Vegas location and is expansive regional growth.
According to the company, the Superstore will be a one-stop-shop for everything cannabis-related. The rapid decriminalization of recreational marijuana will also serve as a tailwind for PLNHF stock.
Innovative Industrial Properties (IIPR)
Innovative Industrial Properties is a little different from your traditional pot stocks. As a real estate investment trust (REIT), the company rents out properties to medical cannabis producers, managing some 64 properties in 2020. The locations have an occupancy rate of 99% and are spread across 16 states. Many investors consider IIPR stock to be a great cannabis play as REITs are known for being a safe bet.
Innovative Industrial Properties' major advantage is its unique position in the market. The company is the sole REIT focused on renting out properties to medical cannabis facilities. This provides an opportunity for expansion, given that nearly half the states in the U.S. have legalized medical marijuana.
Adding to this is its successful sales-leaseback program which has helped Innovative Industrial Properties keep cash levels high during the pandemic.
Green Thumb Industries (GTBIF)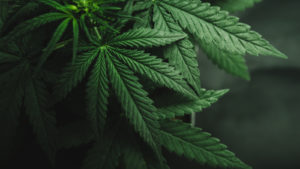 Last but not least is one of the top pot stocks of 2021, Green Thumb Industries. The company produces medical and recreational marijuana that is sold at a number of retail chains across the nation. This vast presence has resulted in some major gains for the cannabis producer this year.
Revenue growth of 131% year-over-year, to be precise. Adding to this is the company's new cultivation and distribution facilities which will aid in its expansion efforts.
Green Thumb has a burgeoning presence in Illinois with 48 retail locations. This presents a major opportunity for growth given that the state legalized recreational marijuana in 2020. Together with its locations in Nevada and New Jersey, Green Thumb's annual sales are expected to hit $1 billion by 2022.
If you are looking for a long-term play, GTBIF stock is one of the best marijuana stocks to buy right now.
On the date of publication, Divya Premkumar did not have (either directly or indirectly) any positions in any of the securities mentioned in this article.
Divya Premkumar has a finance degree from the University of Houston, Texas. She is a financial writer and analyst who has written stories on various financial topics from investing to personal finance. Divya has been writing for InvestorPlace since 2020.