American Airlines (NASDAQ:AAL) is off to a flying start this week. But for today's AAL stock investors is now a smart time to hop on board or make alternate plans for the portfolio? Let's look at what's happening off and on the price chart. Then, I'll offer an aligned, risk-adjusted determination for the weather forecast ahead.
One day doesn't typically make a trend. But Tuesday was a good one for AAL. Shares were up 5.28% on the session, comparing favorably to the broader averages, as well as airline peers Delta (NYSE:DAL), United Airlines (NASDAQ:UAL), Southwest Airlines (NYSE:LUV) and others.
Driving the action, American Airlines announced plans to reinstate most of its fleet to active status as it prepares for a surge in air travel demand this summer.
It sounds good, right? And for investors demanding friendlier price action, AAL's monthly gain of nearly 14% and year-to-date return of 53% are certain signs of a bullish trend in motion. Even better? That tenacity hasn't been without cause either.
The Jet Fuel in AAL Stock
It's no secret AAL has benefited from more and more Americans traveling as the novel coronavirus loosens its grip after more than a year of pandemic-driven lockdowns and other socially distanced behavior nearly unimaginable a year ago. From Thanksgiving to the Christmas holiday and most recently this month's Spring Break, people have been making the most of easing restrictions as the country unevenly reopens and nearby herd immunity increasingly a nearby reality.
Today and as far as AAL's business is concerned, the improvement is dramatic. From Covid's darkest days last spring when airline travel was down upward of 90%, an industry-wide collapse looked possible and warnings of "the world has changed" were heard over the market's PA system by Warren Buffett, bottom and top-line, people are traveling by air to unshackle from cabin fever fatigue.
This month scanning data from the Transportation Security Administration (TSA) is sure proof of that. Air travel still hasn't reached levels from 2018 and 2019. But its roughly a three-fold increase over 2020 with consistent counts north of 1 million a solid indication of the industry's rebounding health. So break out the travel gear and book a trip on AAL stock? Not quite.
AAL Weekly Price Chart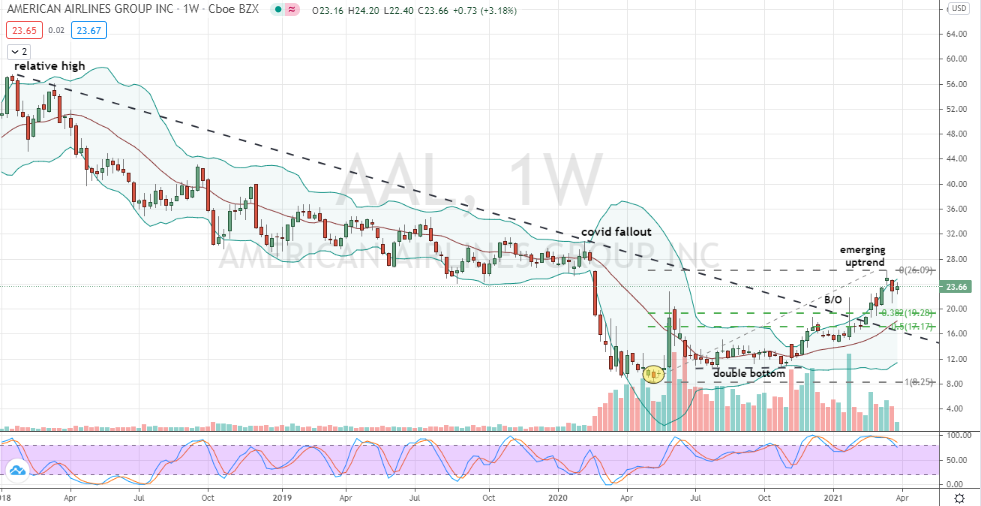 Source:
Charts by TradingView
The solid gains in AAL stock teased at above come at a steeper cost today. Technically and for the time being, a contrarian-based investment is running on fumes. As the illustrated weekly view reveals, AAL's stochastics has bearishly crossed over in overbought territory. It's a warning. And accompanied by a confirmed doji topping pattern formed outside American's upper Bollinger Band, monitoring shares for a purchase, rather than buying a standalone stock position right now makes sense.
Buying into American Airlines Stock
What I'd like to see happen in AAL's emerging uptrend is for shares to challenge a technical zone support from roughly $16.50 to $19.25. Comprised of the 38% and 50% Fibonacci retracement levels and prior downtrend resistance, a corrective countertrend move of this size should hold.
And the chances for a bullish pivot low within the trend to form are improved as today's overbought situation should be sufficiently neutralized.
Alternatively, for AAL stock bulls that don't mind riding out some forecasted turbulence before new relative highs might come into play, I'd recommend the August $28 / $33 bull call spread. For just over $1, this vertical offers nice downside protection and positional leverage to reasonably capitalize on a building uptrend, while allowing for enough time to do so.
On the date of publication, Chris Tyler does not hold, directly or indirectly, positions in any securities mentioned in this article.
Chris Tyler is a former floor-based, derivatives market maker on the American and Pacific exchanges. The information offered is based on his professional experience but strictly intended for educational purposes only. Any use of this information is 100% the responsibility of the individual. For additional market insights and related musings, follow Chris on Twitter @Options CAT and StockTwits.