Earnings season is well underway on Wall Street, and investors seeking stocks to buy are learning the power of a company's fundamentals anew. Sometimes a company's bottom line is masked by the news of the day, investor sentiment or technical price events that capture traders' attention. Four times a year, however, the spotlight turns back to what ultimately matters most.
Today's selection of stocks to buy features three beauties that are winning big on the earnings front.
Rather than sifting through balance sheets and earnings announcement transcripts, I took the quicker and more surefire route to uncover today's trio. It is, of course, the path of price charts. The market demanded spectators pay attention by virtue of the sharp price jumps following their reports. And while the lot of them may not be in perfect buy setups now, they are all certainly deserved of snatching up on the next opportunity.
That said, here are three stocks to buy following blockbuster earnings:
Let's take a closer look at their reports and accompanying price responses.
Stocks to Buy After Blockbuster Earnings: Dicks Sporting Goods (DKS)
Dick's Sporting Goods has been on fire for the past year. The trajectory of its post-pandemic recovery has been steeper and stickier than most. Earnings provided all the fuel needed for the ascent, and the late-May earnings report provided all the evidence needed that the fundamentals are strong with this one.
The retailer destroyed expectations, scoring earnings per share of $3.41 compared to expectations of $1.12. Revenue surged 119% from a year earlier when the pandemic forced store closures. The company also raised its full-year earnings forecasts to a range of $8 to $8.70 per share on sales of $10.5 to $10.8 billion. Analysts were only projecting earnings of $5.32 per share on $9.8 billion in sales.
DKS stock rocketed higher by 17% on the day following May's release. But here's what should excite traders now. The stock spent the past two months consolidating and just broke out on Friday.
The Trade: Buy the September $105/$110 bull call spread for $2.
Snap (SNAP)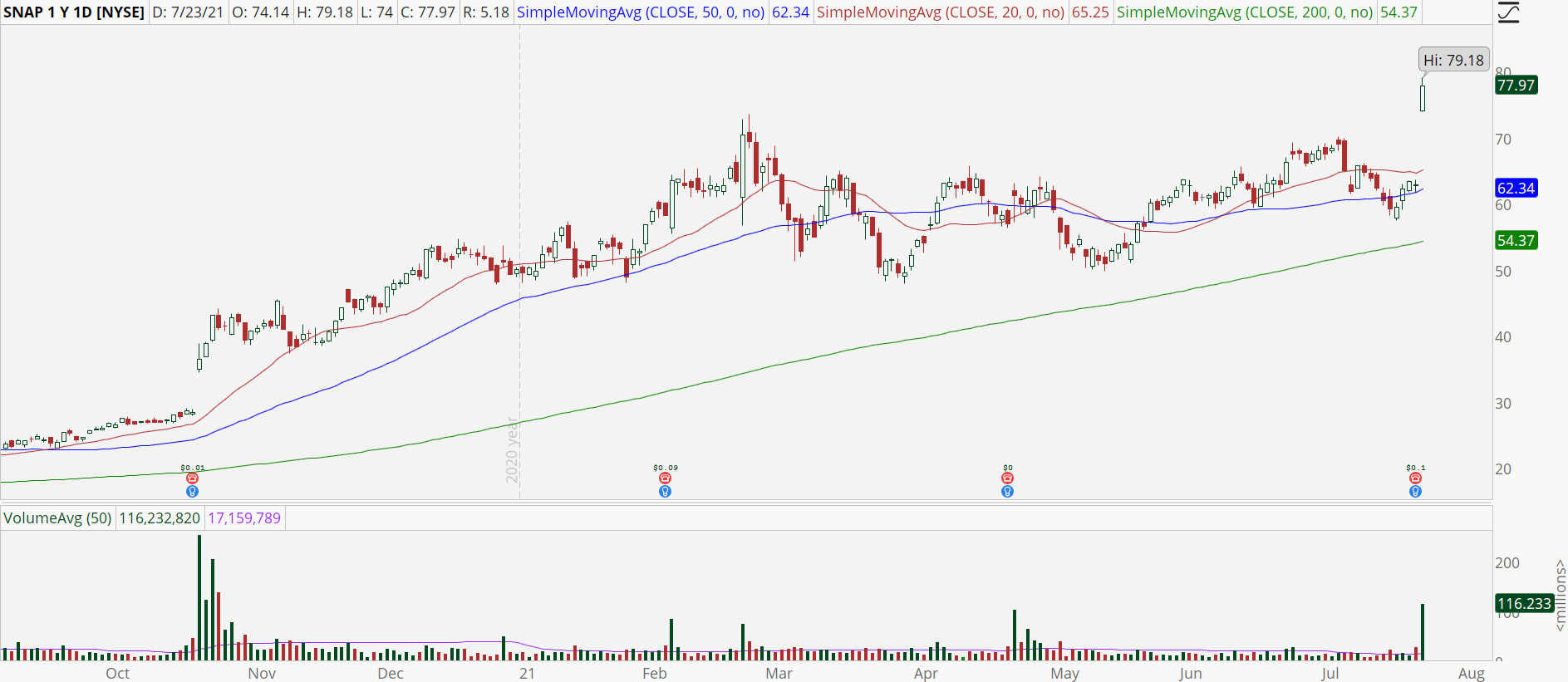 Snap shares have been uninspiring for much of 2021. After a rousing start, the stock ran out of gas in late February and floundered for five months. But Thursday night changed everything. The tech company posted 293 million daily active users, beating out expectations of 290.3 million. It also marks a 23% increase compared to the year-ago quarter.
Its adjusted earnings per share came in at 10 cents versus the 1 cent loss expected by analysts. There were other positives from the report, but you only need to look at the stock price to see how investors feel about the overall report. SNAP stock closed Friday's session up 23.8%, launching prices to a new record.
You could wait for a secondary pattern to develop, such as a pullback or high base, before piling in. However, for those willing to bet SNAP can at least remain above $65 for the next month, the following put spread makes sense.
The Trade: Sell the 27 August $65/$60 bull put spread for 50 cents.
Stocks to Buy After Blockbuster Earnings: Crocs (CROX)
Crocs rounds out today's stocks to buy with one of the best-looking charts on the Street. And the gains haven't been built on fluff. Earnings have seen epic growth over the past 18 months. Here are the last seven quarters of EPS numbers: 12 cents, 22 cents, $1.01, 94 cents, $1.06, $1.49, $2.23. Impressively, the company continues to beat expectations, even after its stock price has risen 1,300% off the pandemic lows.
Thursday's up gap added to the gains, reiterating that the growth trend isn't finished. As with the SNAP analysis, you could wait for a pullback or pause to develop before piling in. Some profit-taking wouldn't be surprising given its lofty perch. If you don't want to risk missing it or simply want a higher probability play, then I like bull put spreads.
The Trade: Sell the August $120/$115 bull put spread for 80 cents.
On the date of publication, Tyler Craig held LONG positions in TSM. The opinions expressed in this article are those of the writer, subject to the InvestorPlace.com Publishing Guidelines.
For a free trial to the best trading community on the planet and Tyler's current home, click here!