As the weather gets hotter in July, stocks will warm-up, too. The r/WallStreetBets crowd will look for the next Reddit penny stocks to buy. In February and in June, Redditors bought up shares of the most short-sold stocks.
That included GameStop (NYSE:GME), Clover Health Investments (NASDAQ:CLOV), and AMC Entertainment (NYSE:AMC). Those stocks had two things in common. First, they had a very high short interest ratio. Hedge funds that bet against them stood to lose short selling them. Second, those companies have a market capitalization in the billions.
For the summer months, Reddit traders may fare better by taking advantage of the slower trading volume ahead. Penny stocks would have the biggest bang for the buck. The combination of low daily trading volume and a penny stock price could lead to wild swings.
To that end, we've put together a list of seven Reddit penny stocks to consider. These are stocks priced below $10 and a market capitalization of at least $100 million: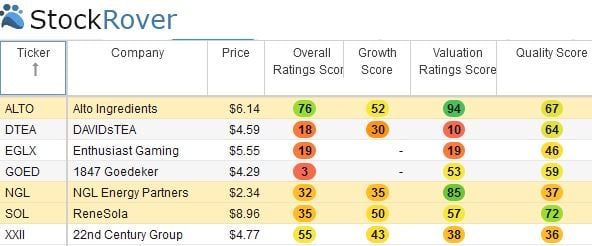 In the above stock scores, these penny stocks have asymmetric upside. ALTO, NGL and SOL stock have strong scores on various metrics. Alto and NGL Energy offer the best value while ReneSola has the best quality. The other stocks may score poorly today. That could change once the companies report stronger results in 2021. For the month of July, Redditors will need to accumulate those stocks before the market catches on.
1847 Goedeker (GOED)
1847 Goedeker traded at above the $10 earlier this year only to fall steadily. The firm describes itself as an industry-leading e-commerce destination for appliances, furniture and home goods. Novice investors who missed out on buying Amazon (NASDAQ:AMZN) decades ago may speculate on this company instead.
GOED stock spiked to above $16 on May 27 on no particular news. Markets may have speculated on the initial public offering pricing.
GOED priced more than 91 million units for $2.25, raising $205 million before fees. Each shares has a warrant included, which was immediately exercisable at $2.25 a share and has a five-year expiry from the date of issuance. Goedeker will use the net proceeds to pay part of the cash portion of its proposed Appliances Connection acquisition.
In the first quarter, Goedeker and Appliances Connection reported revenue of $123 million. Its adjusted EBITDA of $14.7 million is a good start. As a pure-play online retailer of household appliances, GOED could benefit from a healthy housing market. Demand for appliances will increase as consumers rush to buy expensive items before inflation lifts prices further.
22nd Century Group (XXII)
22nd Century Group stock traded as low as 55 cents a share last year before daily trading volume rose. The reduced nicotine tobacco and cannabinoid innovator joined the Russell 2000 and Russell 3000 on June 28. The inclusion will force passive mutual funds and exchange-traded funds to buy XXII stock.
XXII has strong tailwinds ahead. It has strategic initiatives for its three exciting franchises: plant-based franchise, hemp/cannabis and tobacco.
The opportunity size is more than $1.3 trillion.
XXII's stock price will rise steadily, increasing its market capitalization, as more investors speculate on this company. On its quarterly conference call, COO Mike Zercher said that legalization for recreational and medical use will lift the hemp and cannabis segment. XXII has new strains and may adjust the cannabinoid levels, too. So, once the government legalizes cannabinoids federally, XXII's market will expand.
According to simplywall.st, XXII's earnings will grow by almost 10% annually. This is an improvement over its negative 20.1% earnings growth in the last five years.
Alto Ingredients (ALTO)
Alto Ingredients posted first-quarter earnings of 6 cents a share (GAAP). Revenue fell by 29.8% year-on-year to $218.3 million. The major producer of specialty alcohols and essential ingredients focuses on four key markets: health, home and beauty, home and beverage, essential ingredients and renewable fuels.
Renewed interest in clean energy after the government announced an infrastructure bill might help Alto's renewable fuels segment. Yet ethanol is a complex product to manufacture. Still, it successfully transitioned production to around 50% specialty alcohols. Also, fuel ethanol margins improved in the quarter, as CFO Bryon McGregor said that industry inventories fell and fuel demand increased.
On April 28, Alto sold its fuel-grade ethanol production facility for $28.3 million. It will use the proceeds in Q2 to retire company debt. This saves the company $700,000 a quarter in interest expenses. In the last year, the company paid down $120 million of high-interest debt. When it becomes a debt-free company in 2021, the firm may invest its free cash flow in the business to grow.
DAVIDsTEA (DTEA)
DAVIDsTEA found support in the $3 range in the first half of the year. The stock broke out to the upside in June. On June 17, the U.S. bankruptcy court approved DTEA's plan of arrangement, a turning point for DTEA stock.
Chairman and founder Herschel Segal expressed appreciation to its creditors for their understanding. The company will distribute 18 million CAD ($14.4 million) to creditors. This is a full and final settlement of all claims.
In the first quarter, DTEA posted revenue growing by 17.2% for the quarter, to $23.2 million. By carrying out a digital-first strategy, it will focus on engaging with tea-loving customers. For example, it will replicate its in-store tea discovery experience across many digital platforms.
Q1 is a turning point for DTEA. The positive adjusted EBITDA of $2.5 million will grow in the quarters ahead. Sales from e-commerce and wholesale channels have positive momentum. So, shareholders should expect earnings to climb in 2021.
Enthusiast Gaming (EGLX)
Stock offerings are a headwind for Enthusiast Gaming. But when GME shares rallied after a stock sale, EGLX stock may do the same.
On June 11, EGLX priced its stock sale at $5.75 a share, raising $46 million. The offering undervalues the stock because of its strong outlook and respectable growth ahead. In the first quarter, EGLX tripled its revenue YoY to $30 million. Gross profit rose by 80% YoY to $5.9 million. It lost $13.6 million or 12 cents a share.
Enthusiast Gaming put the proceeds of its common share offering to work by retiring $13.8 million in long-term debt. Its unused credit of $14 million will give it plenty of liquidity for operations.
Looking ahead, the growth company will expand its operations to support anticipated growth. Management forecasted revenue growing no less than 20% YoY. 2021 will have a significant advantage thanks to direct sales. Investors will notice the contribution to results throughout the year.
NGL Energy Partners (NGL)
After slumping for much of the year, NGL should catch Reddit penny stocks attention. The company posted fourth-quarter revenue rising by $1.75 billion, up 4.2% from last year.
In Q1, NGL posted a loss due to early repayment of the partnership's term loan facility for $40 million. In fiscal 2022, CEO Mike Krimbill said the company is well-positioned to rebound from last year. Crude prices, demand commodities and producer volumes are favorable. It extended its debt maturities and has a better liquidity profile. If credit markets tighten, NGL Energy will have enough access to cash.
NGL will benefit from volume increasing in the Water segment, which transports, treats, recycles, and disposes produced and flowback water generated from oil and natural gas production. In the last quarter, the winter storm Uri hurt water production. NGL processed 1.4 million bbl/day of water, down by 17.6% YoY.
Despite its Liquids segment hurt by demand, a rebound for the rest of the year will lift results.
There's a $2.50 a share median target (range:$2.25-$3.00) for the five Wall Street analysts offering a price target on NGL stock.
ReneSola (SOL)
Other than a breakout in late January at the height of the clean energy rally, ReneSola stock is range-bound. The company posted good first-quarter results. It also issued a positive Q2 and full-year forecast.
ReneSola reported revenue rising by 7.7% YoY to $22.78 million. It earned a penny a share (GAAP). For 2021, revenue will be in the range of $90 million to $100 million with a gross margin of over 25%. In Q2, revenue will be in the range of $19 million-$22 million.
The downstream solar supplier has assets worldwide, including China, the U.S., and Poland (shown on slide 3). For 2021, SOL has a target of building a 2-gigawatt pipeline. CEO Yumin Liu anticipates the global recovery will happen in the second half of the year. As project activity resumes and solar rooftops come online, gross margins will increase.
Net profit margins declined after peaking in Q2 2020. ReneSola will need net revenue growing at a faster pace while gross margins expand. The company forecasted margin pressures for the year, due party to the pandemic disrupting supply and demand. By next year, when things are normal again, SOL stock may trend higher as investors bet on solar energy growth.
On‌ ‌Penny‌ ‌Stocks‌ ‌and‌ ‌Low-Volume‌ ‌Stocks: With‌ ‌only‌ ‌the‌ ‌rarest‌ ‌exceptions,‌ ‌InvestorPlace‌ ‌does‌ ‌not‌ ‌publish‌ ‌
commentary‌ ‌about‌ ‌companies‌ ‌that‌ ‌have‌ ‌a‌ ‌market‌ ‌cap‌ ‌of‌ ‌less‌ ‌than‌ ‌$100‌ ‌million‌ ‌or‌ ‌trade‌ ‌less‌ ‌than‌ ‌
100,000‌ ‌shares‌ ‌each‌ ‌day.‌ ‌That's‌ ‌because‌ ‌these‌ ‌"penny‌ ‌stocks"‌ ‌are‌ ‌frequently‌ ‌the‌ ‌playground‌ ‌for‌ ‌scam‌ ‌
artists‌ ‌and‌ ‌market‌ ‌manipulators.‌ ‌If‌ ‌we‌ ‌ever‌ ‌do‌ ‌publish‌ ‌commentary‌ ‌on‌ ‌a‌ ‌low-volume‌ ‌stock‌ ‌that‌ ‌may‌ ‌be‌
affected‌ ‌by‌ ‌our‌ ‌commentary,‌ ‌we‌ ‌demand‌ ‌that ‌
InvestorPlace.com‌
's‌ ‌writers‌ ‌disclose‌ ‌this‌ ‌fact‌ ‌and‌ ‌warn‌ ‌
readers‌ ‌of‌ ‌the‌ ‌risks.‌ ‌
On the date of publication, Chris Lau did not have (either directly or indirectly) any positions in the securities mentioned in this article. The opinions expressed in this article are those of the writer, subject to the InvestorPlace.com Publishing Guidelines.
Chris Lau is a contributing author for InvestorPlace.com and numerous other financial sites. Chris has over 20 years of investing experience in the stock market and runs the Do-It-Yourself Value Investing Marketplace on Seeking Alpha. He shares his stock picks so readers get original insight that helps improve investment returns.