MMEN Rises 50% on TLRY Purchase… Some Cryptocurrencies Have Similar Upside
Well, that was fast…
On Monday, I pointed out that that MedMen (OTCMKTS:MMNFF) was becoming a juicy takeover target for Canadian marijuana firms.
Anyone who bought in would have woken up this morning to 50% gains.
It turns out that Tilray (NASDAQ:TLRY) also had its eyes on the U.S. cannabis retailer. Yesterday, the Canada-based marijuana firm announced it had acquired the majority of MedMen's senior secured convertible notes, accounting for around 21% of the company's votes.
It was an easy win for Moonshot investors, and further gains could be on the way.
Timing the Market with Momentum Master
When it comes to major acquisitions, timing often comes down to luck. Major corporate acquisitions are usually wrapped in total secrecy.
But fortunately for investors, the Momentum Master strategy often picks up on these trades before announcements happen. Some might have to do with insider trading — academics have long found evidence of such shenanigans. But the bigger reason has to do with liquidity: big investments in illiquid assets will inevitably move prices and alert technical analysis algorithms.
That's why I love using Momentum Master to pick out cryptocurrencies. My Golden Rule, which also covers qualitative and valuation metrics, is relatively useless when it comes to assets with no fundamental value. Meanwhile, momentum metrics don't care why people are buying or selling, just that they are.
Even after this morning's gains, MedMen is still a "buy" in my book. The firm now has backing from one of the largest marijuana growers in the world. But today, we'll take a look at what the "boss" — AKA the Momentum Master Strategy — is telling us to do next.
Quality Cryptos Continue Their Rise
As confidence has returned to Bitcoin (CCC:BTC-USD), investors have started piling back into alternatives with greater potential for growth. In fact, my four picks from three weeks ago — Dogecoin (CCC:DOGE-USD), Cardano (CCC:ADA-USD), Polygon (CCC:MATIC-USD) and (bonus) Ethereum (CCC:ETH-USD) — have all handily outperformed Bitcoin's rise.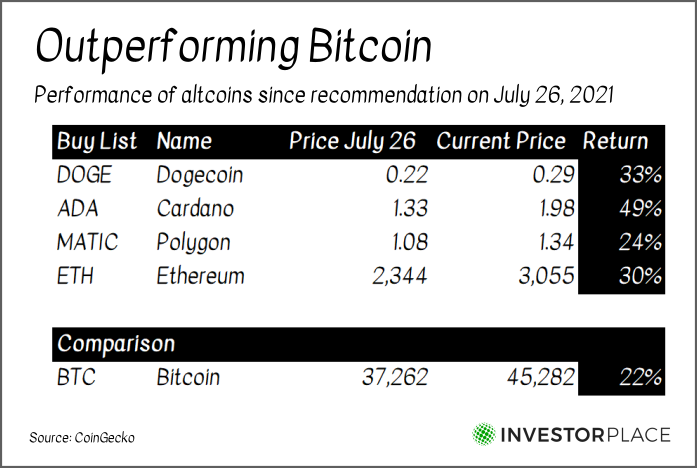 In the Long Run, Quality Matters
I picked these four cryptos for a simple reason: quality wins in the long run. Any cryptocurrency still around in 2030 will have survived thanks to having some real-world use.
Don't believe me? Consider the top-performing coins of 2017:
Ripple (CCC:XRP-USD)
NEM (CCC:XEM-USD)
Ardor (CCC:ARDR-USD)
Stellar (CCC:XLM-USD)
Dash (CCC:DASH-USD)
Of those five, only Ripple and Stellar now break the top-20 list by market capitalization. The two coins were laser-focused on getting financial institutions on board for cross-border transactions. Meanwhile, NEM and Dash are treading water — a result of their developmental stagnation. And Ardor has fallen off the map.
Today's cryptocurrencies are the same. It doesn't matter how many people "like," "follow" or "retweet" a token today. If there's no push for real-world use, I'm swiping up for more content.
5 Cryptocurrencies to Ride Momentum Master Higher
Those who missed my July 27th newsletter might be shrugging their shoulders right about now. Sure, it might have been great to buy Dogecoin three weeks ago for >50% returns.
But what about today?
Fortunately, algorithms don't sleep or get flustered. Let's revisit my top long-term coins and see what the Momentum Master Strategy tells us to do next.
Dogecoin (DOGE)
My long-time favorite memecoin continues to power ahead. And those who missed out at 17 cents still have a chance to jump in.
That's because interest in DOGE hasn't wavered. New "Inu" tokens continue to give a nod to the original Shiba coin, and Dogecoin remains one of the few small altcoins available on Robinhood (NASDAQ:HOOD).
There will be a time to leave Dogecoin behind someday. The coin's 2% to 3% annual inflation, coupled with a lack of technological innovation (as measured by code commits), means DOGE will eventually go the way of Litecoin (CCC:LTC-USD) unless something changes.
But until then, this cryptocurrency has legs. Momentum-seeking investors should stay invested while putting in stop-loss orders at 25 cents.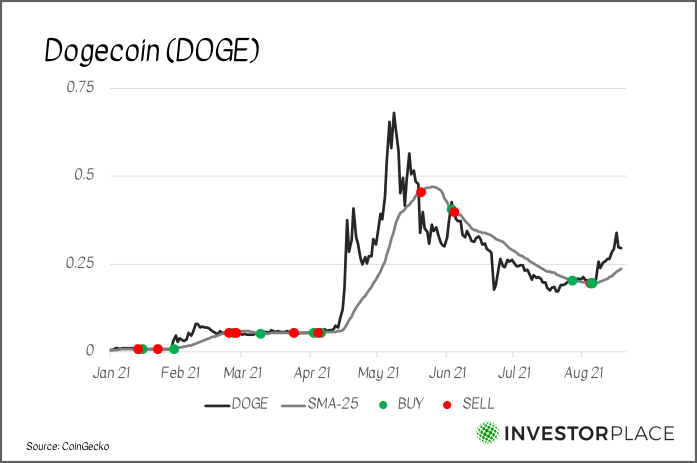 Shiba Inu (SHIB)
I'm sticking with my top medium-term name. That's because even after climbing 20% in less than a week, SHIB (CCC:SHIB-USD) seems like it has more life ahead.
But there's a catch. On the one hand I'm bullish, because this Dogecoin knockoff is relatively well-maintained. Unlike SafeMoon (CCC:SAFEMOON-USD), where one developer maintains total control, SHIB has burned 50% of tokens and requires multiple signatures to push changes.
In other words, Shiba Inu is on a path to becoming a legitimate cryptocurrency. But on the other hand, it's still early days for the token. SHIB's ShibaSwap remains a niche interest and it's unclear whether mainstream investors will adopt the ecosystem.
Nevertheless, I won't argue with the crowd. Investors haven't stopped loving SHIB and in the upside-down world of cryptocurrency, popularity ultimately determines which coins succeed.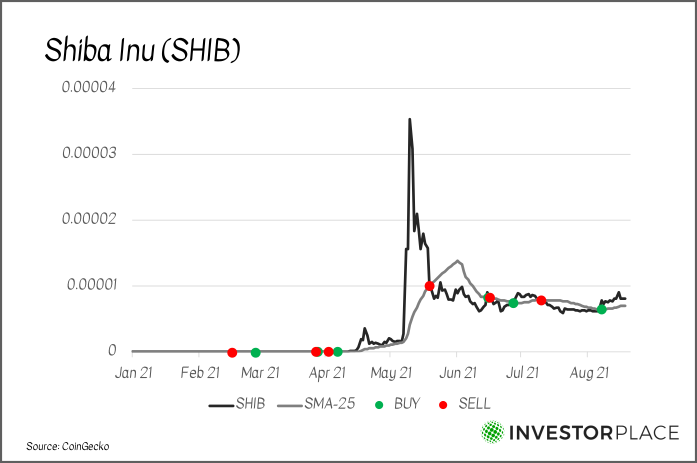 Stellar (XLM)
I'm replacing Polygon with Stellar this week for my long-term buy list.
"Eth2 researchers are working on ways to accelerate the merge," reported the Ethereum Project this month. "It will probably happen earlier than expected."
The upgrade could significantly increase Ethereum's scalability, making crutches like Polygon partially obsolete. Therefore, I'm closing out MATIC at a respectable 40% gain.
In its place comes Stellar, the keenest competitor to No. 6 crypto XRP. Though I dubbed rival XRP the "largest currency [with] 10x potential for 2021," Stellar has even greater potential thanks to its smaller starting size.
Stellar also lacks the corporate governance baggage that weighs down its rival. Any legal loss handed to Ripple Labs by the Securities and Exchange Commission would work in favor of XLM. And while XLM has its own share of baggage, it's in a better legal position to succeed.
Plus, at just 40 cents and a sub-$10-billion market cap, XLM has room to grow that XRP does not. Those buying in should have a stop-loss around 30 cents.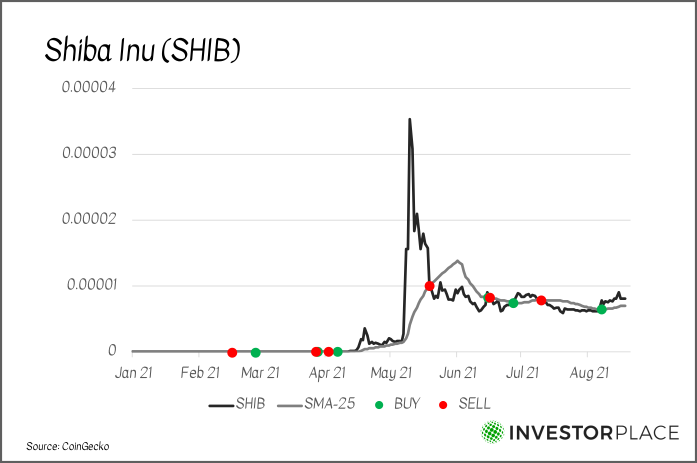 Cardano (ADA)
"ADA, which runs on the Cardano network is one of the most technologically exciting cryptocurrencies to date," I wrote back in January. "Its use of smart contracts means that it can keep track of transactions like Bitcoin while handling payments like Ethereum." Cardano has been one of my top-six picks ever since.
Those strong fundamentals have paid off. This week, Cardano briefly vaulted past Binance (CCC:BNB-USD) and Tether (CCC:USDT-USD) to take the title of the world's third-largest cryptocurrency. And more gains could be on the way.
That's because Cardano has all the elements I seek in a quality cryptocurrency — a dedicated programming team, well-funded marketing and business development teams and a protocol that's both scalable and useful.
Investors who buy in today should set stop-loss prices at $1.50.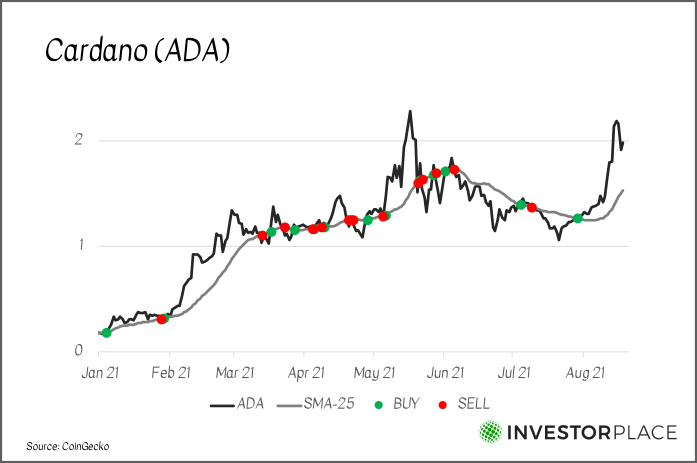 Ethereum (ETH)
You're probably bored of hearing me bang the same gong with ETH. But Moonshot or not, it's hard to argue with 50% gains in three weeks — especially with a cryptocurrency as stable as Ethereum.
ETH continues to hold its ground against Binance in the NFT space. And a move to its "2.0" version will essentially rid the cryptocurrency of its energy intensity problem.
For those not yet invested, buying in now should come with stop-losses set at $2,750.

Short-Term Trade Ideas: Crypto Game Tokens and NFTs
For those looking to add more risk, crypto game and NFT tokens can add some short-term excitement to an otherwise long-term portfolio. I know it's not for everyone. But for those Evel Knievel investors out there, here are two names flashing green on my Momentum Master screener.
Axie Infinity (CCC:AXS-USD). One of the world's top online blockchain games continues to win: prices are up 325% in the past month alone. However I'm only keeping AXS as a short-term trade, because user numbers have stopped going up, according to NFT tracker DappRadar.
Since users and engagement are the only factors holding up AXS, it's worthwhile to tread carefully and sell at the first sign of trouble. Set stop losses at $50.
SuperRare (CCC:RARE-USD). Last week, the world's ninth-largest NFT marketplace announced plans for a new token — RARE — that would help the highly curated exchange become more decentralized. And with last night's token drop, prices are already up 230%.
Investors should pay attention, as SuperRare is well-known for the quality of pieces on its site. Average sale prices on its exchange range between 2-3 times higher than on rivals OpenSea and Rarible. Its token could easily gain the same magic.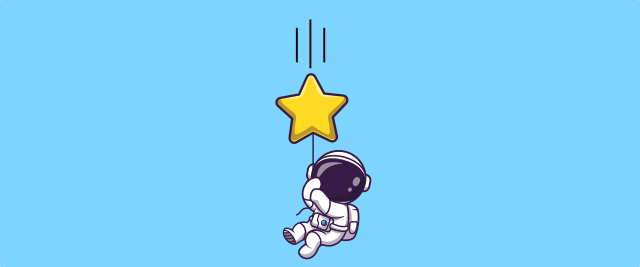 Spamcoins Continue to Fall
I never sugarcoat the fact that short-term crypto trades are risky. My trade idea last week, CryptoBlades (CCC:SKILL-USD) shot up from $41.87 to $60, a 46% gain, before falling back to its original price and flat-lining. SafeMoon, FEGToken (CCC:FEG-USD), Chia Network (CCC:XCH-USD) and many others have undergone similar fates.
Why haven't they bounced back with Bitcoin's resurgence?
Though Safemoon fans might disagree, I find that most crypto token investors are in it for the money. "Community" tends to run a distant second and vague promises to donate money to charity are in third. To hot-money investors, price action is what counts.
Moonshot investors can also point to the rise of collectible NFTs, particularly PolkaMonster and other blockchain games mentioned above. These modern-day equivalents of Pokémon trading cards have tied up millions of investment dollars in NFTs. Collectible art projects, including CyberKongz, Wicket Apes and Incognito, are starting to do the same.
That means most short-term crypto plays will continue to flounder even as Bitcoin recovers. For tokens with zero fundamental value, there's a good chance you want to sell out of winners sooner rather than later.
Who Wants To Be an NFT Investor?
| | |
| --- | --- |
| 20,334 | The number of NFT token contracts on the Ethereum and Binance blockchains. The most popular of these, CryptoBlades, has seen a half-million transactions in the past week alone. |
| $314,800 | The highest price paid for a CyberKongz NFT, in current ETH values. "Sith #1000" broke the record on August 2. |
| $3,646 | The lowest price paid for a CyberKongz NFT. The limited supply of 3,031 artworks has helped maintain a floor price for individual pieces. |
| $6 | The price of a Cryptokitty NFT on Opensea.io. Prices for one of Ethereum's first NFTs plummeted on an oversupply of kittens — over two million are now available for sale. |
Moonshots and Mania
Investors need to protect their crypto gains. InvestorPlace's Brenden Rearick gives his take on the seven cryptocurrencies to avoid (We'll have to agree to disagree on one of his picks).
Will Arcimoto's (NASDAQ:FUV) three-wheeled "fun utility vehicle" upend the EV market? Joanna Makris sits down with Arcimoto CEO Mark Frohnmayer to find out.
3D printing is making a resurgence, writes Luke Lango. And there's one company that's paving the way forward.
And finally, for those looking for something besides completely risky bets, Mark Hake gives his thoughts on why Coinbase (NASDAQ:COIN) could be worth $418 a share.
What Made Dogecoin Different?
In 2018, Robinhood decided to add Dogecoin to its list of available cryptocurrencies to trade, bringing the grand total to five tokens.
It was an oddity, for sure: the $1 billion crypto would have looked like a rounding error relative to the other coins on the platform at the time. Robinhood could have chosen dozens of other coins instead.
That quirk made Dogecoin a star. Anyone with a Robinhood account and a willingness to lose some money could just as easily have bought Dogecoin as they could Bitcoin or Litecoin.
The rest, as they say, is history.
When it comes to speculative tokens, most investors I know are readers, not buyers. Ask a random person how to buy SafeMoon using MetaMask, and I guarantee people will soon ask you what planet you're from (speaking from personal experience).
It usually takes a helping hand to propel a cryptocurrency to stardom. Cardano and Ethereum have their foundations, XRP has Ripple and Bitcoin has the benefit of first-mover advantage. Make no mistake — the next Bitcoin will have a helping hand too.
P.S. Do you want to hear more about cryptocurrencies? Penny stocks? Options? Leave me a note at moonshots@investorplace.com or connect with me on LinkedIn and let me know what you'd like to see.
FREE REPORT: 17 Reddit Penny Stocks to Buy Now
Thomas Yeung is an expert when it comes to finding fast-paced growth opportunities on Reddit. He recommended Dogecoin before it skyrocketed over 8,000%, Ripple before it flew up more than 480% and Cardano before it soared 460%. Now, in a new report, he's naming 17 of his favorite Reddit penny stocks. Claim your FREE COPY here!
On the date of publication, Tom Yeung did not have (either directly or indirectly) any positions in the securities mentioned in this article.
Tom Yeung, CFA, is a registered investment advisor on a mission to bring simplicity to the world of investing.