There's lots of wheeling and dealing surrounding Lucid Group (NASDAQ:LCID) these days. But should investors park their capital in LCID stock right now? Let's take a look at what's happening off and on the price chart to make a decision.
It's not a done deal. But several years of political gridlock for sorely needed infrastructure spending, including significant monies allocated to a greener transportation buildout in the U.S. is apparently "right around the corner" according to Republican Senator Bob Portman.
And in Monday's session, the comments were largely taken at face value in electric vehicle stocks of all types and sizes.
Good Times for Most EV Stocks
From EV power station ChargePoint Holdings (NYSE:CHPT) or next-gen battery hopeful QuantumScape (NYSE:QS), to 800 lbs. gorilla Tesla (NASDAQ:TSLA) and even embattled EV big rig play Nikola (NASDAQ:NKLA), it was a solid day for alternative transportation stocks.
Well, almost. It didn't help luxury EV play Lucid Group.
While other EV stocks gaining upwards of 8% Monday, LCID only managed a negligible increase of 12 cents, or barely 0.5% on the session. Where's the love, right?
Appreciatively, the irritating lethargy isn't the only time in recent days Lucid has driven shareholders crazy either.
Two weeks ago Lucid sealed its long-awaited de-SPAC merger with Churchill Capital. Yet gains of almost 20% in the deal's immediate aftermath were chopped in half on day one. More challenging, it's been all downhill from there. Over the past two weeks since the announcement LCID shares have given up the entirety of their gains. Doink!
That's not the worst of it though for many of Lucid's shareholders. The fact is the LCID is 62% beneath its mid-February peak of $64.86 as the deal unfolded under the CCIV ticker.
So, what gives with Lucid Motors' persistent drag?
A large part of Lucid's troubles aren't exclusive to LCID stock. Investors can also point fingers at a market environment that's less appreciative of higher-multiple and no-multiple-growth narratives. The bearish rotation has been a theme for almost six months, and one which Lucid is a card-carrying member.
Also, the impact — real and perceived — that's weighed on automakers this year due to semiconductor shortages hasn't helped matters either.
So, Lucid is a victim of circumstance? Kinda sorta.
Critics will also warn LCID stock compares unfavorably to where Tesla was back in its pre-production days. And to a certain extent they're right, but it's not an apples-to-apples comparison for the EV manufacturer.
The thing is Tesla has shown what was once thought impossible as executable. With that in mind, LCID is at an advantage in that respect and it's hefty $38 billion price tag is less of a burden than otherwise.
Today, it's not a matter if Lucid will be able to bring EVs into the market, but when. And under the leadership of CEO Peter Rawlinson whose resume includes work as chief engineer on Tesla's Model S, the Dream Edition is due to hit the road later this year.
What about the competition in today's and tomorrow's EV landscape facing LCID?
From Tesla to General Motors (NYSE:GM) or other up-and-comers like Fisker (NYSE:FSR), that's an inescapable reality. But in a secular growth market finally of age technologically, socially and hopefully politically — is that something to be worried about or positive on?
Lastly and with President Joe Biden's administration's big plans to make a full half of new auto sales electric by 2030, plenty of capital to see Lucid Group through next year and 10,000 paid EV reservations in hand, LCID stock arguably has a great deal more to be upbeat about than today's investors are giving it credit for.
LCID Stock Weekly Price Chart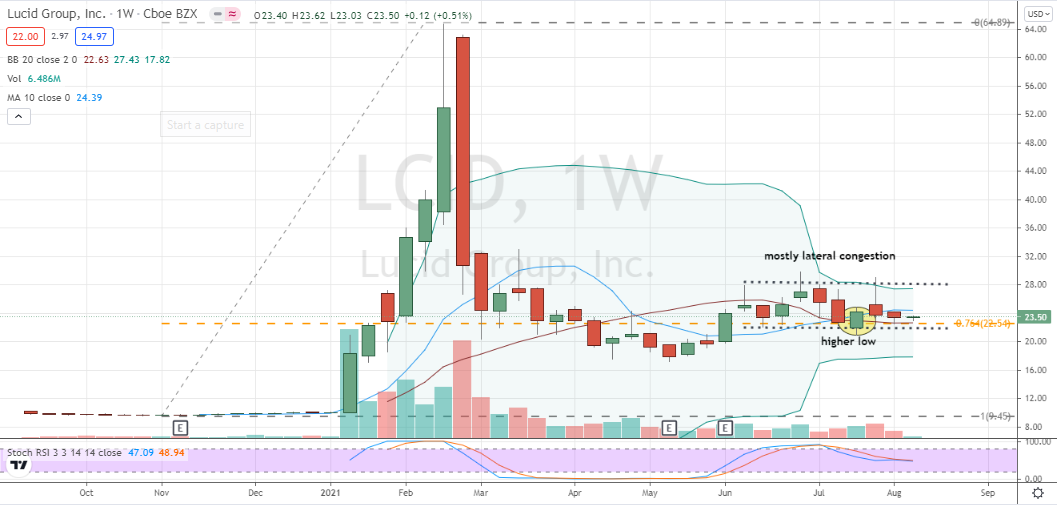 Source: Charts by TradingView
Technically, a confirmed and bullish higher-low pattern within a lateral congestion area on LCID's weekly chart isn't yet confirming our optimism.
Supportively and — as the provided weekly chart reveals — the pullback following Lucid's deal closure has entered its third week and continues to hold above the 76% level. That's a positive. But a failure is a strong indication the doji that straddles the support level is going to break as well.
Optimistically, a narrowing of Lucid's Bollinger Bands that's developed during the stock's lateral base building promises more volatile action ahead. And that could be a significant benefit. A breakout above resistance in conjunction with a expanding Bollinger Band could be a powerful technical event for LCID investors.
Today though, it's early to be considering a purchase of LCID stock. Stochastics is modestly out of position and the Bollinger Bands aren't yet showing any indication its contraction is finished.
Bottom line, I'd suggest investors simply monitor Lucid Group for improving signs a bottom is in place. With a doji pattern low already confirmed, a bullish stochastics crossover and hint of upside bias from the Bollinger Band, rather than further ennui, would go a long ways towards a more successful buy decision in LCID.
On the date of publication, Chris Tyler did not have (either directly or indirectly) any positions in the securities mentioned in this article. The opinions expressed in this article are those of the writer, subject to the InvestorPlace.com Publishing Guidelines.
Chris Tyler is a former floor-based, derivatives market maker on the American and Pacific exchanges. For additional market insights and related musings, follow Chris on Twitter @Options_CAT and StockTwits.