In a market made up of stocks, some are worse than others. Without judging though, when it comes to Aterian (NASDAQ:ATER) and by ape standards, off and on the price chart ATER stock still likely has a bit of monkey business left in it. Let me explain.
King of the e-commerce jungle Amazon (NASDAQ:AMZN) has some of Reddit's apes monkeying around its business tendrils. It's e-commerce reseller Aterian.
And given what we know about the group's motif operandi, love them or leave them, it would be hard to blame them as it relates to ATER stock.
Aside from Aterian's largely inconsequential longer-term business ambitions and more relevant to today's WallStreetBets mentions, trending hashtags, cute gifs and the likes among apes, ATER is a small-cap, low-float and unfollowed company by Wall Street's sell-side.
And again, without passing judgment, it matters for this type of stock campaign.
Bears Lurk Around ATER Stock
Importantly, ATER stock also sports a large resident bear population of around 23% short interest that's attracted to its blood-colored red ink spilling out of the unprofitable outfit quarter after quarter.
Apes also have ATER's A.I. technology to drive operations in Amazon's reseller market.
To be fair, the next-gen software must be a tantalizing carrot dangling over the buy button of keyboards with Robinhood Markets (NASDAQ:HOOD) trading accounts or other welcoming fast-money brokerages.
All told, ATER stock checks all the critical boxes for apes laser-focused on easily-manipulated or umm, malleable characteristics associated with 2021's hyped short-squeeze exploits by Redditors.
So again, it's no surprise apes have had their sites aimed at Aterian and that stock volume has exploded off the chart.
Very visible proof of that is September's total which shows more than a billion shares traded versus a muted history in the low tens of millions monthly.
Bottom line and in a world or rather a planet of the apes environment that's refused to go away, ATER is a disposable ATM machine with some coin likely left in it for fast money withdrawals.
Aterian's Stock Monthly Price Chart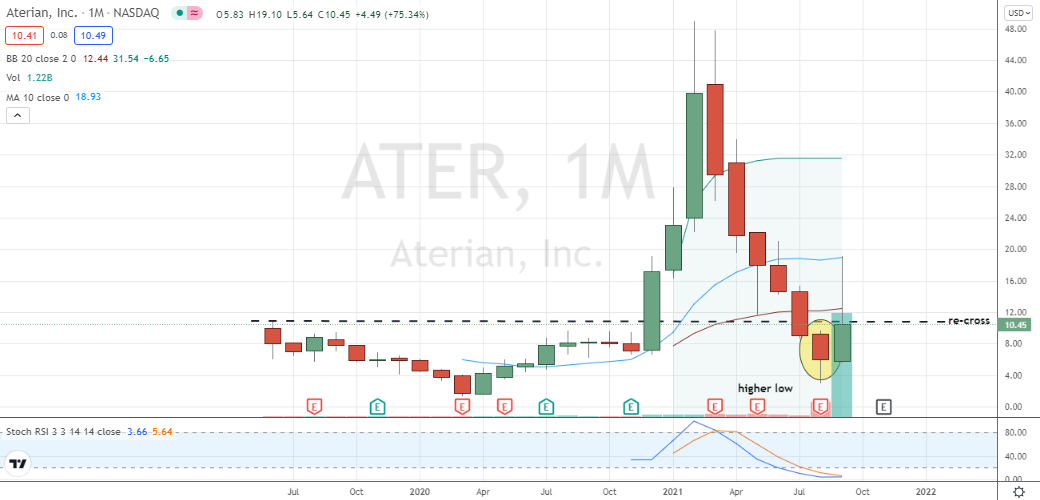 Source:
Charts by TradingView
Technically and as the monthly price chart of ATER stock reveals, shares were an early recipient of this year's short-squeeze scheming. But let's give credit where credit is due.
It's highly likely Aterian's gains from December into February were fueled by GameStop (NYSE:GME) and AMC (NYSE:AMC) and this year's poster children of what's sometimes possible when apes won't let go an idea.
What the price chart also shows is that after six months of steadily sinking and giving back the entirety of those gains, ATER has formed a confirmed bottoming candlestick pattern.
I personally like that the price action has rallied back above a failed 76% retracement level, as well as Aterian's prior 2019 all-time-high.
Coupled with higher short-interest, the setup lends itself to gaining the attention of ATER's bearish shorts and inciting a bit of short-covering. And in fact, it likely assisted in a favorable but fleeting rally earlier this month.
Today, shares have retreated by more than 80% off September's high. And with an oversold stochastics on the cusp of a bullish crossover and ATER stock just narrowly above August's candlestick, there's a stronger-than-average chance the apes could be back for seconds.
Having said that, I'd warn ATER is strictly a fast-money speculation and probably has more in common with one-hit wonders like Koss (NYSE:KOSS) or Newegg (NASDAQ:NEGG) than the more durable staying power which GME and AMC stock have shown.
But don't think that's a knock against Aterian, it's not. Just know or realize what you're buying right now or risk paying for tomorrow's Brooklyn Bridge.
On the date of publication, Chris Tyler does not hold (either directly or indirectly) any positions in securities mentioned in this article. The opinions expressed in this article are those of the writer, subject to the InvestorPlace.com Publishing Guidelines.
Chris Tyler is a former floor-based, derivatives market maker on the American and Pacific exchanges. For additional market insights and related musings, follow Chris on Twitter @Options_CAT and StockTwits.