Anticipation over the start of football season helped DraftKings (NASDAQ:DKNG) stock rally from under $50 to back above $60 per share.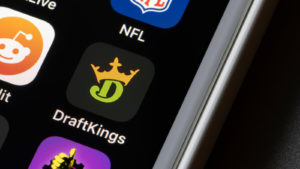 Following this recent rally, where are the online sportsbook giant's shares heading next?
In short, it's tough to tell. The company is continuing to beat expectations in the area that matters most: revenue growth.
As its top-line numbers continue to beat projections, and as it keeps on raising its revenue guidance, investors may remain willing to look past a variety of concerns. Or will they?
If rising competition in the i-gaming/online sportsbook space affects its growth going forward, investors won't be as willing to give it such a premium valuation. The same goes if concerns about when it'll hit profitability become top of mind once again. Its valuation could also take a hit, if "growth at any price" ceases to be the market's mantra.
So, what's the best move with this popular "future of gambling" play? Tread carefully.
Downside risk runs high if any of the above-mentioned headwinds ends up coming to the fore.
Strong Growth Numbers May Help DKNG Stock
There may be many factors that could sink DraftKings shares from here (more below), but impressive levels of top-line growth may help to keep these concerns at bay for the time being. As seen in its last quarterly earnings release, the company continues to beat estimates.
Revenue for the quarter ending June 30 came in at $298 million. That was well above the sell-side consensus of $242 million.
Losses per share (26 cents) also came in well below estimates, which called for losses of 52 cents per share. Yet the most promising bit of news was the sharp raise in its revenue guidance for the full year 2021.
Previously projecting $1.05 billion-$1.15 billion in sales, the company now projects sales of between $1.21 billion and $1.29 billion for the full year.
The market itself continues to expand faster than expected, enabling DraftKings to continue seeing such high levels of growth. The sportsbook legalization wave continues, with a majority of states now allowing legal wagers on sporting events.
The company also remains willing to pay up to maintain and grow its market share. That is, it's willing to offer up not only costly promotions available to new players, but promos that more or less give existing customers free money.
Also, as seen from its recent deal to buy Golden Nugget Online Gaming (NASDAQ:GNOG), it's not afraid to use M&A (mergers and acquisitions) to expand its reach.
This transaction in particular will help the company further diversify its operations, as this target is primarily in the i-gaming, or online casino, end of the business. There's plenty in place to keep its top-line surging. Yet that may not necessarily translate into a higher price for DKNG stock.
Many Factors in Play That Could Knock It Back Down
As high growth remains on the menu, DraftKings seems destined to continue seeing its stock price increase. Yet it may not play out this way.
The better-than-expected growth we are seeing in 2021 will slow in 2022. Its top-line is expected to soar 109.5% this year, but only around 38.2% next year.
This slowdown in growth makes sense, and not only because there are fewer new frontiers as legalization has already happened in most states. There are a lot more well-funded competitors now than there were back in 2018.
That was when DraftKings and Flutter Entertainment's (OTCMKTS:PDYPY) FanDuel were the first to really capitalize on the U.S. Supreme Court ruling that paved the way for coast-to-coast legal sports wagering.
Today, you have Caesars Entertainment (NASDAQ:CZR), MGM Resorts (NYSE:MGM) with its betMGM joint venture, Penn National Gaming's (NASDAQ:PENN) Barstool Sportsbook, and many others, all competing for a piece of the action.
This bevy of competitors affects both future revenue growth, along with the company's timeline to profitability. If it has to keep on handing out costly promos to maintain its market share, expect losses per share to fall in line with projections.

Finally, valuation could also negatively affect the price of DKNG stock going forward. The "growth at any price" investing style has played a big role in it sporting a high forward price-to-sales, or P/S, multiple.
At today's prices, it trades for around 13.7x next year's estimated sales. But sentiment could shift this fall, which may result in major multiple compression for many growth stocks, including this one.
Be Careful With DraftKings
If it keeps on winning when it comes to revenue growth, this leading online gambling operator may be able to climb back toward its all-time high ($74.38) or perhaps even higher. However, with much that could change Mr. Market's view of it, you may want to exercise some caution.
Pulling back once again, you may want to wait for DKNG stock to dip further before making it a buy.
On the date of publication, Thomas Niel did not have (either directly or indirectly) any positions in the securities mentioned in this article. The opinions expressed in this article are those of the writer, subject to the InvestorPlace.com Publishing Guidelines.
Thomas Niel, a contributor for InvestorPlace.com, has been writing single-stock analysis for web-based publications since 2016.