With the start of the regular regular NFL season less than two weeks away, now may be the time to take a look at sports betting stocks. As you may know, football is the most heavily bet sport in the United States. This year, how much could sportsbooks make from football?
Per projections from PlayUSA.com, total wagering on college and pro football at legal sportsbooks could top $20 billion in 2021. The lion's share of which will occur on mobile sports betting apps. Out of that $20 billion in handle, the sportsbooks could bring in as much as $1.5 billion in revenue.
With the stakes so high, it's clear why so many operators are moving into this space. Right now, Flutter Entertainment's (OTCMKTS:PDYPY) FanDuel controls as much as 50% of the U.S. online sports betting market. But several large names are catching up fast. Scores of smaller players are also vying for a piece of the pie. And as more U.S. states legalize sports betting? This pie will keep on growing through the end of the decade.
So, as it's prime time once again for sportsbooks, and as the overall igaming trend continues, which sports betting stocks may be of interest? These 10 appear to be top ones to buy:
Sports Betting Stocks: Bally's (BALY)
Much of the success Bally's the company has seen in the past year has been from its land-based casino properties. Expanding its portfolio on favorable terms during the pandemic, the operator (formerly known as Twin River Worldwide Holdings) has become one of the top mid-sized operators in the space.
But what's likely helped out BALY stock (up more than 100% in the past 12 months) the most? Its exposure to the i-gaming/online sports betting trend. Between the rollout of its Bally Bet platform, and its aggressive spree of acquisition deals for igaming technology companies, like Bet.Works, the company is looking to punch above its weight, to take on DraftKings, FanDuel, betMGM, and the other more established platforms.
It may seem like an also-ran at first glance. Yet besides the moves it's making mentioned above, its partnership with Sinclair Broadcast Group (NASDAQ:SBGI), which involves branding Sinclair's regional sports networks under the Bally's moniker, could help it build up market share without having to break the bank on marketing spend. Only time will tell, but I wouldn't rule out its ability to build a profitable igaming sideline.
To top it all off, it's reasonably priced at a forward price-to-earnings, or P/E, ratio of around 15x. Put it all together, and this is definitely one of the best sports betting stocks to buy.
Churchill Downs (CHDN)
Even if you're not a railbird, you likely know Churchill Downs is a major force in the horse racing industry. Besides owning the legendary venue that hosts the Kentucky Derby each year, it owns many other horse racing venues from coast-to-coast.
Horse wagering remains its bread-and-butter. Yet the company may have some upside potential from its move into the sports wagering arena. The company has built up a familiar brand among horseplayers with TwinSpires, its online horse betting platform.
Now, it's launched the TwinSpires mobile sports betting app in five U.S. states, including Michigan and Pennsylvania. As more states legalize sportsbooks, the company plans to continue launching in new markets as well. Competition may be high in this space. But given it already has a substantial base of customers from its parimutuel wagering business, it may be able to build up its sportsbook customer base with minimal acquisition costs.
That being said, one thing that may be of concern with CHDN stock is its valuation. Trading for 31.2x forward earnings, and a forward Enterprise Value/EBITDA (EV/EBITDA) ratio of 15.8x, it's pricey compared to other mid-sized gambling companies. Even so, if you think this dark horse candidate for the sports betting crown has a shot of at least building a small-but-profitable sportsbook sideline? Consider shares a buy at today's prices ($209.60 per share, down from its 52-week high of $258.32 per share).
Sports Betting Stocks: Caesars Entertainment (CZR)
It goes without saying Caesars is a powerhouse in the U.S. gambling industry. But now, with its rebranding of its recent acquisition William Hill as Caesars Sportsbook? It may have no trouble giving betMGM, DraftKings, and Fanduel a run for their money.
Up big in the past year (120.6%) thanks to the post-Covid recovery of casinos, and the sportsbook megatrend, CZR stock trended lower for the most of the summer. Yet with renewed interest in its online gambling prospects, shares (at around $104 per share) have spiked about 25% since Aug. 19.
Make no mistake, this may not be an irrational move on the market's part. As Morgan Stanley's Thomas Allen noted in a bullish call on shares in late August, the rebranding resulted in a rapid increase in the sports betting app's download market share (from 7% to 21%). If this translates into Caesars' platform growing to market share above 20%, it could mean additional upside for this already solid-performing stock.
How much upside? Allen, who rates the shares as the equivalent to "buy," sets his price target at $127 per share. Its valuation may already look a bit frothy, given it trades for 83.7x of its projected 2022 earnings. But as sports betting stocks remain hot, and the company's igaming endeavors exceed expectations in terms of handle and revenue this football season, another double-digit percentage rally may be in the cards.
DraftKings (DKNG)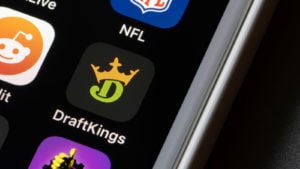 Like CZR stock, DKNG stock has spiked in anticipation of the fall football season. Shares in this operator, one of the first-movers in the legal sportsbook space, are up about 20% in the past month. Yet while much of its high projected growth is already priced in, my prior take on it (that runway was limited due to valuation) could continue to be proven wrong in the coming months.
Why? If the focus remains on revenue growth, rather than the profitability timeline, this growth stock may be able to not only get back to its past high of $74.38 per share (the stock trades for around $60 per share right now). It could hit new highs as well. Especially if its able to again re-up its guidance, and demonstrate that its projected revenue growth next year (expected to slow considerably, from 109.4%, to just 37%), will actually come in much higher.
DraftKings could also keep investors enthusiastic, if it can demonstrate that competition from Caesars, MGM's betMGM app, and Penn National's Barstool Sportsbook (more below) won't get in its way. With more companies willing to plow billions into this battle for market share, that's a key risk for the stock going forward.
So is its sky-high valuation. Priced at a forward price-to-sales multiple of 18.8x, DKNG stock would fall if a market meltdown causes multiple compression. Keep this risk in mind, but as one of the most popular plays out there in this space, strong results could pave the way for continued gains.
Sports Betting Stocks: FuboTV (FUBO)
Admittedly, FUBO stock isn't quite yet a sports betting play. It plans to become one, once its sportsbook platform launches in the fourth quarter of 2021. It may lack the deep pockets and name recognition of some of the other sports betting stocks discussed.
Yet depending on how its for-now main business (sports streaming) grows? FuboTV may be able to turn its sportsbook side hustle into its profit center. That's not to say it's going to be easy. Even as its partnership deals with media conglomerates like NBC Universal parent Comcast (NASDAQ:CMCSA), may insure it doesn't get squeezed out of the streaming space by big media.
Then again, if enough subscribers "cut the cord," and go with its sports-focused platform, which is basically an over-the-top (OTT) streaming alternative to cable packages? It may just well be able to convert enough of these sports fans into sportsbook customers. Like with some of the other also-ran sportsbook plans, the jury's still out.
So, with its future still a work in progress, why buy FUBO stock? Future success may not be guaranteed. But if it happens, shares may have substantial room to gain from current prices (around $28 per share). Back in June, our Luke Lango made the case why cord-cutting, in-tandem with its built-in sportsbook platform, could result in the platform having 10 million+ subscribers, and its share price eventually growing 10x. If you aren't afraid of high risk, and are looking for a sports betting stock with big upside potential? This could be the ticket.
Gan (GAN)
Unlike the other nine stocks discussed here, GAN stock is a bit different. Instead of being a direct sportsbook play, it's a sports betting technology play. In other words, it provides the back-end software used by igaming and online sportsbook operators.
Since the start of the sportsbook legalization wave in 2018, Gan has seen a tremendous run-up in its annual revenue. The pandemic slowed its growth in 2020. But in 2021, it's picked back up, with the company set to expand its top line by 272.44% in 2021.
Sure, there are some concerns. Growth also won't be as off-the-charts in future years as it's been in 2021, with analyst consensus projecting just 19.1% revenue growth in 2022. The company's recent earnings miss may be an area of concern as well. On the other hand, Macquarie analyst Chad Beynon pointed out two catalysts that could result in shares bouncing back.
First, its low valuation compared to rivals. If other investors realize how cheap it is, this may help the stock start to rebound. Second, its potential as a takeover target. Recent deals like DraftKings' takeover of Golden Nugget Online Gaming (NASDAQ:GNOG) may signal that consolidation in this space will continue, possibly to the benefit of those buying GAN stock today at around $17.56 per share. Beynon gives the stocks the equivalent to a "buy" rating, and a $25 per share price target.
Sports Betting Stocks: MGM Resorts (MGM)
Its exposure to the igaming trend, via its betMGM platform, has enabled MGM stock to stay strong. Even as the delta variant of Covid-19 dampened the appeal of the "reopening" trade that kicked off with the vaccine rollout. Like its key rival Caesars, shares may look pricey. But considering the continued strong growth of its aforementioned mobile gambling app?
There may be room for it to move even higher. How so? For now, betMGM, a 50-50 venture between it and U.K-based Entain (OTCMKTS:GMVHY), is still in its early stages. But in the years ahead, if the company locks down 25% market share, and igaming grows into a $32 billion per year business in the U.S.? This venture alone could generate around $8 billion in sales.
It gets even better. MGM Resorts may not have been able to buy Entain this year. Yet, given its windfall from its recent sale-leaseback deal for some of its land-based properties, who's to say it won't try to make a bid once again? Even if the company has to pay up big for Entain, having full ownership and control of this promising venture may be well worth it.
Of course, it's a long road ahead still for $8 billion in igaming revenue. However, with the renewed buzz around sports betting stocks, and this upcoming football season likely to generate even higher amounts of revenue for operators than last year? There may be enough in play to keep MGM stock trending higher going into 2022.
Penn National Gaming (PENN)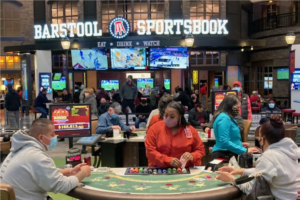 As seen in prior articles, I have a more on-the-fence view about PENN stock. Mostly, because I have my doubts its Barstool Sportsbook platform will perform as expected. Like other operators taking on betMGM, DraftKings, and FanDuel, long-term growth for its mobile betting platform isn't going to be easy.
As you may recall, shares skyrocketed in 2020, as investors expected Penn, which bought a stake in sports podcasting giant Barstool Sports, would be able to use its brand (and its army of fans) to build its platform into one of the largest around. So far, it hasn't played out that way. Even in its home market of Pennsylvania, it holds just single-digit market share.
Yet, the surge in buzz around sports betting plays once again may be enough to help it continue to make its way back to triple-digit prices (the stock trades for around $82 per share). To some, buying on momentum for a quick 20%+ gain may be a trade worth making.
Also, Penn's recent deal to buy Score Media and Gaming could get investors enthused again for its igaming prospects. Why? This purchase will enable it to bring its technological back-end in-house, reducing its need for third-party platforms, and improving its online gambling margins.
Sports Betting Stocks: Rush Street Interactive (RSI)
Following the recent deal-making in the online gambling space, many are turning their eyes on Rush Street Interactive. The company, which operates online sportsbooks under the BetRivers name in several states, isn't set to be profitable either this year, or in 2022.
However, given this industry may be in consolidation mode, that may not matter. A smaller operator may be willing to buy it in the quest to grow its market share. RSI stock may already be up more than 50% since news of the DraftKings/GNOG deal kicked off excitement about similar M&A (mergers and acquisitions) happening in the near future.
Does this point to possible upside from this catalyst being limited? Not exactly. It may have zoomed from under $10 per share, back up to above $15 per share. But given it traded for as much as $26.55 per share earlier this year, a would-be acquirer may still have to offer up a handsome premium to its current valuation.
So, is this basically a binary bet on a takeover target? I wouldn't go that far. There are other non-M&A related catalysts that could help it continue to rebound. For example, its solid revenue beat and guidance raise last quarter may point to better-than-expected growth carrying on in forthcoming quarters. If it can couple this with continually narrowing losses? Rush Street Interactive may have another path back to $26.55 per share.
Wynn Resorts (WYNN)
WYNN stock may be seen more as a play on the casino industry's post-pandemic comeback. But its online gambling catalyst could be something that makes buying it today, at around $102 per share, worthwhile.
Why? Once its WynnBET unit goes public, via a merger with SPAC (special purpose acquisition company) Austerlitz Acquisition Corp (NYSE:AUS), later this year, investors will have a better time assessing the value of this fast-growing unit relative to the rest of Wynn Resorts overall.
This could result in shares reversing their current slide, as investors realize the whole company is worth more on a sum-of-the-parts basis. In addition, other improvements outside of online sports betting may help to keep the stock moving back in the right direction. As one Seeking Alpha commentator discussed Aug. 26, the success of Covid-19 vaccination in China bodes well for its Macau properties, as they pave the way for easing travel restrictions that have affected its most lucrative land-based properties.
Wynn's Macau comeback catalyst may be a larger factor here than its sports betting catalyst. But despite its rich forward EV/EBITDA of 29.2x, this may be an opportunity with more upside than it appears to have at first glance.
On the date of publication, Thomas Niel did not have (either directly or indirectly) any positions in the securities mentioned in this article. The opinions expressed in this article are those of the writer, subject to the InvestorPlace.com Publishing Guidelines.
Thomas Niel, a contributor for InvestorPlace.com, has been writing single-stock analysis for web-based publications since 2016.