It's been a race to the bottom for many Chinese stocks this year. And nowhere has that been more appreciated than in DiDi Global (NYSE:DIDI). But could now finally be an opportunity to buy DIDI stock?
Today, let's look at what's happening off and on the DIDI price chart, then offer a risk-adjusted determination aligned with those findings.
In a stock market made up of stocks, China-based ride-share operator DiDi Global is a testament to that fact. Moreover, it's been much to the detriment of shareholders.
After raising $4.4 billion to become the second largest U.S. IPO for a Chinese company in late June, today DIDI shares are parked roughly 35% beneath the IPO price of $14.
Worse and for investors buying DIDI stock in the secondary market, shares opened at $16.65 and briefly traded as high as $18.01 before getting chopped by more than half at recent all-time-lows.
And you thought shareholders in Chinese tech stocks JD.com (NASDAQ:JD), Tencent Holdings (OTCMKTS:TCEHY) or Alibaba (NYSE:BABA) have had problems the past couple months?
It's not a secret each of those large-caps have had and continue to be challenged by China's regulators. But in DIDI's short time as a publicly-traded company, the exodus out of shares have taken the cake.
A Look at DIDI Stock
So, what went wrong in DiDi Global?
Mostly and not to be dismissed, actions taken by Chinese regulators directly at the company over data security risks and anti-competition practices have threatened DIDI's domestic operations.
This isn't about paying a fine or two or being a baby thrown out with the bathwater. It's much more dire.
And according to InvestorPlace's Mark Hake, DIDI stock investors may yet to have seen the worst of the impact on DiDi's shares either.
As Mark dutifully explains, DIDI could tumble to less than $3 a share from today's $9 market price. It might sound alarmist, but the severe restrictions placed on DiDi have resulted in no new users for its ride-hailing service.
Today and if all existing Chinese operations were to be curbed by authorities, despite the "global" in the company's name, only about 2% of its total revenues would be left. That would be obviously devastating in the near term, even if other initiatives internationally or DIDI's bike-hailing services were to ramp up.
And problematically as colleague Stavros Georgiadis notes, if DiDi was to liquidate in order to make stock investors whole, it couldn't. Bottom line, DIDI stock sports significant negative equity of $11.64 billion.
DIDI Stock Weekly Price Chart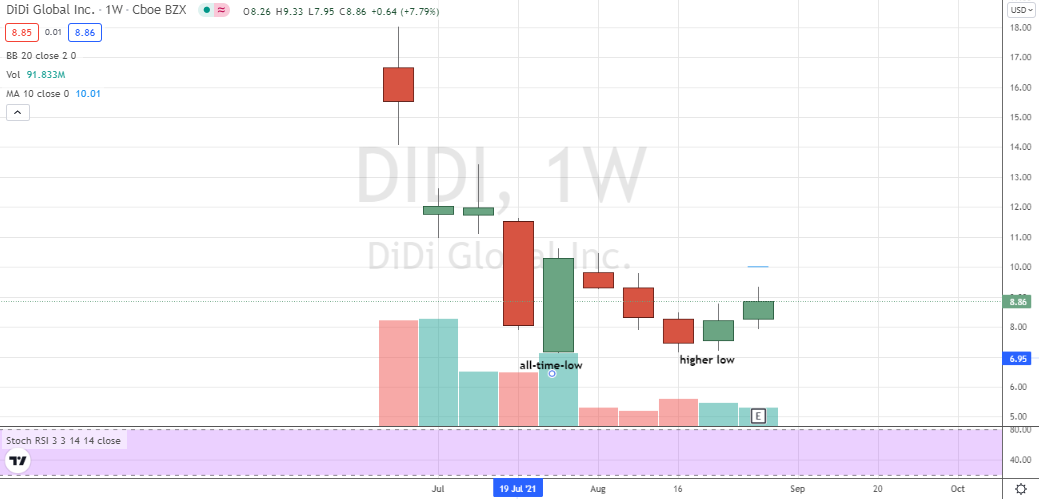 Source:
Charts by TradingView
Due to DIDI stock's palpable threats and financial condition, the real driver in shares is likely to hang on any additional insights regarding DIDI versus China. When might that occur? Your guess is as good as mine and that's a problem.
Further, today and with shares still valued north of $44 billion, a rather new DiDi price chart can only offer limited and inferior technical support.
As it stands, DIDI stock has put together a confirmed higher-low weekly candlestick pattern. That's the good news. But I don't believe it's enough to see DiDi as a buy.
Again, considering what the company is up against, a still steep valuation, as well as insufficient price history to allow for support from typically trusted secondary indicators, steering clear of DiDi Global is the best advice I can give.
If investors believe the rewards somehow outweigh the risks in DIDI stock, my recommendation would be to tiptoe in with a much smaller, risk capital allocation, knowing the investment has significant downside risk.
And if you decide DIDI is still the route for you? I'd also suggest making the puny bet a worthwhile proposition with a longer-term, out-of-the-money call or vertical that could reasonably exceed the investment by a multiple of three or more if today's very real drags were somehow beneficially resolved.
On the date of publication, Chris Tyler did not have (either directly or indirectly) any positions in the securities mentioned in this article. The opinions expressed in this article are those of the writer, subject to the InvestorPlace.com Publishing Guidelines.
Chris Tyler is a former floor-based, derivatives market maker on the American and Pacific exchanges. For additional market insights and related musings, follow Chris on Twitter @Options_CAT and StockTwits.