What's the next big thing on Wall Street? It might be fair to ask Ark Invest funds. Better yet, with three recent IPOs being paid more than lip service, offering privileged access to big growth markets and sporting price charts made for upside, these Cathie Wood stocks are buys.
Ark Invest. The fund manager is led by an outspoken, unafraid founder and CEO Cathie Wood. Today, of course, Cathie has made even more of a name for herself for successfully putting her money where her mouth is vis-à-vis the firm's flagship Ark Innovation ETF (NYSEARCA:ARKK) and other Ark funds.
In 2020 ARKK stormed higher by more than 150%, trouncing the tech-heavy Nasdaq's own burly gain of 43%.
The significant advantage was delivered on the back of often hotly-contested, spectacular wins in names like Tesla (NASDAQ:TSLA), Grayscale Bitcoin Trust (OTCMKTS:GBTC), Square (NYSE:SQ) and many more.
And almost overnight Cathie Wood stocks deservedly became a thing among investors looking to get in early on cutting edge technologies and emerging market trends for huge profits.
As we've learned this year though, even Cathie Wood stocks aren't immune to getting raked over the coals by less confident bulls and bears seeing things entirely different. Today and in 2021, ARKK is off nearly 12%. And that, of course, compares unfavorably to the Nasdaq, which is up more than 11% despite this past month's market correction.
Payback is a you know what, right? More importantly, don't make the mistake of counting Ark Invest out during an inevitable correction after a decisive and calculated win. In recognizing that excellence, let's look at three top Cathie Wood stocks with price charts ready to put investors more safely into the next big thing.
Cathie Wood Stocks to Buy: Coinbase Global (COIN)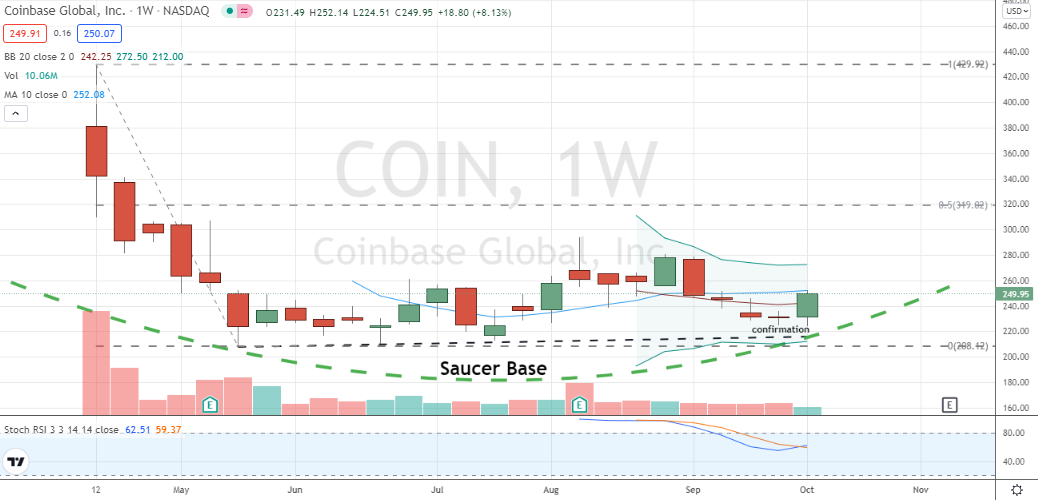 Source: Charts by TradingView
The first of our Cathie Wood stocks to buy are shares of Coinbase. The largest crypto platform in the United States went public back in April to much fanfare and then to a quickly sinking stock price.
Chalk up COIN's short-lived enthusiasm to a risk-off environment in higher valuation growth stocks. Not helping matters, cryptocurrencies were entering into corrective cycles after a huge run earlier in the year.
Today, Ark Invest has amassed a position of worth more than $1.2 billion across ARKK and its smaller ARK Next Generation Internet ETF (NYSEARCA:ARKW). Further, the hefty commitment to this Cathie Wood stock totals exposure north of 5% in each of the listed ETFs.
Right now, COIN is seeing improved technicals within a low-lying saucer pattern. This week the bullish corrective formation received candlestick and stochastics confirmation hinting a bullish phase is just emerging.
For positioning in this Cathie Wood stock, look for a move toward the 50% retracement level in the next couple months and enjoy some extra Benjamins exploiting a rally with a December $270/$295 bull call spread!
Unity Software (U)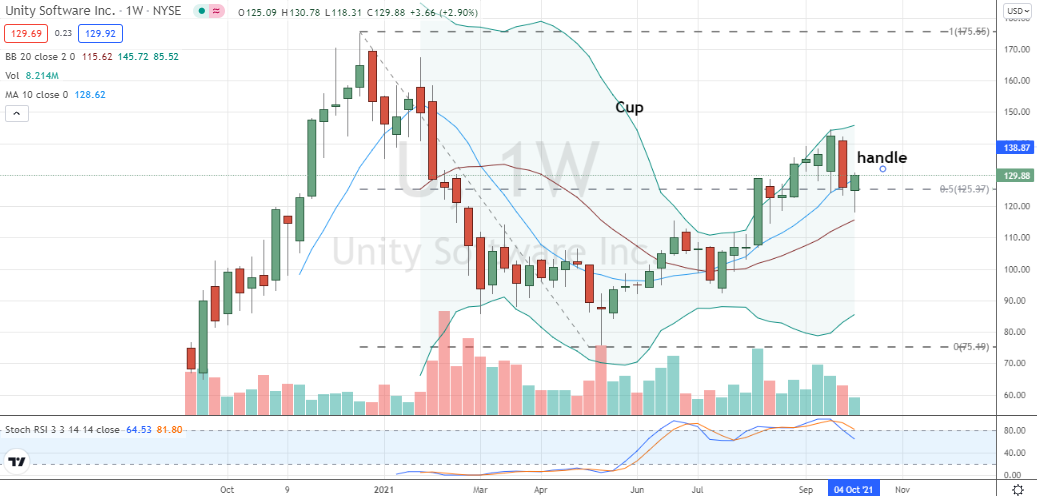 Source: Charts by TradingView
The next of our Cathie Wood stocks to buy is Unity Software. U stock went public just over a year ago and to be sure, it's been a bit of a roller coaster for investors.
But expect more benevolent price volatility shortly in this Cathie Wood stock. Ark's total stake is just over $1.1 billion. And another sizable position and it's easy to see why.
This large-cap, real-time 3D development platform is well-positioned to capitalize on mobile gaming's huge growth runway, as well as trends into augmented and virtual reality. As much, U stock should be a great story for years to come.
Today and technically, shares are stationed around the 50% retracement level of a cup base that's formed over the last ten months. The modest breach of the 50% level means the handle sits slightly lower than it should, but the symmetry and fact that it's putting together a pivot low trump the negative.
I'm looking for all-time-highs out of the base in the coming months. First though, I'd recommend waiting on a handle breakout accompanied by a bullish stochastics crossover to give investors a decided technical head start in this Cathie Wood stock.
Cathie Wood Stocks to Buy: Twist Bioscience (TWST)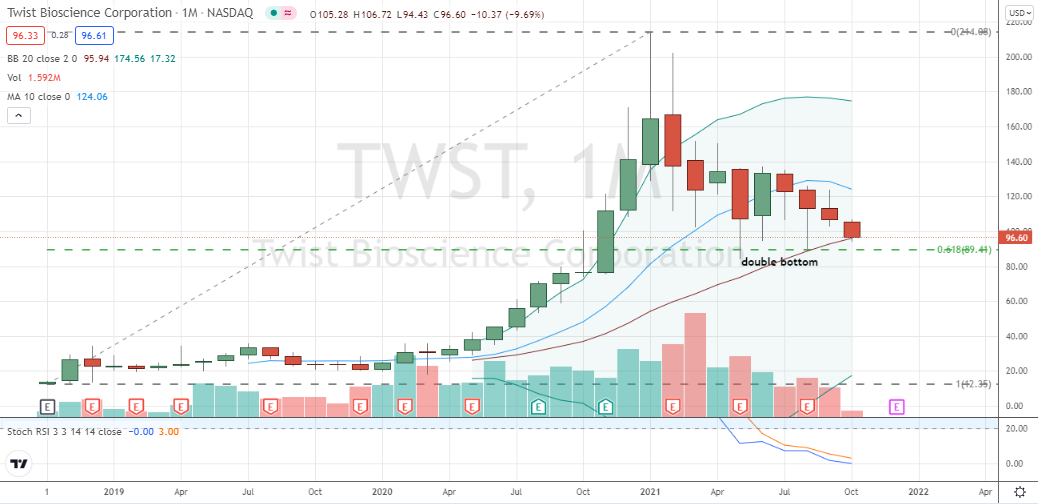 Source: Charts by TradingView
The last of our Cathie Wood stocks to buy are shares of Twist Bioscience. TWST stock is the smallest of today's trio with the fund maintaining just over $200 million exposure in shares.
But don't hold that against TWST or you could be committing a costly mistake in this Cathie Wood stock. Twist is still the big-time!
The thing is Twist is the market's leading cost-effective technology for synthesizing DNA.
Also the TWST stock stake is already large enough to make it Ark Genomic Revolution's (NYSEARCA:ARKG) eighth-largest holding.
All things considered, without staging a corporate raid in the $4.75 billion growth upstart, it's obvious Ark's allocation in this Cathie Wood stock is serious business.
On the price chart, having gone public in late 2018, TWST allows for a decent peek at the monthly time frame. And today, I'm upbeat on what's shaping up.
After a dazzling rally of more than 900% in 2020, this Cathie Wood stock has put together a double-bottom correction that's found support off Twist's 62% retracement level.
The pattern is known for its ability to act as a bullish platform. But today, TWST stock is one to put on the buy watchlist rather than in the portfolio.
In order to improve the odds for buying into a bullish resolution in this extra-volatile Cathie Wood stock, demand an intact bottoming pattern backed by a stochastics crossover before a purchase.
On the date of publication, Chris Tyler holds long positions (either directly or indirectly),Grayscale Bitcoin Trust (GBTC), Ark Innovation ETF (ARKK) and Ark Genomics Revolution ETF (ARKG). The opinions expressed in this article are those of the writer, subject to the InvestorPlace.com Publishing Guidelines.
Chris Tyler is a former floor-based, derivatives market maker on the American and Pacific exchanges. For additional market insights and related musings, follow Chris on Twitter @Options_CAT and StockTwits.