Bionano Genomics (NASDAQ:BNGO) has turned into a bear of a meme play. But is there a chance for bullish DNA to be reproduced in BNGO stock?
Let's check in with what's happening off and on the price chart of BNGO stock, then offer a risk-adjusted determination aligned with those findings.
At a singular point in time, BNGO stock looked like the next big thing on Wall Street. Or rather, it might have in the eyes of Bionano's meme stock investors.
These traders were joined by 2020's wunderkind fund manager, Ark Invest, and its outspoken and aggressive founder Cathie Wood, who were interested in Bionano's Saphyr optical genome mapping (OGM) system.
Ark Invest's Chapter in the BNGO Stock Story
The fund manager has sent some public praise BNGO's way. Ark even has a special portfolio — Ark Genomic Revolution ETF (NYSEARCA:ARKG) — for just that sort of stock material. Thus, it was only a matter of time before the stock caught on, right? The answer is both no and yes.
It certainly didn't take Reddit any time to act on BNGO stock. In December, just before Reddit traders became overnight sensations with meme stock standouts GameStop (NYSE:GME) and AMC Entertainment (NYSE:AMC), BNGO stock was an early achiever that showcased the scheme.
By early February, at the height of the GME stock frenzy, BNGO shares had soared from their nano-cap price of about 50 cents to a full-blown mid-cap worth $3.6 billion. The stock was worth more than $15.50 per share at its peak.
But bulls that overstayed their welcome have been stomping the ground in anger ever since.
Cathie Wood — and any movement by ARKG into BNGO stock — proved elusive. Short-term, that failure to act surely assisted in the profit-taking which followed. More far-reaching, so did this year's retreat out of higher-multiple growth plays.
Bionano's Fall and the Future of Its Shares
If timing is everything, a sweeping market rotation that began in February and persists to this day was a certain — and more damaging — driver behind Bionano's massive retreat. As of today, the stock is 67% removed from its highs.
Other investors and the market have worked against BNGO stock. But the fact is that Bionano, when all is said and done, remains a big deal and is only getting bigger.
Bionano's technology unlocks structural variations that can detect and ultimately help treat a range of health problems like cancer and developmental disorders.
Despite not having the medical credentials to offer greater insight, Saphyr is obviously important stuff that is breaking new ground.
More promisingly, Bionano is starting to make the leap from a tool for a small pool of researchers, like The Mayo Clinic and Duke, to more transformational business traction. The move has caught the eye of InvestorPlace's resident growth maven Louis Navellier.
BNGO Stock Daily Price Chart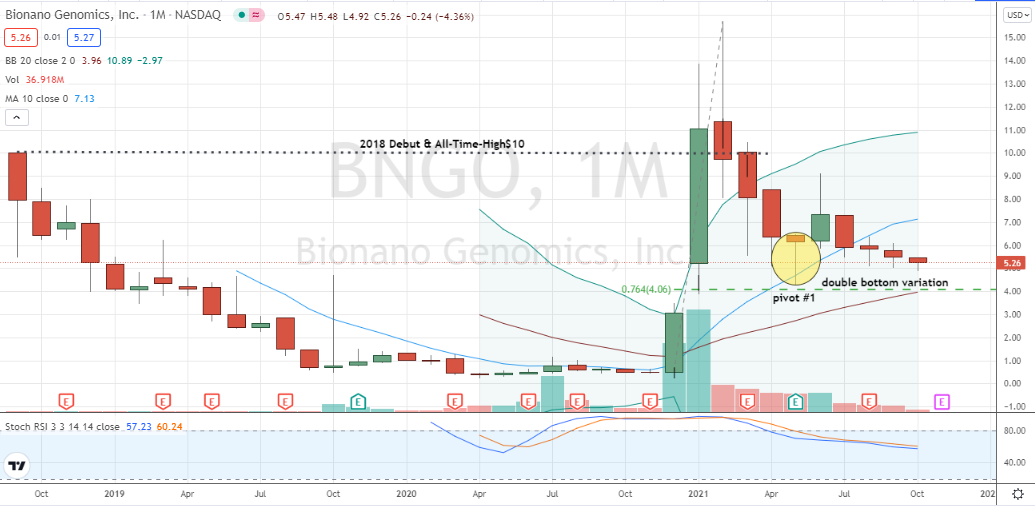 Source: Charts by TradingView
As a guy that's taken down his share of tenbagger growth stocks, Navellier knows the importance of buying when others are selling — or when others are shorting, in the case of BNGO. Shares of Bionano currently maintain short interest of 16%.
Bears might reasonably take comfort knowing this past quarter's transformational sales only amounted to revenue of $3.9 million. When compared to BNGO's $1.42 billion valuation, it produces a frothier-looking 80x sales multiple.
In a vacuum, it's easy to understand what the bears might be seeing. The thing is that, despite the multiple compression in shares, BNGO stock remains superficially expensive-looking.
But under the microscope, Bionano is a small-cap company that's beginning to sell critical technology in a genomics market. With obviously huge growth prospects and plenty of cash in the bank, the company's bears could reasonably be betting on the wrong pony.
As a group, they've been proven painfully wrong more than once. Think about Netflix (NASDAQ:NFLX), Amazon (NASDAQ:AMZN) and more recently, Tesla (NASDAQ:TSLA). Who's to say it can't happen again with BNGO stock?
There's Still Hope for Bionano Stock
Technically speaking, BNGO stock has a nice-looking area for a durable monthly chart double-bottom pattern to emerge. I can agree with Navellier's words: "a strong finish to the year might be in store for Binonano and its investors."
Considering all of these factors, there's no reason to overlook Bionano's options market to unlock stronger risk-adjusted profits in BNGO stock.
On the date of publication, Chris Tyler holds long positions (either directly or indirectly in Ark Innovation ETF (ARKK) and Ark Genomics Revolution ETF (ARKG). The opinions expressed in this article are those of the writer, subject to the InvestorPlace.com Publishing Guidelines.
The information offered is based upon Christopher Tyler's observations and strictly intended for educational purposes only; the use of which is the responsibility of the individual. For additional market insights and related musings, follow Chris on Twitter @Options_CAT  and StockTwits.