It's not life in the fast lane these days for Tesla (NASDAQ:TSLA). Nor is it a back-up-the-truck bargain. But as we'll discuss, improvements off and on the price chart do make TSLA stock worth parking capital into today.
From seemingly distant jitters tied to China's Evergrande (OTCMKTS:EGRNY) real estate scandal to more recent U.S. debt ceiling and inflation spooks, seasonal bearish tendencies have come home to roost in September and out-the-gate in October. But not for TSLA.
Unlike the broad-based S&P 500 or tech-heavy Nasdaq and those bellwethers' largest constituents — such as Apple (NASDAQ:AAPL), Microsoft (NASDAQ:MSFT) and many others which have come under pressure amid those disruptive rumblings — TSLA stock is up nearly 6% since the start of September.
I suppose the bad news for some investors is if you're looking for a bargain, you're not going to find it in Tesla.
Combined with TSLA's modestly trailing 11% year-to-date return versus the Nasdaq's 12% and shares roughly 13% removed from its all-time-high, investors aren't bargain-hunting in the classic sense.
Another subset of investors may be less smitten with TSLA stock as well.
Appreciatively, for momentum traders seeking high-octane thrill rides, today's market defying price action in Tesla shares isn't the speedy and generous returns the world's dominant EV brand is known for delivering its shareholders.
Still, there's a reason for that failure of sorts. And in a good sort of way it's worth buying into.
Today there are far fewer doubters siding against Tesla. In fact, bearish shorts betting against and fueling TSLA's legendary rallies as the outfit consistently toppled milestone after milestone has reached an all-time-low at a scant 1.1% of Tesla's float according to Bloomberg.
That's a far cry, with lots of crying along, from short interest levels which just last year reached as much as 20%. What's more, there continue to be reasons for the mass exodus by TSLA stock's bears.
Just this week Tesla announced quarterly deliveries of 241,300 vehicles. It's the kind of number that clearly puts the auto manufacturer on pace to sell 1 million units annually.
And despite global competition from General Motors (NYSE:GM), Volkswagen (OTCMKTS:VWAGY) and many others, there's likely more, much more to come if we're to trust the company's front man Elon Musk.
Last month the boisterous founder and CEO told employees in an email the company could be selling an estimated 5 million to possibly 10 million vehicles a year by 2025 if the company can "execute really well."
And importantly to investors' own bottom-lines, one of TSLA's largest fans, high-profile growth fund manager Cathie Wood of Ark Invest isn't shying away from what she believes is still a huge opportunity.
The active and aggressive fund manager proffered Tesla shares could be worth $3,000 inside the next four years and roughly four-fold today's market price.
And that's not just lip service either by the Ark Invest founder either.
TSLA stock has been and remains the upstart investment firm's top holding with a weighting of more than 10% of its Ark Innovation ETF (NYSEARCA:ARKK). Moreover, it's a sizable stake given its ownership of more than 2.5 million shares valued at nearly $2 billion.
TSLA Stock Monthly Price Chart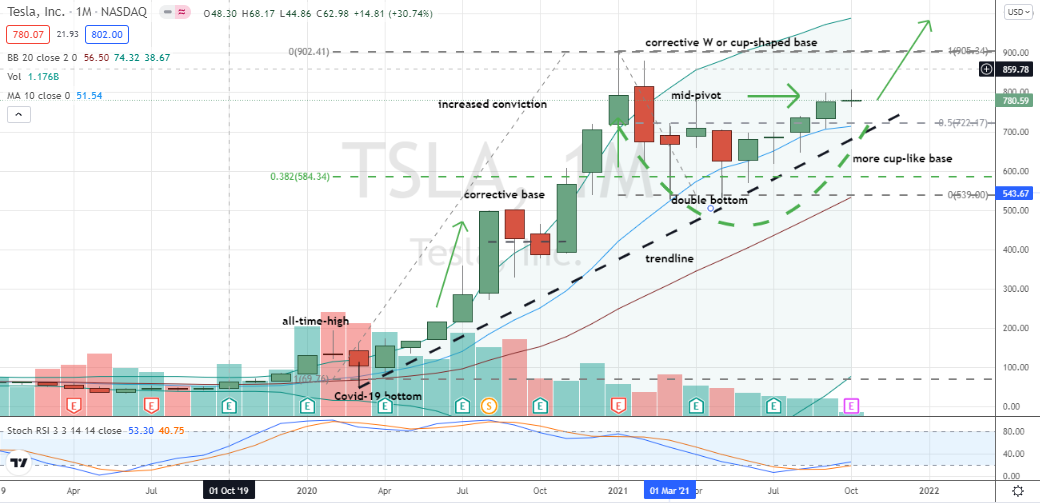 Source: Charts by TradingView
Lacking some of its past short-squeeze momentum and removed from cherry picking levels isn't a knock against Tesla. Not today at least, as the price chart is offering investors a chance to purchase a classic entry within TSLA stock's uptrend.
Technically and as the illustrated monthly chart shows, shares have worked their way into the right side of TSLA's ten-month old corrective base.
Today the formation has taken on the rounded shape of a bullish cup. But the price pattern actually began to turn the corner higher out of the correction as a double-bottom or 'W.'
Right now, that formation's mid-pivot is active with shares parked squarely at the initial signal price $780.79.
More approvingly, the double-bottom's buy trigger is well-aligned with Tesla clearing the base's 62% level. And with stochastics bullishly crossed and just creeping out of oversold territory, today's TSLA stock is a treat — and one made even better using a December $800/$900 bull call spread.
On the date of publication, Chris Tyler holds long positions in Ark Innovation ETF (ARKK) and its derivatives (either directly or indirectly), but no other securities mentioned in this article. The opinions expressed in this article are those of the writer, subject to the InvestorPlace.com Publishing Guidelines.
Chris Tyler is a former floor-based, derivatives market maker on the American and Pacific exchanges. For additional market insights and related musings, follow Chris on Twitter @Options_CAT and StockTwits.