Are you having fun yet? For many growth investors, there's been a detour of sorts this week. But when it comes to Phunware (NASDAQ:PHUN), the "phun-and-games" for PHUN stock is long over.
From legitimate growth stories to their meme-bred cousins with narratives built on short interest and hype, and all those shades of gray in-between, a market made up of stocks has turned into a real turkey for many investors in front of the U.S. Thanksgiving holiday.
There's Snowflake's (NYSE:SNOW) 12% multiple melt over just three sessions that's causing some to sweat. And persistent hemorrhaging in Teladoc (NYSE:TDOC) probably has many investors now convulsing as the stock trades back to its Covid low.
And the much tinier electric vehicle battleground stock Blink Charging (NASDAQ:BLNK), with its 36% short interest, has zapped bulls with its 10%-plus plug pulling in five days.
Needless to say, it's been tough week for investors seeking the next big thing.
What About Phunware?
But that type of suffering doesn't hold a candle to Phunware's PHUN stock plunge. And for good reason too.
PHUN is a meme stock. But Phunware's shares aren't your typical meme stock that goes way, way up, only to come crashing down. It did check that box, but there's more to the story. Specifically, a connection to former President Donald Trump.
In brief, PHUN stock shot up as much as 2,300% in a single session a month ago. The rocket-like gain followed reports of the mobile phone SaaS (Software as a Service) company negotiating a still-unconfirmed advertising software deal with the former President and his Trump Media & Technology company. Trump Media & Technology is expected to go public via a special purpose acquisition company (SPAC) called Digital World Acquisition Corp (NASDAQ:DWAC).
But Phunware's rise from about $1 per share to a $24 mid-cap was short-lived even by the low standards of meme stocks. PHUN stock finished that session up just over 470% to close at $8.74. And PHUN has barely looked back, with the stock fetching $3.37 as of Wednesday's closing bell.
But while I see the optics for PHUN stock as mostly ugly monkey business to avoid, others see things differently.
In walking the aisle, InvestorPlace's Mark Hake embraced PHUN's lightening-quick decision to capitalize on the crowd. And management was correct in beefing up it's incredibly meager war chest of less than $3 million with a raise of more than $60 million.
That gives Phunware some obvious wiggle room to expand its business.
Also, Louis Navellier — a guy known to sniff out ten-baggers — is upbeat on PHUN's next-level "Multiscreen-as-a-Service" (M-a-a-S) success, as well as its diverse digital asset ambitions including investments, high-performance computers for mining and its very own blockchain ecosystem.
PHUN Stock Weekly Price Chart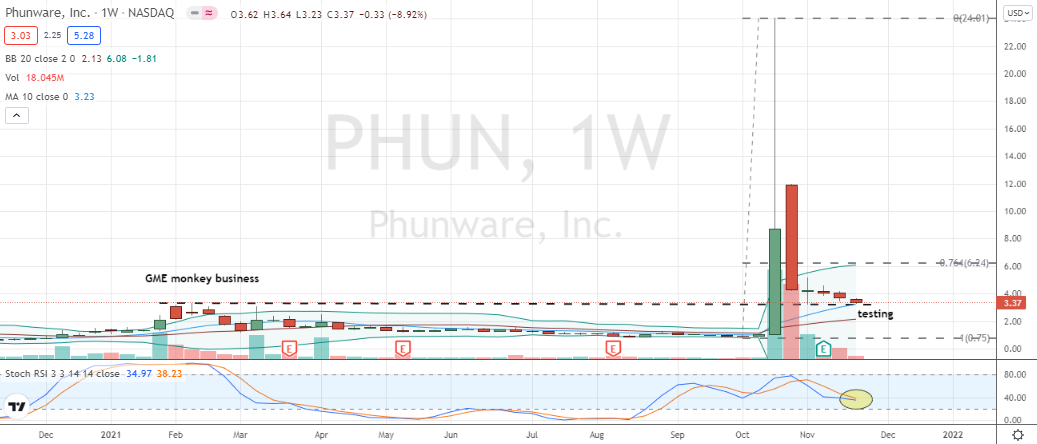 Source: Charts by TradingView
There's little doubt many investors who bought into PHUN stock at its highs feel as though they've been cheated. Today though, the possibility of recouping some of those losses is growing. Still, I strongly suspect any reaction to the upside will be fleeting and fall well short of making the unluckiest of Phunware's shareholders whole.
Specifically, with Phunware testing January's GameStop (NYSE:GME) led meme rally high for support and possible nearby bullish stochastics crossover in neutral territory, a quick move towards $5, $6 or even $7 is possible.
But also appreciate that with few bears to squeeze, PHUN stock could just continue dribble lower back towards $1.
On the date of publication, Chris Tyler did not have (either directly or indirectly) any positions in the securities mentioned in this article. The opinions expressed in this article are those of the writer, subject to the InvestorPlace.com Publishing Guidelines.
Chris Tyler is a former floor-based, derivatives market maker on the American and Pacific exchanges. For additional market insights and related musings, follow Chris on Twitter @Options_CAT and StockTwits.