Emerging fintech firm SoFi Technologies (NASDAQ:SOFI) is consolidating at the $15 a share level. After breaking out in October, only to peak at over $20 in November, SOFI stock is near $15 again. The Federal Reserve's rate heightening policy spooked fintech investors. A sell-off in mega-cap electronic payment processing firms did not help matters, either.
SoFi is a no-frills, no-fee, one-stop-shop. The online banking firm has a few headwinds to overcome, first.
What are SoFi's prospects like in light of recent developments?
SOFI Stock Under Pressure
Square (NYSE:SQ), now known as Block, shook investor confidence when the stock broke down below key support levels in November. Growth investors reduced their holdings, worried that the stock would correct further on unfavorable valuations. Markets hinted it wanted more growth from PayPal (NASDAQ:PYPL). Rumors circulated that PayPal would buy Pinterest (NYSE:PINS), a growing social networking site, to spur growth.
Pinterest is not a cheap company to buy. PayPal would need to pay a premium to get it. Market sentiment for this credit services firm is worsening. Although its price-to-earnings is around 45 times, its growth is slowing. SoFi is in the early phases of growing its financial offerings. It does not have anywhere near the customer base nor the expertise of Square or PayPal.
Seeing Positives in Insider Selling
SoftBank (OTCMKTS:SFTBY) sold 22.5 million shares for $486 million recently. The sale at $21.60 on Nov. 18 could prove well-timed. SPAC entrepreneur Chamath Palihapitiya also cut his take by 15% the week before the SoftBank sale.
SoftBank's dramatic selling should worry SoFi investors. In the prior period, it did not sell any shares. Insiders typically know more than the average retail investor.
However, bullish investors may look at insider selling as a positive development. To get a bank charter license, shareholders with more than a 10% position have more paperwork. They have more regulatory and disclosure requirements to meet. At a macroeconomic level, Softbank and Palihapitiya may anticipate the Fed's rate tightening cycle will hurt fintech firms more than traditional financial companies.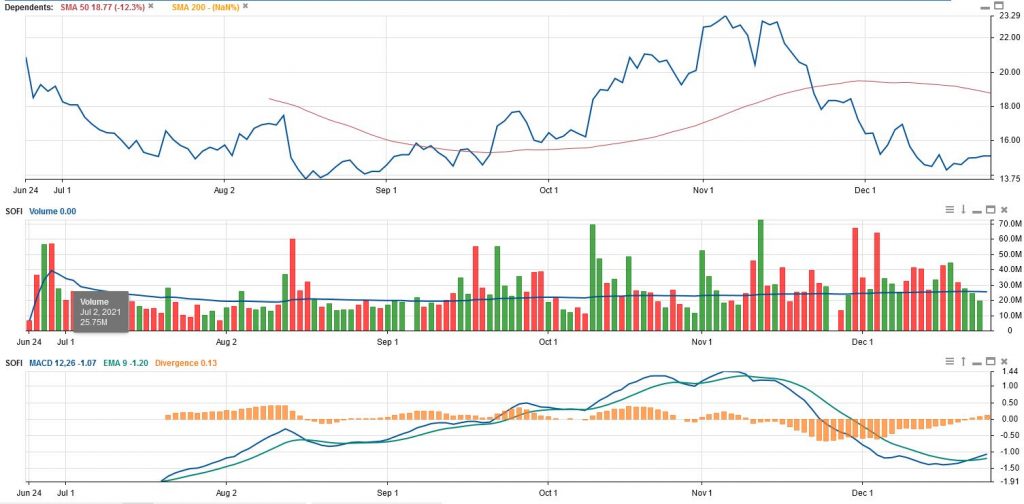 SOFI stock is in a downtrendChart courtesy of Stock Rover
SoFi is launching several products, including credit cards. Each product release will need advertising support. It will also need to hire more staff to increase customer support levels. In the early phases of growth, those costs will grow faster than revenue and earnings. Shareholders are expecting losses to mount in the short term.
In the adjacent chart, SOFI shares crossed below key supporting moving averages. The moving average convergence divergence is crossing over. This is a bullish signal.
The chart does not predict a rebound but is a useful guide in monitoring where it may head to next.
Gaining Advantage from Personalized Products
As SoFi's business reaches economies of scale, investments in technology will pay off. Operating margins will expand. Those who bought the stock at low prices should benefit from the stock rising in value. Still, the Fed's rate tightening cycle helps traditional banks more. The interest rate spread will widen. This will increase interest income for banks holding billions in bank deposits.
SoFi's assets under management are relatively small compared to the banks. Investors are compelled to sell SOFI stock and buy Citigroup (NYSE:C) or Bank of America (NYSE:BAC). Morgan Stanley (NYSE:MS) and J.P. Morgan (NYSE:JPM) are also attractive alternatives. Their profits will grow from stronger corporate customer activities.
SoFi wants to differentiate itself from the above-mentioned banks. It wants to help its customers achieve financial independence. That is what happens when they borrow, save, invest, and spend better.
CEO Anthony Noto said that SoFi offers many loan products. For example, it has a Money account that acts as a checking/savings account in one. Members may sign up for SoFi Credit Card. They may have SoFi invest to buy into four different asset classes. The Relay product is SoFi's unique tool that is a top-of-the-funnel product. It will learn more about its customer, enabling SoFi to recommend a suitable product.
Relay gives SoFi a competitive edge. It personalizes the customer experience. When it recommends a product that customers buy, it adds to its revenue growth.
SoFi offers convenience. Members will sign up for many products. After the company earns its trust and reliability from each offering, customers will do more business, maybe for their lifetime, with SoFi.
Spending Big on Marketing
SoFi needs to work through a product development backlog in 2022. Its teams are building faster-performing products for customers. Yet the firm has more service offerings ahead. In investing, it needs to get customers on options and margins. In the cryptocurrency space, SoFi needs to offer different types of cryptocurrencies.
SoFi needs to watch out for overspending on advertising. SoFi Stadium in Inglewood, California, will pay off after the NFL season started. Should customer growth slow, it will need to adjust spending levels.
Your Takeaway
Insider sales pressured SoFi in recent months. This could scare retail investors from buying more at current levels. Fortunately, its business is thriving. Expect strong customer growth in the quarters ahead. This will attract more buyers in SOFI stock to buy into the recent dip.
On the date of publication, Chris Lau did not have (either directly or indirectly) any positions in the securities mentioned in this article. The opinions expressed in this article are those of the writer, subject to the InvestorPlace.com Publishing Guidelines.
Chris Lau is a contributing author for InvestorPlace.com and numerous other financial sites. Chris has over 20 years of investing experience in the stock market and runs the Do-It-Yourself Value Investing Marketplace on Seeking Alpha. He shares his stock picks so readers get original insight that helps improve investment returns.