This article is excerpted from Tom Yeung's Moonshot Investor newsletter. To make sure you don't miss any of Tom's potential 100x picks, subscribe to his mailing list here.
Counting Down to New Year's
It's certainly been an eventful year. Twelve months ago, GameStop (NYSE:GME) was just another dying mall retailer and "Shiba Inu" would have conjured images of a cute dog breed.
But Moonshot investing has held firm through these surprises.
This year, my top crypto and penny stock picks — Ethereum (CCC:ETH-USD) and Hertz (NASDAQ:HTZ) — rose 400% and 1,600% respectively. My choice for the office stock-picking competition, Peabody Energy (NYSE:BTU) advanced 430%. These were picks with 1) high intrinsic value and 2) relatively low prices.
Admittedly, I failed to foresee some wilder bets. FEG Token (CCC:FEG-USD) would rise 1,470x before crashing right back to earth. SafeMoon (CCC:SAFEMOON-USD), Squid Token (CCC:SQUID-USD) and Evolved Apes would also see massive price spikes… followed by death spirals and allegations of fraud.
Nevertheless, ignoring these lower-quality memes has helped the Moonshot Investor succeed. For every "zero" we ignored, that was one more winner we could buy instead.
As we round the corner into 2022, I'll be publishing my top five picks for 2022. Today, we'll start with No. 5 on the list.
Gene Editing's Annus Horribilis
It's been an admittedly tough year for gene-editing stocks. These once high-flying companies are now down double-digits from their peaks.
The reason for the fall was straightforward:
Valuation.
At their peaks, the four biotech startups were worth $47 billion despite generating zero revenues. And with lawmakers looking to cap the price of biotech drugs, something had to give. In this case, it was investors who lost $25 billion from their portfolios.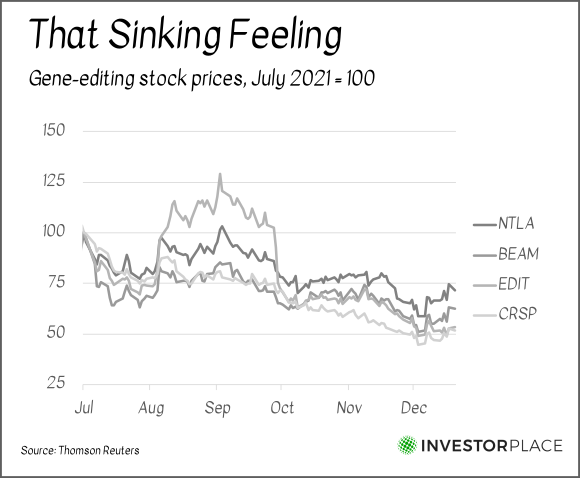 But just like clearance aisle clothing and deals on eBay (NASDAQ:EBAY), high-quality stocks can come too cheap. And that's why Crispr Therapeutics makes my list of the top five investments for 2022.
My No. 5 Pick for 2022
Crispr Therapeutics was founded in 2013 by Nobel Prize winner Emmanuelle Charpentier to commercialize CRISPR-Cas9, a method of inserting genes into existing DNA sequences.
The technology traces its roots back to 1993 with the discovery of the CRISPR locus, a DNA repair mechanism in certain bacteriophages. But it wasn't until the discovery of tracrRNA in 2011 that the technology could be used to purposely edit genomes.
Since then, CRISPR-Cas9 has been used to genetically engineer crops to produce greater levels of vitamins and yields. It's even been used to get animals to glow in the dark without harm*. And now, it's biotech's turn to get a taste for what Cas9 can do.
* Animal scientists have generally turned their attention to making livestock farming more humane rather than on creating luminous designer pets. Sorry to anyone looking for a last minute Christmas gift.
Glowing Up
The workings of CRISPR-Cas9 are relatively straightforward, at least on paper.
Before the discovery of the Cas9 enzyme, researchers would generally genetically modify organisms with the help of viruses or bacteria. Add enough of the desired genes to these infectious vectors, and some snippets would eventually end up in the host cell.
The technique, however, was rife with problems. The process inserted genes randomly, so only a handful of cells would show the correct traits. It's much like randomly adding a new chapter to a book. Do it wrong, and there's a good chance the story won't make sense.
CRISPR-Cas9 changed all of that. By using pre-programmed enzymes (rather than bacteria or viruses), researchers can now target specific genes to insert new material. Scientists can now essentially take a pair of scissors and paste paragraphs exactly where they want within a genome.
The technology has even made it possible for scientists to edit genes in living animals — a process known as "in vivo" treatment. Imagine a world where HIV or liver cancer could simply get "edited out" of human cells…
…it's already been done in mice.
The Hidden Potential of CRSP Stock
Competing gene-editing companies are still racing to recreate these successes in human trials. Beam Therapeutics uses an approach known as "base-editing" that acts more like pencils and erasers than Crispr's "gene scissors." And Intellia beat Crispr to publishing successful in vivo clinical trial data back in June.
But Crispr Therapeutics has several factors that make it my preferred pick.
Firstly, there's valuation.
Much like Beam and Intellia, Crispr has an enviable drug pipeline that targets some of the most expensive diseases on the planet. CRSP, however, is the outlier when it comes to valuation. Once you subtract its $2.4 billion cash pile, Crispr's enterprise value clocks in under $4 billion — one-fifth lower than Beam and 55% less than Intellia's. Only laggard Editas comes in cheaper.
Secondly, Crispr is well-funded, holding almost three times more cash than any competitor. Its superior ability to raise grant and collaboration revenue has also afforded management the luxury of outspending every competitor on R&D.
Finally, there's progress. Though Intellia leads the field of in vivo therapies, Crispr is furthest ahead in immuno-oncology drugs (i.e., cancer treatments that use the body's immune system). One of CRSP's drug candidates is already in its third year of live trials.
If I could only pick one biotech to buy for 2022, Crispr Therapeutics would be my bet.
Would You Like a Glow-In-The-Dark Puppy For Christmas?
Gene editing investments aren't for everyone. Some pharmaceutical companies have used human fetal cells for testing (a moral quandary for many), but even otherwise CRISPR-Cas9 poses a new ethical frontier. In a very real sense, we humans are closer than we've ever been to "playing God."
There's also the potential for abuse. The same techniques that cure cancers could theoretically be used for making people smarter… taller… or lighter-skinned. The specter of eugenics looms large over CRISPR technologies.
But the potential benefits of gene editing are undeniable. Almost 8% of African Americans suffer from sickle cell disease for sake of two inherited defective genes. And one in 27 Jewish Americans carries the DNA for Tay-Sachs disease. In vivo cures could eliminate these diseases almost overnight. The same technologies could also create cures for conditions like diabetes and rare diseases like muscular dystrophy.
The potential for gene editing is vast. And 2021's sector underperformance has created a rare window to get in at the right price.
P.S. Do you want to hear more about cryptocurrencies? Penny stocks? Options? Leave me a note at moonshots@investorplace.com or connect with me on LinkedIn and let me know what you'd like to see.
FREE REPORT: 17 Reddit Penny Stocks to Buy Now
Thomas Yeung is an expert when it comes to finding fast-paced growth opportunities on Reddit. He recommended Dogecoin before it skyrocketed over 8,000%, Ripple before it flew up more than 480% and Cardano before it soared 460%. Now, in a new report, he's naming 17 of his favorite Reddit penny stocks. Claim your FREE COPY here!
On the date of publication, Tom Yeung did not have (either directly or indirectly) any positions in the securities mentioned in this article.
Tom Yeung, CFA, is a registered investment advisor on a mission to bring simplicity to the world of investing.