Has Wall Street gotten ahead of itself? Depending on where one looks, it's a fair enough question these days. But that certainly doesn't include the market's most-shorted stocks.
Let's take a look both off and on the price charts of three of last year's heavily-shorted stocks at 52-week lows, which today are better-equipped to usher in a much happier 2022 for bullish investors.
The start to the new year has been filled with highs and lows for index investors. After striking record breaking prices earlier this week on top of 2021's boisterous 27% gain, the S&P 500 is off more than 2% to start off the trading year.
And it could be a very well-deserved top for the benchmark average and its immediate peers given the decade's start and one rightfully likened to last century's Roaring 20's.
But after its own braggadocio start this past year, a most-shorted stock campaign backed by a rowdy mob of social media trolling bulls, largely fizzled.
From A to Z or rather AMC Entertainment (NYSE:AMC) to Zomedica (NYSE:ZOM) and after a rollicking good start, it got ugly for the market's most heavily-shorted names.
To be fair, much of the payback in the market's most-shorted stocks probably had it coming. Sometimes though and as we'll explore in the three companies below, the baby may have been thrown out with the bathwater.
Most-Shorted Stocks to Buy: Cortexyme (CRTX)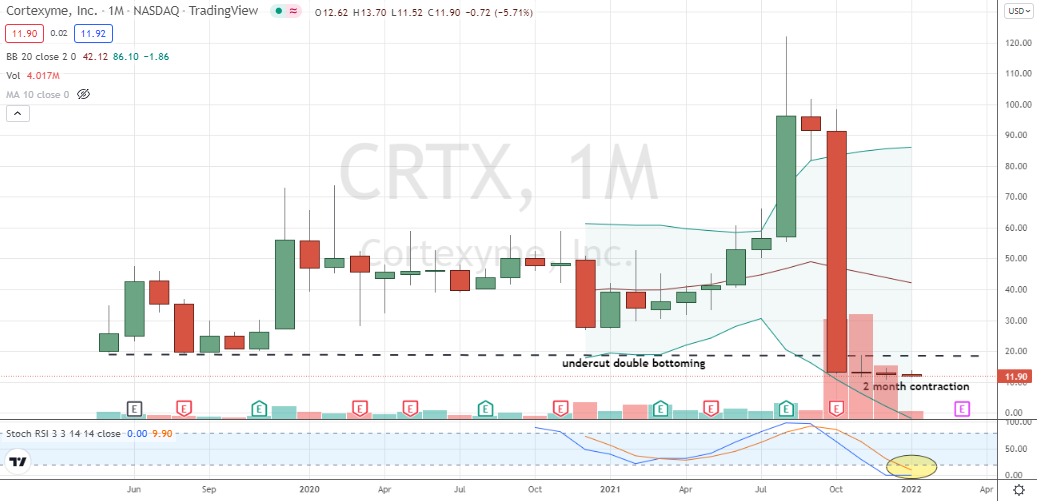 Source: Charts by TradingView
The first of our most-shorted stocks to buy is small-cap, biotech Cortexyme.
The concept-stage, Alzheimer drug play's shares were clobbered in the last quarter of 2021 after its experimental disease therapy Atuzaginstat missed co-primary endpoints in a late-stage trial.
But the news wasn't all bad.
In a smaller population of patients with active P. gingivalis gum disease, CRTX's drug showed worthwhile clinical benefit.
What's more, the potential within this targeted group still offers the opportunity to generate huge sales upward of $5 billion according to The Motley Fool.
Bottom line, for this $375 million most-shorted stock, today's investors could be looking at a windfall.
An update for a new clinical trial is expected this quarter.
In the meantime, buyers have hefty, short interest of nearly 60%, a tight life-time undercut double-bottom pattern and oversold stochastics on the cusp of a bullish crossover to support a purchase.
While that might prove sufficient to propel a buy in this most-shorted stock aggressively higher, a hedged April $10 married put is the smarter money strategy in our view.
SunPower (SPWR)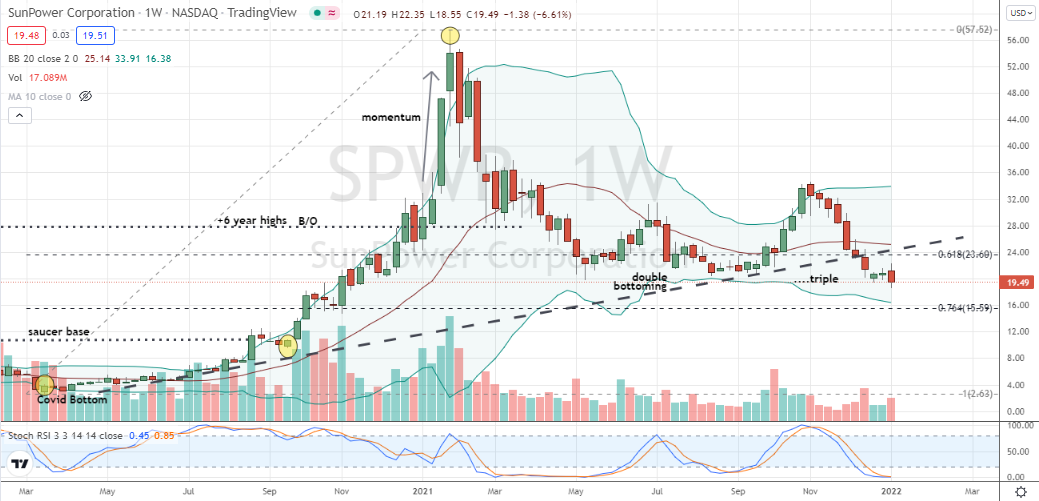 Source: Charts by TradingView
The next of our most-shorted stocks to buy are shares of residential solar solutions play SunPower Corp.
SPWR stock currently maintains a more modest but still significant bear population of 18%. And for bullish investors shares have felt like a bag of coal with the name hitting 52-week lows over Christmas.
Solar subsidy worries and current risk-off contagion in growth stocks aside, SPWR stock has a lot going for it.
The outfit's non-GAAP gross margin per watt for residential projects jumped 50% to 69 cents over the past year.
Also a positive, net recourse debt chopped down by nearly 65% to just over $150 million.
And with rooftop solar systems and home EV chargers a "hot" business with a strong runway for continued growth, this most-shorted stock has a lot working in bulls' favor.
Throw in an oversold and well-supported triple bottoming pattern in SPWR shares, and it's easy to appreciate how this most shorted stock might catch fire with investors once again in 2022.
Most-Shorted Stocks to Buy: Chewy (CHWY)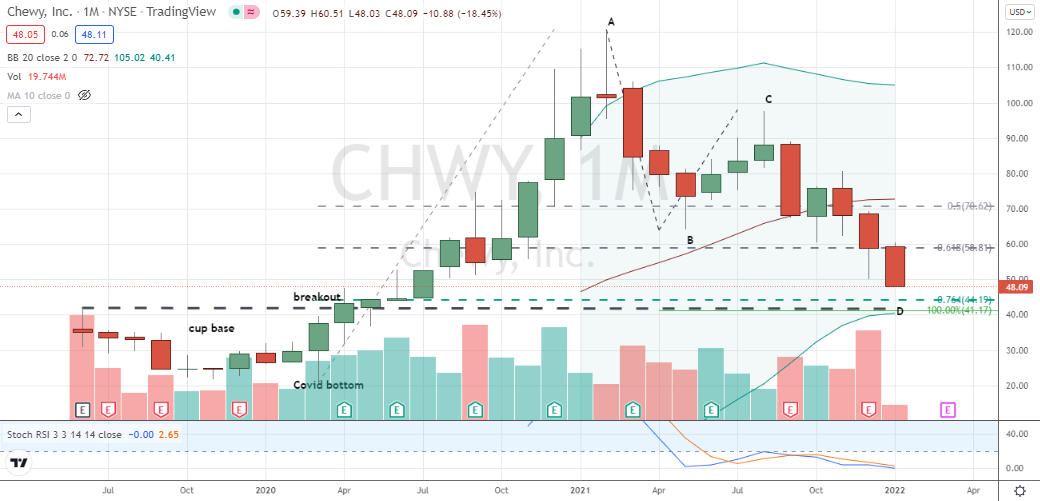 Source: Charts by TradingView
The last of our most-shorted stocks to buy is pet retailer Chewy. Shares currently harbor a bear population of about 28%.
CHWY stock fell about 35% in 2020 while hitting 52-week lows in December. And out-the-gate in 2022, broader bearish sentiment against growth stocks has shares sniffing out fresh relative lows.
But don't expect CHWY stock to remain in the doghouse for long.
An improving balance sheet, double-digit growth, pet spend expected to grow from $100 billion to $275 billion by 2030 and an expansion into pet insurance should help with this most-shorted stock learning a new bullish trick in 2022.
And to that end, today CHWY's price chart is showing less fangs.
Technically, a nearby Fibonacci-based two-step pattern completion, 76% retracement level, a prior cup base and monthly Bollinger Band should help with CHWY locating an intermediate-term bottom.
On the date of publication, Chris Tyler did not have (either directly or indirectly) any positions in the securities mentioned in this article. The opinions expressed in this article are those of the writer, subject to the InvestorPlace.com Publishing Guidelines.
Chris Tyler is a former floor-based, derivatives market maker on the American and Pacific exchanges. For additional market insights and related musings, follow Chris on Twitter @Options_CAT and StockTwits.