Just like a politician full of hot air, sometimes stocks like Digital World Acquisition Corp (NYSE:DWAC) can balloon in value. And DWAC stock has done just that in recent days.
Today let's look at whether a buy of DWAC stock is giving the "all aboard" signal or warning of a train wreck that's best avoided.
The Trump Train. If you're part of it, you're hoping for a trip back to the White House. Or at least, you're positive that really great, maybe the best things are going to happen in 2024 under our former and embattled president.
And if you're onboard the train, no doubt you've heard of DWAC stock or even proudly own it as a patriotic badge of sorts. Why is that? I'm glad you asked.
DWAC Stock and SPACs
For the uniformed, Digital World Acquisition is a SPAC. Yup, it's one of those volatile and mostly combustible stocks whose shares are merging with a privately held company.
But DWAC is uniquely special in a big way, maybe the most amazingly special way ever.
Unlike many high-tech SPACs (special purpose acquisition companies)taking us to brave new places such as Virgin Galactic (NYSE:SPCE) or a company trying to improve the world and green the planet like QuantumScape (NYSE:QS), DWAC stock is more about more hot air, lining pockets and getting even.
You see, DWAC is merging with the 45th president's Trump Technology and Media Group (TTMG). Big deal? Not quite. The biggest deal? I suppose that depends on your audience.
To walk the aisle, Trump's "TRUTH Social" platform does have big goals. It aims to take down what many perceive as an unfair liberal media consortium led by Twitter (NYSE:TWTR) and Meta Platforms (NASDAQ:FB).
To pick a side though and one based on a track record other than a history of broken blustery promises, deceit, multiple bankruptcies, shenanigans in general and a one-term presidency, DWAC's agenda is as laughable as Myspace making a comeback which can be taken seriously.
Weekly Price Chart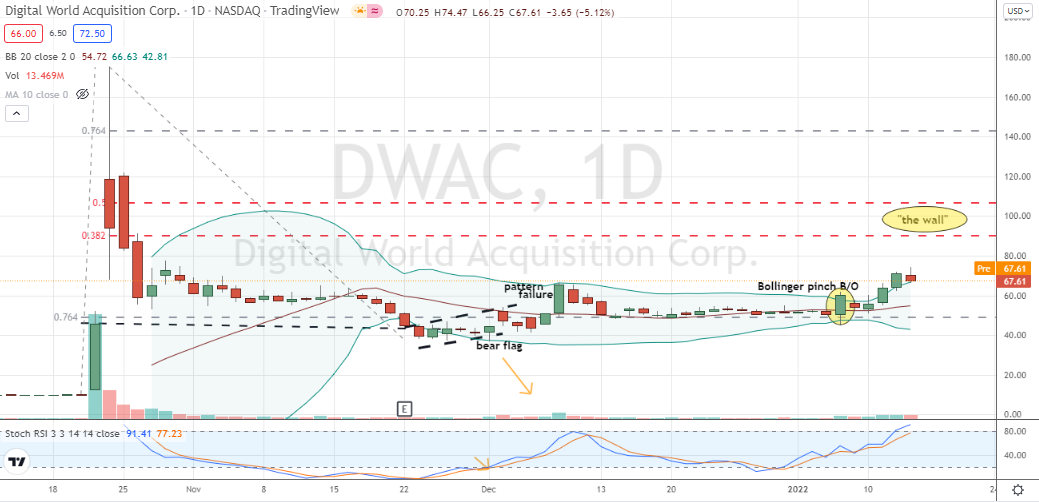 Source:
Charts by TradingView
It's obvious there's little affection for the former commander and chief and Digital World Acquisition's tied at the hip TRUTH Social, which is set to "stand up to the tyranny of Big Tech" beginning, of course, on Feb. 21, President's Day.
But to give credit where credit is due, Trump is ever the showman with the platform's launch date. And Trump is also respectfully loved.
Similarly and regarding DWAC shares, I'll concede a bear flag failed to live up to its billing and turn into a larger, or the worst ever train wreck for the stock's MAGA-loving, Reddit-heavy bullish ape base.
As well, while shares of the future TTMG are one day still expected to become a disaster of a stock, standing up against the madness of crowds or a fervent mob for the sake of getting even would be more Trump-like than a tactically smart investment strategy.
And today, that's particularly true for anyone thinking of shorting DWAC stock.
Bottom line, following a legit Bollinger Band squeeze breakout, an overzealous, but not behaving badly stochastics indicator and technical resistance or "the wall" removed from DWAC's current action, I suspect a sell-the-news event may take shape closer to Trump's TRUTH Social grand reveal. Until then, sit back and enjoy what's sure to be an interesting show.
On the date of publication, Chris Tyler did not have (either directly or indirectly) any positions in the securities mentioned in this article. The opinions expressed in this article are those of the writer, subject to the InvestorPlace.com Publishing Guidelines.
Chris Tyler is a former floor-based, derivatives market maker on the American and Pacific exchanges. For additional market insights and related musings, follow Chris on Twitter @Options_CAT and StockTwits.