The risk-off trade is back en vogue on Wall Street this week. But in a market made up of share prices often left to their own devices, some of today's most-shorted stocks are taking full advantage of that tendency.
Just when investors were possibly believing it was time to get back to the Roaring '20s playbook of buying every dip, along comes Thursday.
In one fell swoop, 2022's bad for business sore spots of Russia and Ukraine, inflation and stingy monetary policy came to a head sending the broader averages to their worst single day losses on the year.
For its part the broad-based, large-cap S&P 500 shed 2.14%, while market heavyweights Microsoft (NASDAQ:MSFT), Alphabet (NASDAQ:GOOGL), Tesla (NASDAQ:TSLA) and others suffered more significant losses on the session.
But in a market made up of risk assets of all kinds, some of today's most shorted stocks have begun to make some bullish Roaring '20s style noise of their own.
Today, let's examine three of these most-shorted stocks and discuss why each are showing strong indications that there's always a bull market somewhere worth buying into.
Most-Shorted Stocks Positioned to Buy: Lucid Motors (LCID)


Source: Charts by TradingView
The first of our most-shorted stocks that's in position to buy is Lucid Motors.
The $45 billion large-cap, luxury electric vehicle play maintains short interest of 17.50%. But those bears could become roadkill shortly.
A market bucking rally of around 9% this week has confirmed a weekly reversal pattern off LCID's 76% retracement level while fulfilling a Fibonacci-based two-step or mirror move pattern. It's bullish.
And with stochastics signaling a bullish crossover in oversold territory, there's plenty of solid technical support for bulls to drive this most-shorted stock substantially higher.
There doesn't appear to any company-specific news, but investors could be turning upbeat in front of late February's earnings. And maybe for good reason.
For one, Lucid's Air Dream Edition did snag MotorTrend's prestigious 2022 Car of the Year crown.
And with prior bullish-looking revenue and production guidance for 2022, investors could be anticipating a strong quarterly report.
Asana (ASAN)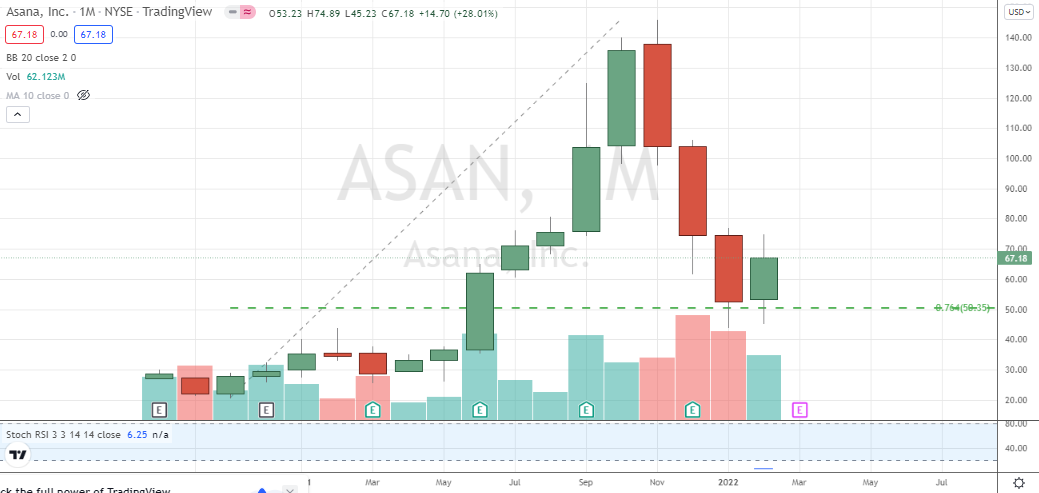 Source: Charts by TradingView
The next of our most-shorted stocks that's showing strong signs the price is right for buyers are shares of Asana.
The $12.8 billion software-as-a-service (SaaS) workflow management play has short interest of around 27%.
Bears have been on the right side of ASAN stock in recent months. But this could be a baby with the bathwater situation.
As with many higher multiple growth stocks, Asana has gotten slammed by Wall Street's risk-off trade. Shares having corrected 70% into January from November's peak valuation of $26 billion.
But during this period, this most-shorted stock's CEO has continued his aggressive buying of shares. The latest SEC filing shows nearly $80 million in ASAN stock having been purchased the past week.
Moreover, the long position accumulated since last summer in Asana shares now stands at more than $1 billion.
There's plenty of situations why an insider might sell stock, but there's only one reason to buy and that's to make money.
Today and technically, it may finally be time to follow the money trail in ASAN.
For starters, February's monthly candle has defiantly shook off the broader market's corrective pressure with a gain of 28%.
Shares of this most-shorted stock are also still attractively stationed in an inside candlestick pattern that's found support off the 76% Fibonacci level.
Lastly, with ASAN back at levels aligned with June's insider buying campaign, today there's a couple other good reasons to be bullish.
Most-Shorted Stocks Positioned to Buy: Chewy (CHWY)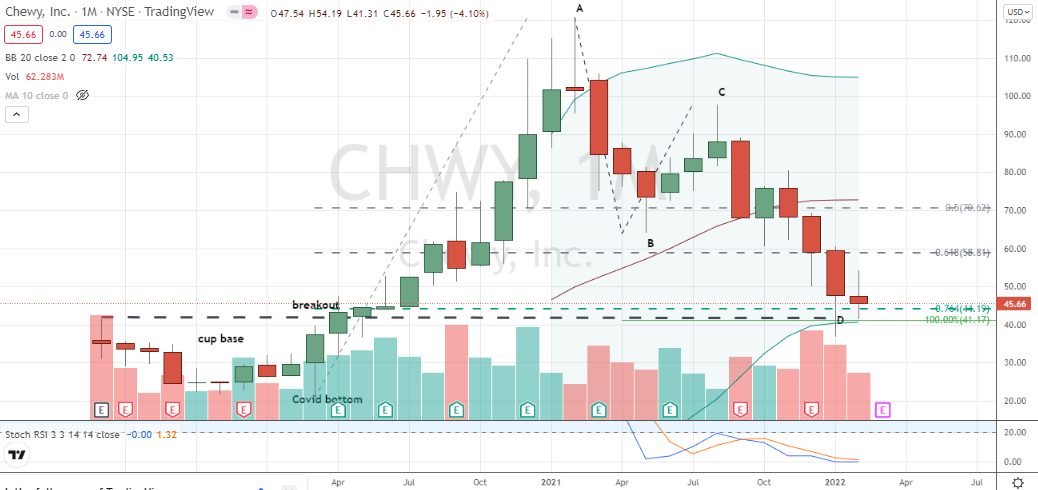 Source: Charts by TradingView
The last of our most-shorted stocks that's ready to learn a new trick is pet retailer Chewy, Inc.
Shares of CHWY have a bear population of about 28% and market cap of $22 billion.
Shorts have been the top dog in Chewy stock for the past year since peaking at $120 last February. But CHWY's days in the doghouse appear all but over.
Off the price chart, bullish double-digit growth, an expansion into pet insurance and attractive pet spend forecasted to grow from $100 billion to $275 billion by 2030 should have investors' attention.
Today, bulls also have a bear market of nearly 70% that appears to be completing its cycle.
Shares of this most-shorted stock have formed a bullish inside monthly candlestick off a two-step pattern and 76% retracement level not unlike LCID, but much larger in scope.
An oversold stochastics hasn't yet rung the dinner bell for bulls, but with monthly Bollinger Band support also in play, CHWY stock looks like something investors can sink their teeth into.
On the date of publication, Chris Tyler did not have (either directly or indirectly) any positions in the securities mentioned in this article. The opinions expressed in this article are those of the writer, subject to the InvestorPlace.com Publishing Guidelines.
Chris Tyler is a former floor-based, derivatives market maker on the American and Pacific exchanges. For additional market insights and related musings, follow Chris on Twitter @Options_CAT and StockTwits.