Gores Guggenheim (NASDAQ:GGPI) has been motoring along in pole position among electric vehicle stocks in recent weeks. And today GGPI stock is offering the chance to own shares at the intersection of where growth collides with value both off and on price chart. Let me explain.
Lucid Motors (NASDAQ:LCID). QuantumScape (NYSE:QS). Tesla (NASDAQ:TSLA). ChargePoint Holdings (NASDAQ:CHPT). Rivian Automotive (NASDAQ:RIVN). They're among today's most popular EV stocks.
That's not the only standard feature in LCID, QS, TSLA stock and the others though.
It's been an ugly start to the new year for electric vehicle plays and no matter the outfit's size or niche within this explosive growth market.
Of course, it's not exactly a secret Covid-related chip or lithium battery supply chain woes, real and otherwise, inflation and worrisome rate policy and geopolitical tensions from across both ponds have been driving the bearish stock action.
GGPI Stock Has Fared Better
But shares of SPAC and EV play Gores Guggenheim have largely avoided 2022's crash test dummy program within the group.
Compared to TSLA stock's slide of 23%, depowered declines of roughly 33% in LCID, QS and CHPT or RIVN's back-up-the-truck drop of 41%, GGPI stock is down just 2% on the year.
And prior to Tuesday's larger 7% unplugging on a broad-based risk-off trade tied to escalating Russia-Ukraine tensions, Gore Guggenheim shares were leading the EV pack with a solo gain of 5%.
Source of its Strength
The strength in GGPI stock is no fluke either.
For one, Polestar's EVs are already in production and being well-received. This isn't some untested newbie simply putting the design on paper. The rubber is meeting the road today.
Gores Guggenheim and Polestar also have the type of pedigree that's built for lasting success.
While Polestar isn't a household name in the U.S. like Tesla, overseas the outfit's engineering relationship with Volvo's racing vehicles spans a quarter of a century.
And that lineage, along with Gores Guggenheim's own enviable track record of winning, set the SPAC apart from the pack.
But those aren't the only reasons why GGPI stock stands above its peers.
GGPI stock is cheap. On that front InvestorPlace's Mark Hake does a good job of kicking the tires.
The CFA estimates GGPI is worth $24 a share inside of 18 months based on the blank check company's widely-expected reverse merger with Sweden's privately-held Polestar.
As Mark notes, following Polestar's January's 2021 production and sales targets of 29,000 vehicles being met, GGPI's "see-through" valuation over the next couple years appears increasingly compelling.
Further and agreeably, GGPI's Polestar pro forma valuation of $25.5 billion is priced at a significant price-to-sales discount versus competitors Lucid Motors, Rivian and Tesla.
GGPI Stock Weekly Price Chart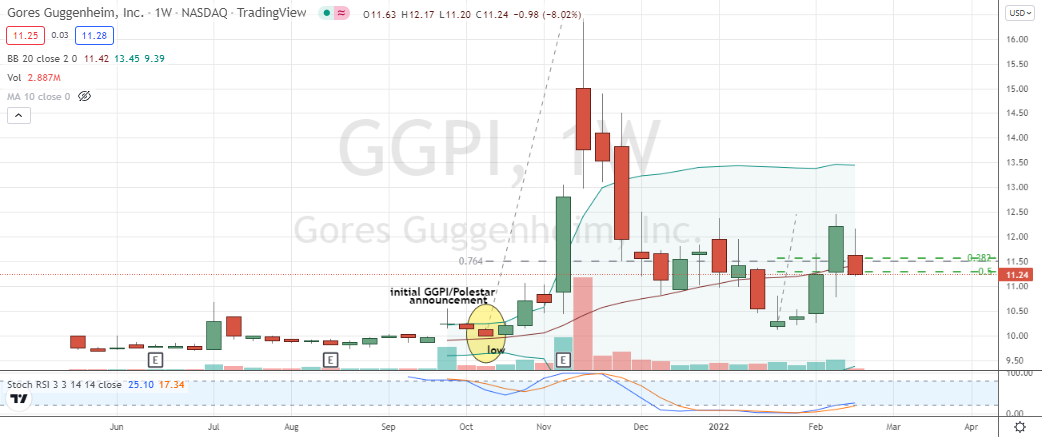 Source:
Charts by TradingView
If investors take a look at what's under the hood of the Polestar 1 and Polestar 2 EVs, the Grand Turismo (GT) awesomeness sets GGPI stock even further apart from the competition. Along with Mark's upbeat forecast, that may be more than enough evidence to find some investors buying GGPI.
Today and favorably though, the Gores Guggenheim price chart is also revealing an attractive opportunity to buy shares at the intersection of growth colliding with value.
Technically, GGPI stock is forming a weekly chart inside candlestick pullback pattern after rallying off January's relative low this month.
With this week's price reaction challenging the 50% retracement level of the rally and stochastics just exiting oversold territory and bullishly aligned, investors can buy into Mark's forecast with comparatively little downside risk.
Alternatively and if bullish investors enjoy structuring spreads to hedge exposure, a modified collar on GGPI stock using a long May $10/$7.5 put spread and short May $17.5 call is the favored vehicle of choice given what's happening off and on the price chart.
On the date of publication, Chris Tyler did not have (either directly or indirectly) any positions in the securities mentioned in this article. The opinions expressed in this article are those of the writer, subject to the InvestorPlace.com Publishing Guidelines.
Chris Tyler is a former floor-based, derivatives market maker on the American and Pacific exchanges. For additional market insights and related musings, follow Chris on Twitter @Options_CAT and StockTwits.