The market has spoken — the bull is back. And the price action isn't just for bellwethers either. It's happening in some of the market's most-shorted stocks too. And there should be more to come, as we'll see below.
Two years after a Covid-driven, historic bear market low, investors have been scrambling to get into long positions over the past week. And for good reason. We're in a new confirmed bullish leg of this decade's Roaring '20s redux.
The turnaround has occurred on the back of a bullish, broad-based follow-through day in the S&P 500 last Wednesday. The index should now finish higher for a second straight week.
The usual large-capitalization suspects are doing their part to promote the buying frenzy. But the upbeat rallying cry hasn't stopped there.
The market's more notorious most-shorted stocks have participated too. Nikola (NASDAQ:NKLA) and Sundial Growers (NASDAQ:SNDL) are among this week's big movers. But the three I'm watching most closely are:
Most-Shorted Stocks to Buy : Blink Charging (BLNK)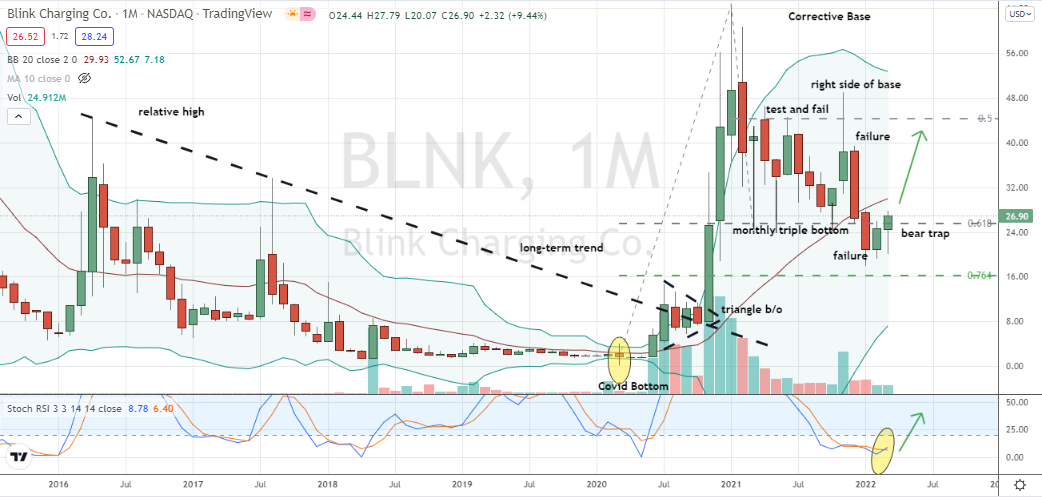 Source: Charts by TradingView
The first of our most-shorted stocks to buy is Blink Charging.
One of the market's leading EV charging plays, Blink Charging has short interest of around 35%.
This heavily shorted stock has also been a consistent favorite of bears over the past year. And despite brief bouts of bullish volatility, it's paid some of those bears handsomely.
While shares have clawed their way higher by over 30% since its early February low, BLNK stock remains down by roughly 60% since peaking in January 2021.
Right now though, even ignoring the growing secular trend towards renewable energy and EVs, BLNK stock's price chart is well-positioned for a longer-term bullish cycle.
Technically, March's monthly candle has bullishly confirmed February's inside bottoming pattern.
Coupled with an outsized 10-days-to-cover ratio, deeper Fibonacci levels supporting a meaningful bear market low and an oversold bullish crossover in this most-shorted stock's stochastics indicator, BLNK looks fully charged for upside.
Beyond Meat (BYND)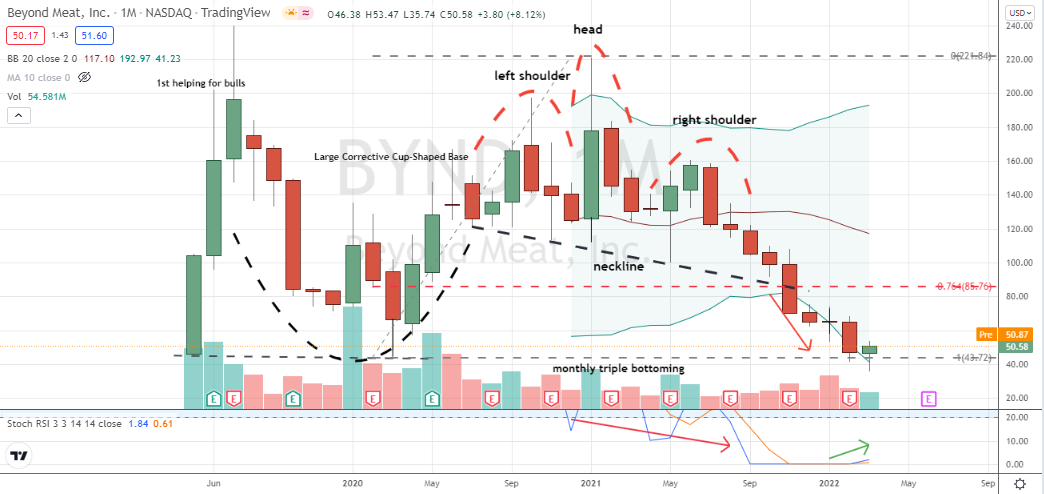 Source: Charts by TradingView
The next of our most-shorted stocks is Beyond Meat.
BYND stock is of the market's leading faux meats plays, and its importance in that niche can't be denied. It's also true Beyond Meat's products are critical to the planet's longevity, given the amount of resources animal farming takes.
In spite of that, Beyond Meat is one of the market's most-shorted stock with a bearish population of around 38% sinking their teeth into shares.
BYND also maintains a fairly high days-to-cover statistic north of five trading sessions.
Very similar to Blink Charging, BYND stock has proven a more durable and delicious meal for bears. Since peaking in January 2021, this most-shorted stock is down roughly 77%. Some 15 months later, the easier pickings for bears are gone. Shares are also ripe for bottoming.
Today, shares are setting up in a bullish doji that can complete a lifetime undercut triple-bottoming pattern.
And bottom line, combined with a monthly stochastics hinting at a conclusion to BYND's bear market, this most-shorted stock looks like a savory opportunity for buyers.
Big 5 Sporting Goods (BGFV)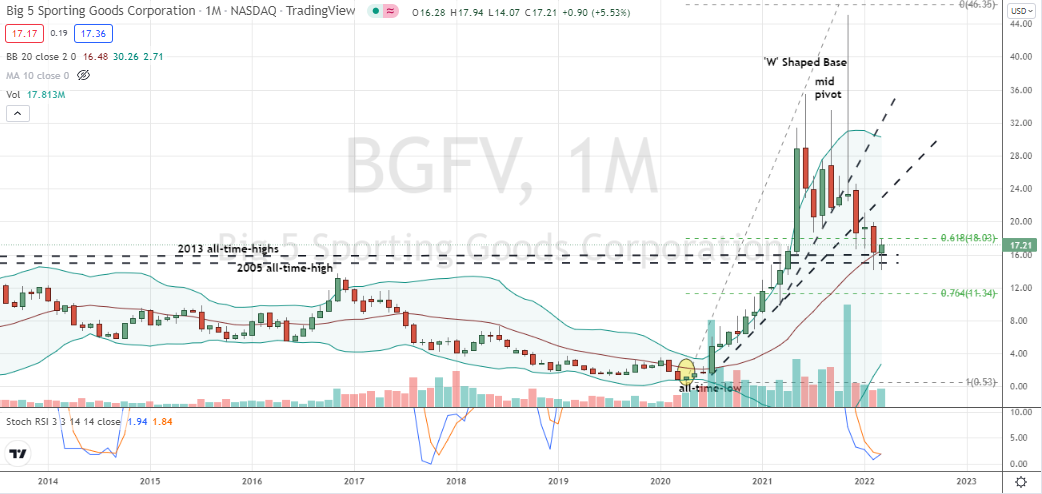 Source: Charts by TradingView
The last of our most-shorted stocks to buy is Big 5 Sporting Goods.
This leading athletics retailer's stock has been in a game where the bulls fumbled in the fourth-quarter and have continued to lose ground in 2022.
To be fair, the playing field isn't what it used to be for brick-and-mortar operators like BGFV. That was true before the pandemic and is a certain reality on the other side of Covid too.
And this week Big 5 did update its earnings guidance for its first quarter. The new number is below expectations.
The good news for bulls is this stock also remains profitable and has shown its commitment to shareholders with a well-supported dividend of 5.8%.
Now BGFV stock is also offering the chance to buy an attractive monthly reversal hammer pattern that's finding support off prior highs from 2005 and 2013.
With bears needing eight days to get through the exits to close out positions, this most-shorted stock could be ready for a terrific second quarter for bullish buyers.
On the date of publication, Chris Tyler did not have (either directly or indirectly) any positions in the securities mentioned in this article. The opinions expressed in this article are those of the writer, subject to the InvestorPlace.com Publishing Guidelines.