They're a dime a dozen. They're risk assets of all shapes and sizes rocketing higher out of a bearish debris field on Wall Street in Wednesday's session. Even those dreaded, down-and-out Cathie Wood stocks.
But could there be more to it? In Cathie Wood stocks, that is.
With knowledge that one day doesn't necessarily make a trend, let's look at three of Cathie's Ark ETF stocks that have been left to their own devices on the monthly price charts and now readying for purchase, no matter tomorrow's headlines.
It's official. The bear is dead. No, not that Russian bear identified with Putin.
The large-cap, tech-heavy Nasdaq's bear market has turned tail by about 3% Wednesday on hope of a Russia-Ukraine resolution, as well as not to be dismissed, fearful market behavior bordering on panic of late.
In the process, the bellwether's menacing cycle has been partially declawed. That is, if we're to trust the staying power of a bear market based on a 20% decline in prices.
Today's gain in the Nasdaq has recrossed the well-watched threshold for a second time in ten sessions after a first shot was fired at Wall Street's historic bull market of the past two years.
The bear is dead!!??
In a market made up of stocks and as Ark Invests' Cathie Woods knows, gains driven by a handful of mega-cap influencers like Microsoft (NASDAQ:MSFT) or Apple (NASDAQ:AAPL) is no guarantee of future performance.
Still, and following Ark Invest's dubious first-to-worst in ETF performance the past two years, and in the spirit of getting the bear off our backs, let's look at three diverse Cathie Wood stocks to buy with more than a single headline and delicate correction to work from.
Cathie Wood Stocks to Buy: Shopify (SHOP)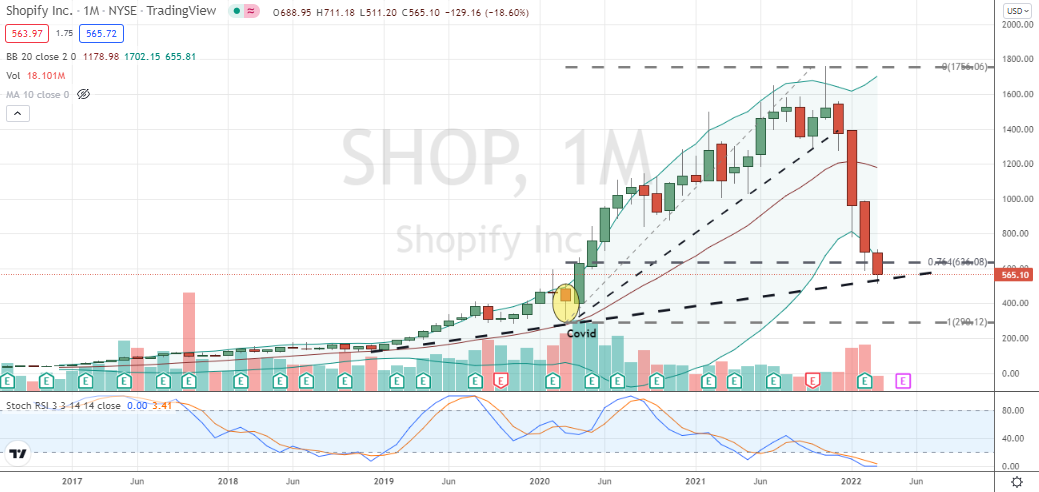 Source: Charts by TradingView
The first of our Cathie Wood stocks to buy: shares of Shopify.
Shopify's booming e-commerce platform has been finding disgruntled SHOP stock buyers in recent months.
Unlike the Nasdaq, the possibility of bulls quickly flipping the switch on a 20% bear market cycle are long gone.
Since peaking in November at $1,762.92, this Cathie Wood stock has plummeted as much as 70% at this week's bear market low.
Today, and arguably, it's time to monitor Shopify for a more savvy purchase where growth intersects with value, off and on the price chart.
The deep retreat has compressed SHOP's price-to-sales multiple to under 14x.
Sure and to be perfectly fair, that's not a screaming buy if you're comparing Shopify to a name like Ford Motor Co. (NYSE:F) or many other cyclical and defensive-oriented stocks.
However, this Cathie Wood stock hasn't been this cheap since the end of 2018 despite owning a more robust revenue base and a strong and growing platform with sustained tailwinds from a digital economy.
And technically, with SHOP stock's sharp decline testing trend and deep Fibonacci support tied to Covid-19 and sporting a flattening oversold stochastics, shopping the drop in this Ark stock is shaping up nicely.
DraftKings (DKNG)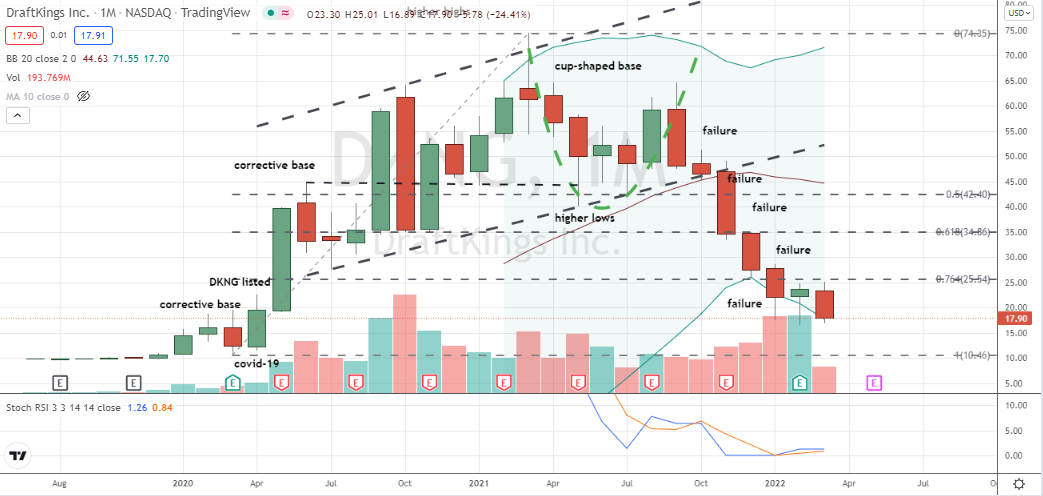 Source: Charts by TradingView
The next of our Cathie Wood stocks to buy is DraftKings.
The fantasy sports and online betting champ has been anything but a sure win for those wagering on "the over" in DKNG stock.
Since last March's all-time-high of $74.38, this Cathie Wood stock has been sacked by bears to the tune of about 75% at February's low of $16.56.
But while more concerning red ink is in store based on last month's earnings warning and many are now fearful of growing regulatory and competitive risks, what tune were they singing a year ago?
I'm guessing it was Queen's rock opera We Are The Champions.
Don't expect kudos from co-workers around the office cooler if you decide to purchase this Cathie Wood stock today.
But with a compelling risk-to-reward profile framed around DKNG's monthly hammer confirmation and bullishly-aligned stochastics, an actively-managed long May or July $20 call looks like the smarter money bet.
Cathie Wood Stocks to Buy: CRISPR Therapeutics (CRSP)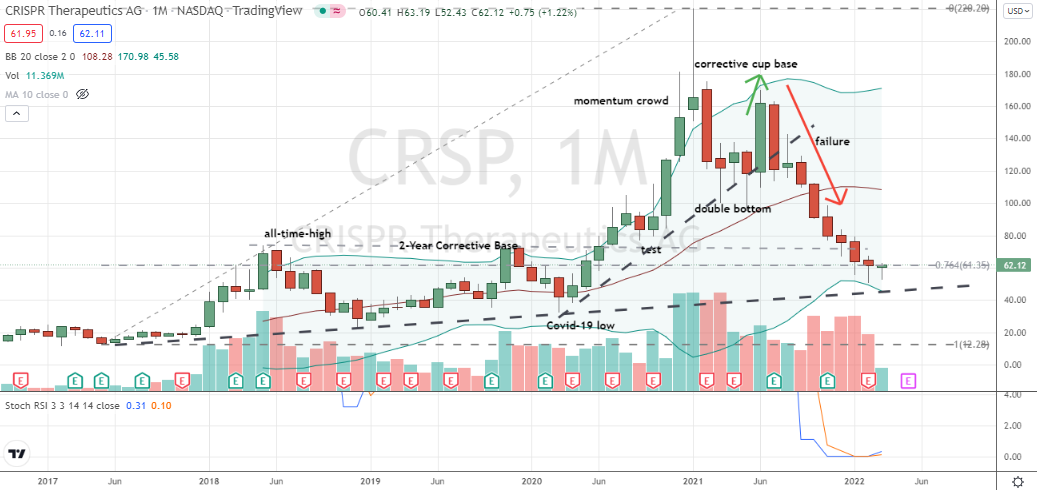 Source: Charts by TradingView
The last of our Cathie Wood stocks to buy is CRISPR Therapeutics.
CRSP stock bucked a late day reversal in the Nasdaq and other bellwethers by finishing Tuesday up nearly 10%.
It's a nice pop in this Cathie Wood stock, but it also hardly makes CRSP's bear market.
Shares remain nearly 72% beneath last January's all-time-high as a hyped genomics revolution was at its most silly.
But CRISPR remains one of the more promising names within a riskier, next-gen biotech population.
Yesterday, the Ark stock benefitted from an upbeat interview from CRSP's CEO at Cowen's Annual Health Care Conference, who discussed the outfit's pipeline and business in general.
Technically, the price action has shares forming a bullish inside hammer candlestick backed by CRSP's Covid-related 76% retracement level and long-term trend support.
Furthermore, and for the first time since this Cathie Wood stock's Covid bottom, stochastics is generating an oversold bullish crossover signal.
Bottom line, I'm not a doctor or even trained to play one on TV, but I can say this Cathie Wood stock's monthly price chart is a solid-looking Rx for ailing portfolios.
On the date of publication, Chris Tyler holds long positions (either directly or indirectly) in Ford Motor Co. (F), Ark Innovation ETF (ARKK) and Ark Genomics Revolution ETF (ARKG). The opinions expressed in this article are those of the writer, subject to the InvestorPlace.com Publishing Guidelines.