This article is excerpted from Tom Yeung's Moonshot Investor newsletter. To make sure you don't miss any of Tom's potential 100x picks, subscribe to his mailing list here.
When Bad Ideas Pay Off
Imagine it's a Saturday night and we find ourselves at an intense dance party, complete with strobe lights and subwoofers (Pretend our kids or friends somehow convinced us to go).
As we're counting down the hours to midnight, someone offers us a pair of mystery pills.
"This is a terrible idea," we tut-tut disapprovingly.
Would you take them anyway?
That's the question investors in Asia Broadband (OTCMKTS:AABB) are facing.
This penny-stock-turned-crypto-exchange has all the charm of a truly terrible idea.
AABB has "more red flags than a slalom skiing course," I wrote in January. Its opaque financials and history of pumping share prices have all the signs of a bad penny stock bet.
But I would still recommend a small position anyway. "For Reddit investors seeking a thrill ride, the long-term truth might not matter. When other unknown firms like Hello Pal International (OTCMKTS:HLLPF) can rise 4,500% after announcing cryptocurrency dreams, why wouldn't companies like AABB do the same?"
Since then, Asia Broadband has delivered on its meme promise. On Tuesday, the company launched its app-based exchange, pushing shares above 15 cents. Prices are now one-third higher than when I first recommended the purely speculative play.
But as markets continue to consolidate, you're going to see me make fewer of these baseless calls (if any at all). With higher-quality picks now selling for cheap, there are far better alternatives to taking MDMA at some rave.
The 3 Cryptos Surviving the Bear Market Shakeout
Investors probably thought Mark Zuckerberg was out of his mind when he announced Meta's (NASDAQ:FB) pivot to the metaverse. FB shares have since fallen 35%, wiping out $320 billion of shareholder value.
But Mr. Zuckerberg had a point. The average American spends about 2.5 hours on social media per day. Those aged 16 to 24 spend even more. Add in the time spent with online games and Zoom (NASDAQ:ZM) meetings, and you have an entire society that's moving to online life.
That has companies from GameStop (NYSE:GME) to Disney (NYSE:DIS) scrambling to create working Metaverse strategies.
And the good news? Several metaverse cryptocurrencies are already there.
Ethereum (ETH)
The world's second-largest cryptocurrency also powers much of the Metaverse's commerce. 80% of all NFTs are traded on the Ethereum (ETH-USD) network, and many of the top tokens — from Decentraland (MANA-USD) to SushiSwap (SUSHI-USD) — are Ethereum-based.
That makes ETH a surprisingly strong play in the metaverse. Much like the U.S. dollar in foreign exchange markets, Ethereum plays a key role in helping investors switch between various Metaverse currencies. If you're moving from SAND to MANA, it's often cheaper to first convert everything into native token Ethereum than to make the exchange directly.
Much like a self-help guru, Ethereum is also rapidly improving. By moving to an energy-efficient Proof of Stake (POS) protocol, Ethereum will cut its energy usage by 99.7% or more, according to industry experts. This "2.0" version will also introduce sharding, a way to divide the ETH blockchain into smaller "shards" that will increase transaction throughput by a factor of 10,000 or more.
The cryptocurrency will certainly face short-term bumps along the way. "Third-generation" NFT coins like Solana (SOL-USD) (which already have low energy usage and high throughput) are starting to eat away at ETH's dominance. And there's little that Ethereum's developers can do to stem the tide of negative NFT sentiment.
But for those looking for a lower-risk crypto to play the Metaverse game, Ethereum is one of the best places to start.
Decentraland (MANA)
Decentraland is arguably the most advanced blockchain-based metaverse game so far. Though much of its virtual world remains undeveloped and uninhabited, things are changing fast. Decentraland's developers have been incrementally upgrading the game's graphics, and events like a metaverse "Fashion Week" have begun wooing real-world brands.
That makes Decentraland's land particularly valuable. The limited supply of 16×16 meter plots has already doubled in value over the past year. Speculation over Metaverse advertising space could push prices higher still.
Most importantly, owners can develop their plots of land, rather than relying solely on the whims of the market. Savvy programmers have already earned millions creating lavish 3D models in the Decentraland SDK. And with land parcels capped at 90,601 lots, this digital real estate is a far better store of value than any easy-to-replicate NFT in the MANA world.
Prices currently start at $13,000, and reasonable locations are still available for $20,000 or less. Just be sure not to overpay.
FTX (FTT)
Finally, the "new exchange on the block" FTX (FTX-USD) is also turning into a strong Metaverse play.
Last month, the fast-growing exchange announced FTX Gaming, a "crypto-as-a-service" platform to help gaming firms launch new tokens and support NFTs. It's already put money into companies like C2X, a firm now valued at $500 million.
The exchange is wisely pursuing a "crawl, walk, run" approach to avoid the "super anti-NFTs" sentiment among gamers. By putting greater emphasis on R&D (rather than on "low-quality money-grabs"), the firm hopes to avoid the missteps of Ubisoft and other public-relations fiascos.
FTX's Series C funding already values the company at $32 billion, a massive premium to the $3.5 billion FTT tokens held in its treasury. Those looking to buy in on a promising token should act sooner rather than later.
When a 140% Gain Fails to Break a Trend
This week, the popular meme coin JasmyCoin (JASMY-USD) rose 140% to 4.2 cents. But there's a reason I haven't used Momentum Master to time this coin.
Much like Asia Broadband, the Japan-based cryptocurrency owes much of its popularity to StockTwits, an online investment forum. In the past week, JASMY has bounced around the top 10 most mentioned investments on the site.
And that's an issue.
Older investors will immediately recall how AOL chatrooms of the 1990s did the same for unknown dot-com stocks. Day-traders sharing ideas would often unwittingly push stocks higher, only to see them fall back to earth the moment the buying stopped.
A similar pattern is playing out for JasmyCoin, a cryptocurrency without much apparent merit. Though prices are going up, it's not driven by any fundamental love for the coin. Prices are still down 98% over the past year.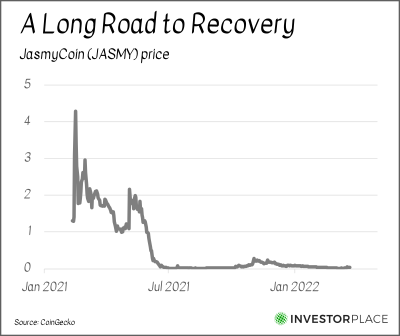 Unless something changes, investors are better off waiting on the sidelines than throwing good money after bad.
Why People Make Bad Crypto Bets
At the end of 2021, a CNBC survey asked a simple question:
"What are American millionaires investing in?"
The bulk of the answers made sense — a shift towards inflation-protected investments and an aversion towards overspending.
But one group stood out: the Millennial Millionaires.
According to the CNBC survey, a full 83% of younger millionaires owned cryptocurrencies, compared to just 5% of baby boomers and only 25% of Gen X'ers. Almost half of these millennials plan to add to their crypto holdings over the next 12 months.
"With so many millennials and Gen Z investors becoming millionaires from the crypto economy, it's likely to remain central to their investing in the coming years," the report predicted.
But there's a significant issue with that logic. Most self-made crypto millionaires got in years ago when prices of higher-quality coins were low. Achieving a similar feat today would be the equivalent of taking mysterious pills at a party (i.e. buying into bad ideas).
But that hasn't stopped latecomers from trying anyway. Thousands of hopeful investors have spent minor fortunes on bets like Shiba Inu (SHIB-USD) and SafeMoon (SAFEMOON-USD) only to see them flatline or fall after the initial craze. My ordinarily-bullish colleagues — Luke Lango and Charlie Shrem — have even identified 27 cryptos to SELL before they die in their Crypto Investor Network (To sign up for the service to access the special report, click here).
Investors looking to build long-term wealth shouldn't fall into the low-quality trap. Bitcoin (BTC-USD) was once an innovative bet among a sea of pretenders. Repeating that type of return involves finding similar bets today.
P.S. Do you want to hear more about cryptocurrencies? Penny stocks? Options? Leave me a note at moonshots@investorplace.com or connect with me on LinkedIn and let me know what you'd like to see.
FREE REPORT: 17 Reddit Penny Stocks to Buy Now
Thomas Yeung is an expert when it comes to finding fast-paced growth opportunities on Reddit. He recommended Dogecoin before it skyrocketed over 8,000%, Ripple before it flew up more than 480% and Cardano before it soared 460%. Now, in a new report, he's naming 17 of his favorite Reddit penny stocks. Claim your FREE COPY here!
On the date of publication, Tom Yeung did not have (either directly or indirectly) any positions in the securities mentioned in this article.
Tom Yeung, CFA, is a registered investment advisor on a mission to bring simplicity to the world of investing.