This article is excerpted from Tom Yeung's Moonshot Investor newsletter. To make sure you don't miss any of Tom's potential 100x picks, subscribe to his mailing list here.
Oil Captures Retail Interest… Clean Energy is Next
"We are now talking to our European partners and allies … [about] the prospect of banning the import of Russian oil," said U.S. Secretary of State Antony Blinken in a bombshell announcement on Sunday. Brent crude, an industry benchmark, soared to $140 on the news (Pardon me while I go fill my gas tank).
In two short weeks, the Western world has moved from tiptoeing around Russian oil sanctions to fully embracing the idea. EU energy independence now seems as inevitable as politicking at the Thanksgiving table — and equally painful too.
Mom-and-pop investors have predictably rushed into high-beta trades like Imperial Petroleum (NASDAQ:IMP) and Indonesia Energy Corporation (NYSEAMERICAN:INDO).
Meanwhile, forward-thinking investors have started to look beyond the crisis. Prices of electric vehicle firms have already started inching up, as have those in clean energy and the tech firms that supply them. The aptly-tickered Invesco Solar ETF (NYSEARCA:TAN) has risen 19% since the start of the Russia-Ukraine War.
But there's still far more upside ahead.
The Russian invasion has dramatically accelerated the timeline for European energy independence. Germany now plans to reach 100% sustainable energy by 2035, almost two decades earlier than initially outlined. Even Poland — a historically coal-dependent country — has stepped up efforts to go green in its latest solar auctions.
Though the headlines of today are focused on oil & gas, the future of the world will be elsewhere. Those looking for winning long-term Moonshots would do well to remember that.
3 Surprising Winners From Oil's Rise
This isn't the first time that a crisis has changed technology and how we live with it. In the 1940s, researchers at the MIT Radiation Laboratory invented microwave radar after the British shared plans of the recently-discovered magnetron. Scientists at Harvard would create radar-jammers soon after, leading to a friendly rivalry and the creation of radar systems that were even harder for enemies to jam.
In more recent times, Netflix (NASDAQ:NFLX) and other streaming services have allowed people the world over to live out the Covid-19 pandemic as happy couch potatoes.
Now technological change is finally coming for oil.
Unlike previous spikes in 1973… 1979… 2007… today's price rises come at a time when affordable fossil fuel alternatives finally exist.
Standard solar cells are now capable of converting 20% of the sun's energy into electricity, bringing generation costs between 3 cents and 6 cents per kilowatt-hour, according to the National Renewable Energy Laboratory. In certain locations, that makes solar panels 70% cheaper than gas-fired plants. And electric vehicles are starting to rival conventional ones in terms of driving range, thanks to advances in battery technology.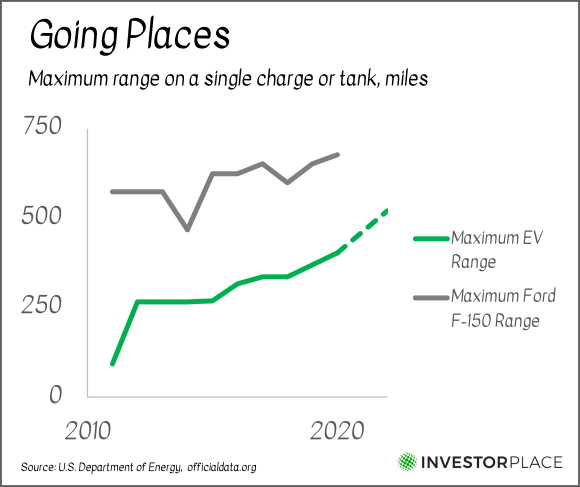 By the time oil falls back to $40, the world will have likely moved on from its addiction to fossil fuels. And three alternative energy firms look set to benefit.
Top Overall Moonshot: Arianne Phosphate
When former InvestorPlace analyst Joanna Makris introduced Arianne Phosphate (OTCMKTS:DRRSF), it might have confused some readers. Why would a star Wall Street tech analyst talk about a penny stock that digs up dirt as its business?
That's because the Canadian-based phosphate miner does more than make fertilizer.
It's also an electric vehicle play.
The firm's high-purity mines generate a consistent source of supply for Lithium-Iron-Phosphate (LFP) batteries, the technology favored by Tesla (NASDAQ:TSLA), Volksagen (OTCMKTS:VWAGY) and Ford (NYSE:F). Before the Russo-Ukrainian war began, analysts believed that LFP demand would almost double by 2030, fueled in part by Tesla's promise to switch entirely to LFP batteries. Oil's sudden rise has shifted everything forward.
Arianne will also see increased demand from its traditional phosphate business. Wheat typically requires 50% more phosphate than soybeans, according to researchers from Penn State, and Arianne's Canadian-based mines are particularly attractive to North American farmers, given that China currently produces 40% of the world's supply.
DRRSF has already risen 45% since the start of the Russian invasion of Ukraine. It's going to rise far more by the time the dust settles.
Top Electric Vehicle Moonshot: Polestar
"Electric vehicles are becoming more affordable and could cost less than gas-powered vehicles in just a few years," noted CBS News in early 2021. With gas prices now averaging more than $4 per gallon, the tipping point has come faster than most had anticipated.
Most high-quality electric vehicle companies have become understandably pricey. Tesla's $850 billion market capitalization makes it worth twice as much as the next six Western carmakers combined. And Lucid Motors (NASDAQ:LCID) is worth nearly as much as Fiat Chrysler owner Stellantis (NYSE:STLA), despite delivering just 125 vehicles last year.
Enter Polestar (NASDAQ:GGPI).
This Volvo-based spinoff managed to deliver 29,000 vehicles in 2021, far outpacing its hyped-up rivals. Yet its current valuation puts it closer to Kia or Suzuki than a Stellantis. It's not cheap, but it's also no Tesla.
Polestar has also benefited from its close relationship with Volvo, which maintains a 50% stake in the company. The Polestar 3 will be manufactured at a South Carolina Volvo plant that was opened in 2018. And its close relationship with Chinese parent Geely has given it an open door into traditionally protectionist China.
Investors for even cheaper Moonshots also have other choices. Volcon (NASDAQ:VLCN) is a promising electric-ATV company with plenty of insider buying. And if Arcimoto (NASDAQ:FUV) or Electrameccanica (NASDAQ:SOLO) can find a way to push prices down into the $10,000 range, they will also find their $250 million market capitalizations turned to billions overnight.
But for those looking for a tried-and-true player, Polestar is a firm that's hard to beat. Investors should cautiously buy at $11 and jump in at $5.
Top Alternative Energy Moonshot: Cameco (CCJ)
"It is now extremely obvious that Europe should restart dormant nuclear power stations and increase power output of existing ones," tweeted Tesla CEO Elon Musk on Sunday. "This is *critical* to national and international security."
There's just one problem:
40% of the world's uranium supply comes from Kazakhstan, a country with historically close ties to Russia. Last week, Reuters sources revealed that the U.S. nuclear power industry was quietly lobbying the White House to continue allowing imports from Russia and its allies.
As Western governments expand sanctions on Russian, investors will begin to realize the value behind Canadian-based Cameco (NYSE:CCJ).
CCJ owns and operates the most productive uranium mines in the world. Its three Canadian mines can collectively produce up to 45% of world consumption if run at full capacity.
Cameco management has taken a long view of uranium production. In March 2020, the firm suspended production at its largest mine, Cigar Lake in northern Saskatchewan, to decrease supply and maintain prices. When your average uranium grade sits at 15.41%, you can afford to sit around while Kazakh mines deplete their 0.1% to 0.3% purity mines.
The company's conservative strategy has translated into relatively stable stock prices and strong cash flows. Those looking for faster returns will find speculative Uranium Energy Corp (NYSEAMERICAN:UEC) a faster (and risker) way to riches.
How High Will Oil Go? And Who Wins?
In 1973, OPEC countries created an oil embargo against the U.S. in retaliation for American military support of Israel. The First Oil Crisis would trigger an oil exploration bonanza in Alaska, the North Sea and other non-OPEC regions.
Today's oil crisis has spurred a similar rethink. Canadian oil sands — a region with a marginal production cost of $90 — are gaining new leases on life (So has the bicycle I'd almost forgotten in the garage).
The short-term winners will be oil producers with high marginal costs. Analysts at JPMorgan are now saying $185 "isn't out of the question," while others are estimating $4.25 gas prices by Memorial Day. Oil firms with the highest marginal cost per barrel will gain the most.
Yet history tells us that prices eventually moderate. West Texas Intermediate (WTI) crude futures are trading below $80 for 2024 deliveries, and oil majors are conspicuously quiet about starting new mega-projects. Though oil demand in the short run is highly inelastic, consumers have shown greater flexibility over longer time horizons.
In other words, the next time I'm buying a new car, you can bet I'll be eyeing that pint-sized Chevy Bolt versus the gas-guzzling Ford F-150 towering over it.
P.S. Do you want to hear more about cryptocurrencies? Penny stocks? Options? Leave me a note at moonshots@investorplace.com or connect with me on LinkedIn and let me know what you'd like to see.
FREE REPORT: 17 Reddit Penny Stocks to Buy Now
Thomas Yeung is an expert when it comes to finding fast-paced growth opportunities on Reddit. He recommended Dogecoin before it skyrocketed over 8,000%, Ripple before it flew up more than 480% and Cardano before it soared 460%. Now, in a new report, he's naming 17 of his favorite Reddit penny stocks. Claim your FREE COPY here!
On the date of publication, Tom Yeung did not have (either directly or indirectly) any positions in the securities mentioned in this article.
Tom Yeung, CFA, is a registered investment advisor on a mission to bring simplicity to the world of investing.