After the pandemic's grounding, travelers are returning to the open skies boosting airline forecasts and investor expectations for carrier stocks.
American Airlines (AAL): Expects to turn a profit in the second quarter with business travel returning to 90% of 2019 levels.
Delta Air Lines (DAL): Posted a solid first-quarter revenue beat and expects to generate 93% – 97% sales
growth despite reaching only 84% of 2019 capacity.
United Airlines Holdings (UAL): Expects a solid 10% operating margin in the second quarter, with double-digit margins until 2026.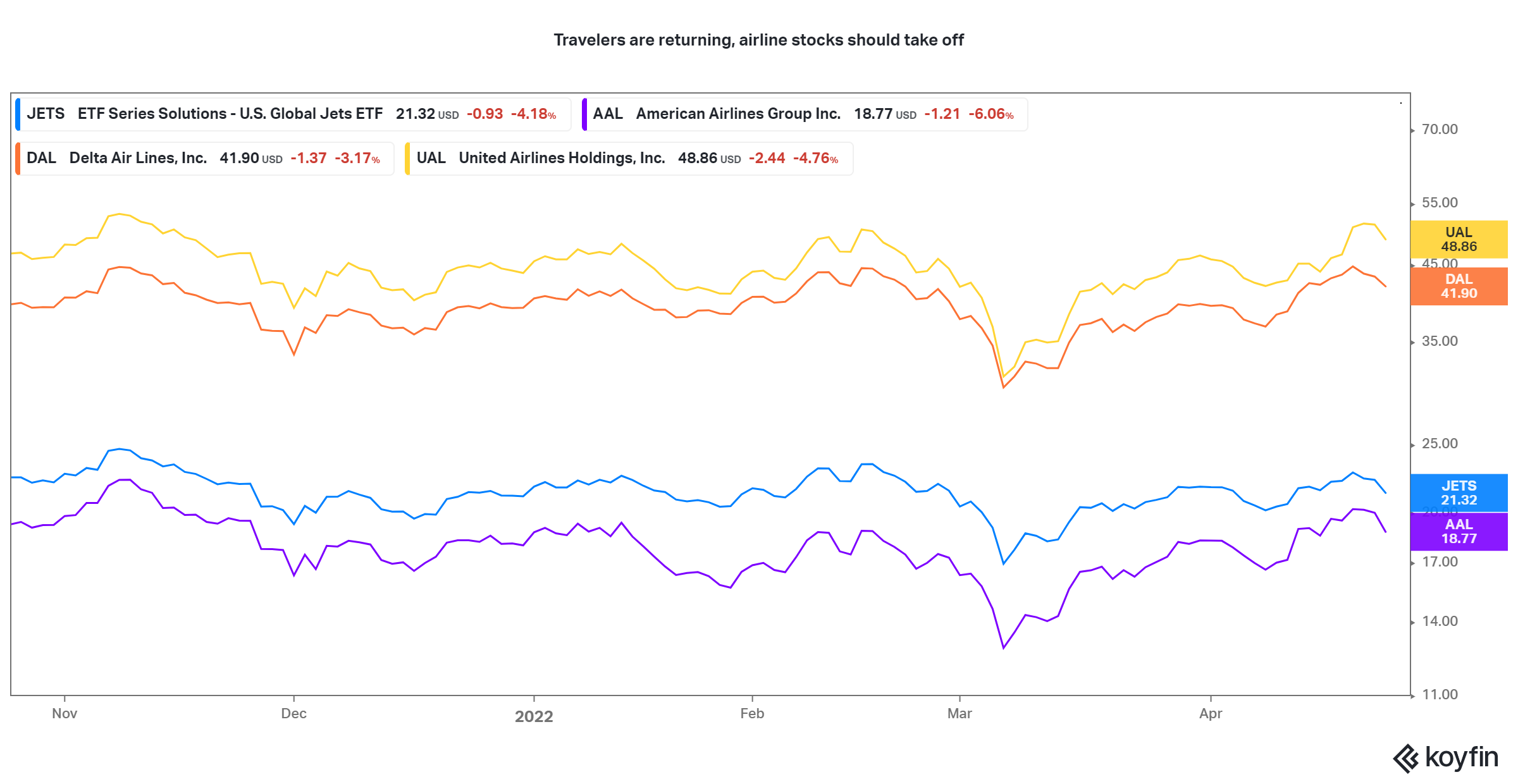 Click to Enlarge
Airline stocks are flying high after a federal judge nullified the national mask mandate on public transportation. The pandemic has been a horror show for the airline industry, but investor interest in the sector is booming with the mask mandate lifted.
Business travel has been a major money-spinner for airline businesses. However, the pandemic dented that market in a big way, but recent developments point to much brighter prospects. Morgan Stanley analyst Ravi Shanker expects another wave of pent-up demand with the removal of the mask mandate.
Nevertheless, the effects of the pandemic era have been crippling, and the long-term financial impact on airline companies cannot be denied. Therefore, a little skepticism may be in order when evaluating airline stocks.
Let's now look at three airline stocks that can climb higher after removing the mask mandate. These stocks currently rank as the top three holdings among the 52 names in the exchange-traded fund portfolio of U.S. Global Jets ETF (NYSEARCA:JETS) [see above chart].
| | | |
| --- | --- | --- |
| AAL | American Airlines Group Inc. | $18.77 |
| DAL | Delta Air Lines, Inc. | $41.90 |
| UAL | United Airlines Holdings, Inc. | $48.86 |
American Airlines Group Inc. (AAL)
American Airlines (NASDAQ:AAL) has been in the news for its relatively impressive earnings results. Though it lost $1.64 billion during the first quarter, it expects to turn a profit in the spring due to robust travel demand. It reported that March was the first month where revenues exceeded 2019 levels. Hence, AAL stock seems back in business after a horrible couple of years.
Air travel was restrained earlier in the year due to omicron, but with passengers returning in March, American reported a profit. The company revenues more than doubled from the prior-year period to roughly 84% of pre-pandemic levels for Q1.
The airliner estimates business travel to be roughly 90% of 2019 levels in the second quarter. Moreover, it also expects to generate a pre-tax profit due to a healthy bump in bookings. That will help offset the rampant increase in oil prices due to the Russia/Ukraine war.
Nevertheless, the massive increase in demand will help curb the fuel nightmare.
Delta Air Lines, Inc. (DAL)
Delta Air Lines (NYSE:DAL) is another airline industry leader that pleasantly surprised investors with its earnings results. It beat its Q1 sales estimates by an incredible $360 million and guided second-quarter sales to around 2019 levels. The company has shown that airlines can effectively survive and grow despite multiple events holding back its business.
Delta has guided its capacity to reach 84% of 2019 levels during the second quarter as we advance. Despite being 16% behind full capacity, it expects total revenue growth of 93% to 97% compared to the second quarter of 2019. Additionally, it forecasts margins to reach an impressive 13% despite increased fuel prices.
With the normalization of fuel costs and strong revenue trends, the airliner is poised for rapid recovery. Moreover, it may also surpass its full-year record EPS of $7.31 by 2024.
DAL stock currently trades at just 0.6 times forward sales to further sweeten the deal, which is significantly lower than the industry averages.
United Airlines Holdings, Inc. (UAL)
United Airlines Holdings (NASDAQ:UAL) is another legacy carrier that's been on the move in the stock market. Similar to American and Delta, it expects a spectacular showing during the second quarter. The Chicago-based airline forecasts a 10% operating margin and record quarterly revenues in the upcoming quarter.
Moreover, it expects to generate a profit this year, for the first time since the pandemic ravaged proceedings.
The fuel crisis and omicron weighed down the company's results during the first quarter. Hence, it posted a hefty $1.4 billion loss on revenues of $7.57 billion. The sales figure is well below the $9.59 billion it made in 2019 but is more than double last year. Moreover, it expects 9% and 14% pre-tax margins in 2023 and 2026, respectively.
With sales growing over $50 billion by 2026, it could be on a path to a massive increase in pre-tax income. Moreover, due to the massive sell-off in the past couple of years, UAL stock now trades below one times forward sales estimates.
On the date of publication, Muslim Farooque did not have (either directly or indirectly) any positions in the securities mentioned in this article. The opinions expressed in this article are those of the writer, subject to the InvestorPlace.com Publishing Guidelines.