Advanced Micro Devices (AMD) AMD stock is demonstrating leadership on analyst upgrade
A bullish earnings trifecta and powerful AMD bottom set up significant upside opportunity
AMD stock buyers can use a hedged strategy for stronger risk-adjusted longer-term returns
Top semiconductor play Advanced Micro Devices (NASDAQ:AMD) is leading the market to the upside Tuesday. AMD stock is up nearly 9% in the wake of a bullish analyst call versus solid, but more tempered gains of around 2.25% in the large-cap, tech-heavy Nasdaq.
Brokerage Piper Jaffrey raised AMD to "overweight" from "neutral" as part of a broader mixed note on the semiconductor industry. Analyst Harsh Kumar also hiked AMD stock's price target to $140 from $90 a share.
Not that Piper is alone in bullishness. Advanced Micro maintains a median 12-month forecast share price of $133.95, a range high of $200 and more than half of AMD's coverage pegged with "buy" recommendations and outstripping today's outperform ranking.
Below, let's dig into the upgrade and AMD stock's price chart and one way investors can participate as more calculated buyers with a tactical spread strategy.
| | | |
| --- | --- | --- |
| AMD | Advanced Micro Devices | $102.69 |
AMD Stock's Very "Strong" Moderate Buy
In financial market's vernacular, an outperform rating is akin to a moderate buy. The lingo falls below a buy rating, a "strong buy" and definitely below CNBC's Mad Money's excitable "Buy! Buy! Buy!" But make no mistake, Piper's outperform call is a stronger-looking raise due to its stated price target.
There's plenty of other reasons to find AMD stock's upgrade as a more certain buy as well.
The analyst move follows AMD's very bullish earnings trifecta in early May which blasted both top and bottom-line views and saw management issue positive and above-views guidance. The revision also notes Piper's concerns surrounding a slowing PC market and AMD's Xilinx acquisition haven't "played out as expected."
The outperform rating was also buoyed by Piper's recognition AMD's core businesses are running strongly, graphics cards are gaining share against Nvidia (NASDAQ:NVDA), tailwinds in cloud and enterprise markets should continue to act as revenue drivers and server chips are picking up traction vis-à-vis diversified tech giants Meta Platforms (NASDAQ:FB), Alphabet (NASDAQ:GOOG) and others.
Upgrade Offers 36.50% Upside in AMD Stock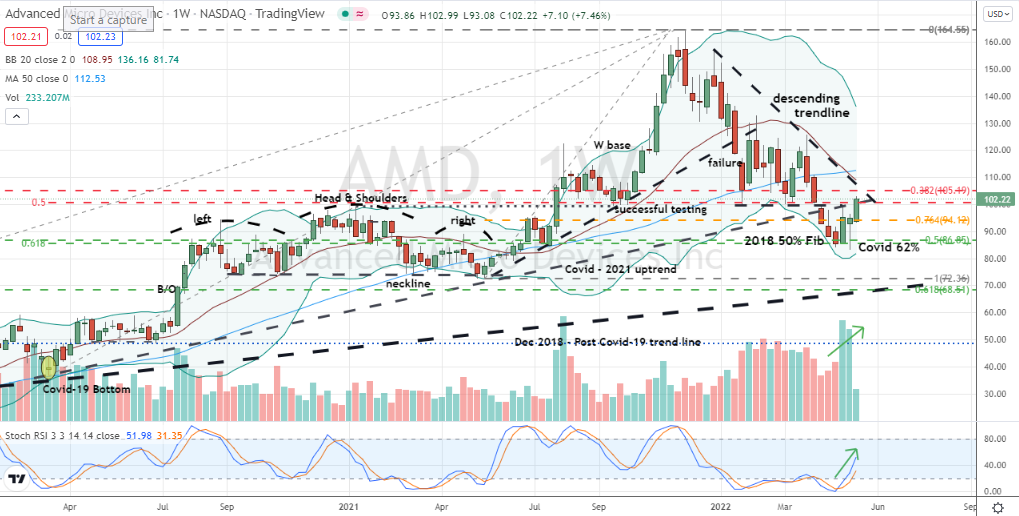 Source:
Charts by TradingView
Piper Jaffrey sees almost 50% upside in AMD stock, but that premium has obviously shrunk with Tuesday's bullish reaction. Nevertheless, a return promising 36.50% is nothing to turn one's back on. And right now, shares remain in position for buyers to make a decent-looking technical purchase.
Currently and as the extended weekly view of AMD reveals, shares have confirmed the prior period's bullish bottoming hammer candlestick formed off the stock's 50% retracement level from 2018 and its 62% Covid-19 Fibonacci level and well-above its longer-term 2018 to present uptrend.
Today, shares are further confirming the low as shares take out May's earnings-related relative high reverse back above its former Covid uptrend.
Lastly, with stochastics bullishly aligned and pointing higher in neutral territory, the lower Bollinger band curling higher beneath the hammer candlestick and strong indications of accumulation as shares bottomed, a buy in AMD stock is currying a great deal of favor from the price chart right now.
How to Buy AMD Stock More Smartly
There's always going to be something that keeps a stock purchase from being the less-than-perfect investment in real time. And some investors may point to AMD stock's intact downtrend or maybe ongoing macro issues tied to Covid-19 or Russia that could disrupt or even dismantle all of today's favored supports.
Nevertheless and without putting the bear in front of the wagon, AMD is offering a compelling buy. But with a purchase, as a market leader and bona-fide growth stock, volatility in AMD stock does come with the package. And while $140 sounds and looks attainable, even if it's eventually captured, don't expect bearish periods of price action to simply vanish.
To better prepare or navigate an AMD stock buy against less-attractive but always possible realities, a fully-hedged and actively-managed collar on shares is favored. This type of strategy can vastly reduce downside exposure, help investors accumulate shares more efficiently on price weakness and allow for meaningful profits through call and put adjustments as shares move both up and down over time.
On the date of publication, Chris Tyler holds long positions in Advanced Micro Devices (AMD) (either directly or indirectly), but no other positions in securities mentioned in this article. The opinions expressed in this article are those of the writer, subject to the InvestorPlace.com Publishing Guidelines.
Chris Tyler is a former floor-based, derivatives market maker on the American and Pacific exchanges. For additional market insights and related musings, follow Chris on Twitter @Options_CAT and StockTwits.