There were some red flags coming into 2022, but by and large, the markets looked okay. The S&P 500 index hit its all-time high on the second trading day of the year and since then it has been all downhill — literally. In some cases, dividend stocks have steadied investors' portfolios. As such, investors are looking for dividend stocks to buy as the market environment has only gotten more difficult so far this year.
On paper, it seems easy: Just buy high-quality dividend stocks and businesses. But the reality is much more difficult as our emotions cloud our sense and judgment.
Many investors have not been through a bear market yet in their investing careers. Those that have are all too familiar with the pain and despair that can accompany these environments, although it's been a while since they too have felt the actual effects.
In any regard, experienced investors are likely pouring over quality businesses paying a respectable yield. Meanwhile, younger investors experiencing a bear market for the first time are likely looking for dividend stocks to buy as they seek some comfort and stability.
Let's look at three quality dividend stocks now.
| | | |
| --- | --- | --- |
| Ticker | Company | Current Price |
| TGT | Target Corporation | $150.42 |
| O | Realty Income Corporation | $69.19 |
| TXN | Texas Instruments Incorporated | $155.95 |
Target (TGT)
Target (NYSE:TGT) has taken a mighty tumble, something its long-time investors have not had the displeasure of experiencing many times. At the recent low, shares were down 48.5% from their November all-time high.
We have not seen that type of correction in the stock price since the global financial crisis when the TGT stock price fell 64.5% from the 2007 high to the 2009 low.
At the same time, I think the decline puts into perspective the type of discount long-term investors are getting near current levels. It took the global economy being put on the brink of collapse for Target stock to correct 65%. Three-quarters of the way there, a decline of that size now and with the stock nearly halved, it's time to take a closer look.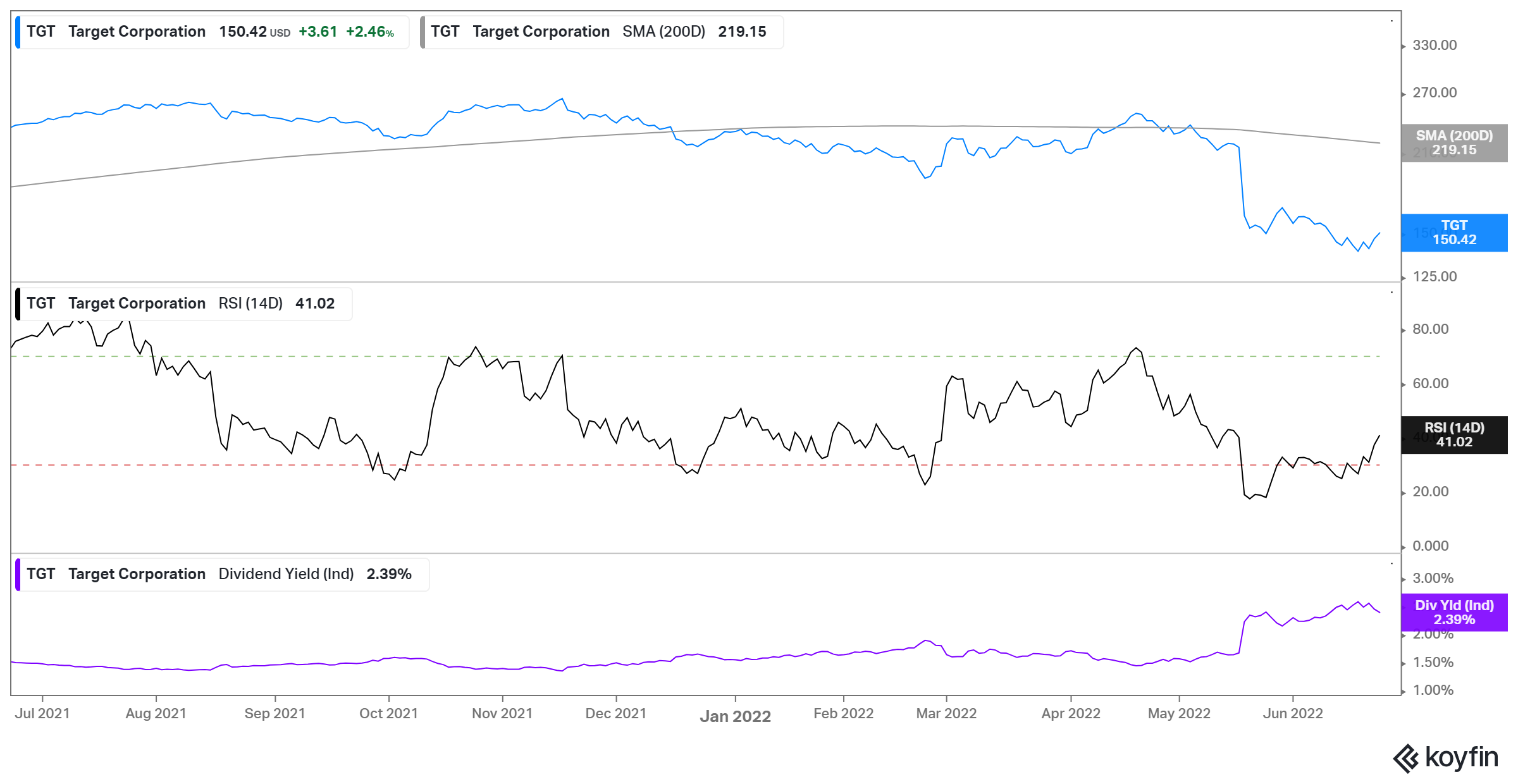 Click to Enlarge
Target stock yields 3% at current levels, which is attractive for income-seeking investors. In June, the company put through a 20% increase to the payout, its 51st consecutive increase to the annual dividend. The boost, to $1.08 per common share from 90 cents, is payable Sept. 10 to shareholders of record as of Aug. 17.
Like many retailers right now, the company is sorting through some inventory issues and fighting through inflation pressures. But the idea that Target is a long-term dud is foolish.
Realty Income (O)
Realty Income (NYSE:O) gets a lot of credit among REIT investors, but not much credit outside of that loyal group of investors. However, with its dividend consistently, it's certainly deserving of some praise.
Realty Income stock currently pays out a 4.5% dividend yield, while its stock is holding up better than many other holdings. While shares are down 12.5% from their 52-week high, they are actually up 2% over the last 12 months.
However, it would be disingenuous if we didn't point out that O stock was down 19.5% from its all-time high (made just ahead of the Covid selloff). On the plus side, that's still better than all of the major US indexes.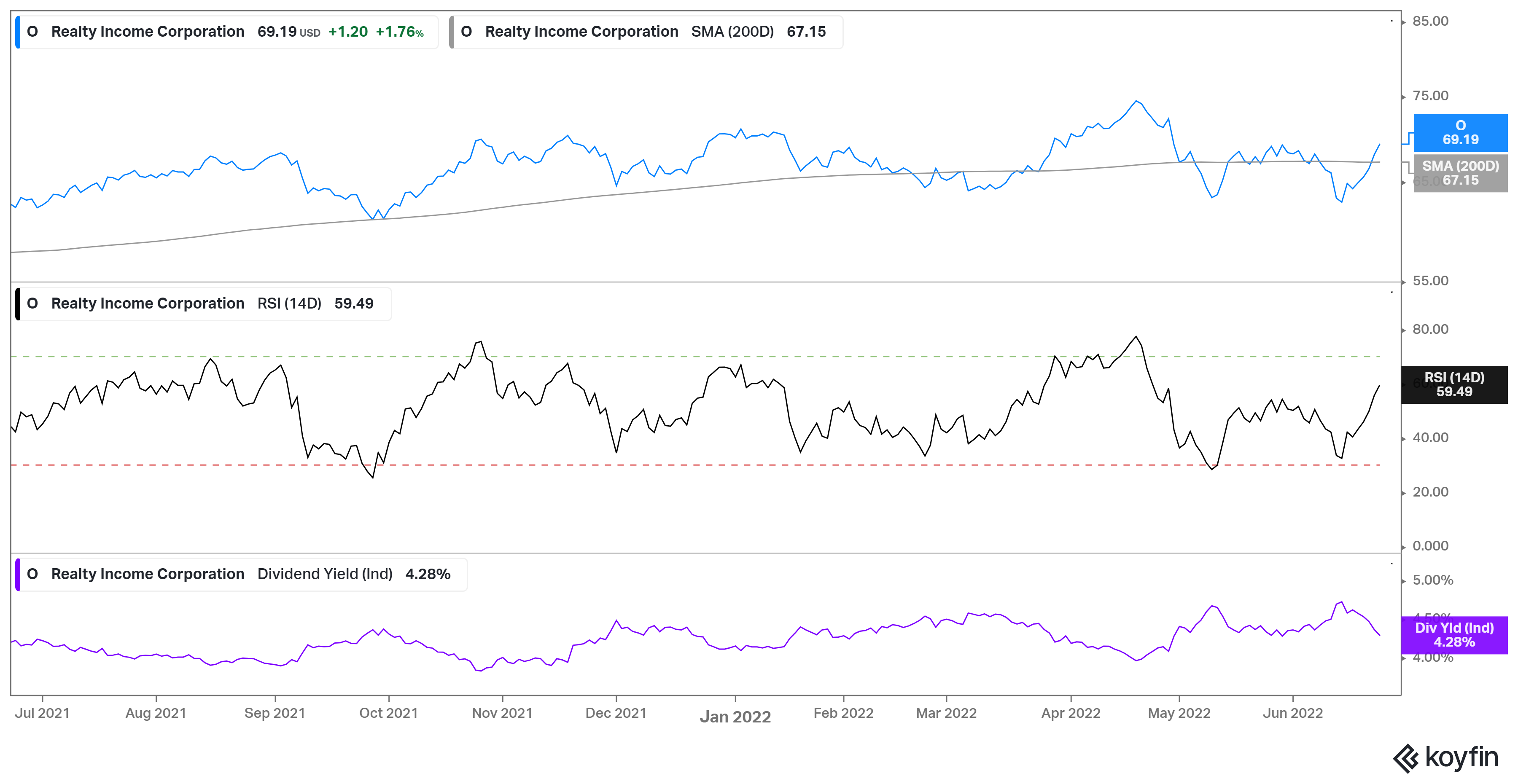 Click to EnlargeAs for the dividend, the consistency is incredible. Realty Income is one of the few companies that pays its distribution monthly and has done so for more than 50 years. Further, it has raised its dividend payment in 99 straight quarters, which is one quarter shy of 25 consecutive years. That's impressive stuff.
Texas Instruments (TXN)
In the world of semiconductors, Texas Instruments (NASDAQ:TXN) isn't the sexiest name around. However, it's hard to ignore two things: The 3% dividend yield and TXN stock's performance vs. the overall market and its peers.
Shares are down "just" 24% from their all-time high and suffered a peak-to-trough correction of "only" 26.2%. While those are actually pretty decent-sized declines, they are much better than the rest of the market. For instance, the Nasdaq index fell 34.8% from peak to trough, while others like Advanced Micro Devices (NASDAQ:AMD) and Nvidia (NASDAQ:NVDA) have fallen more than 50%.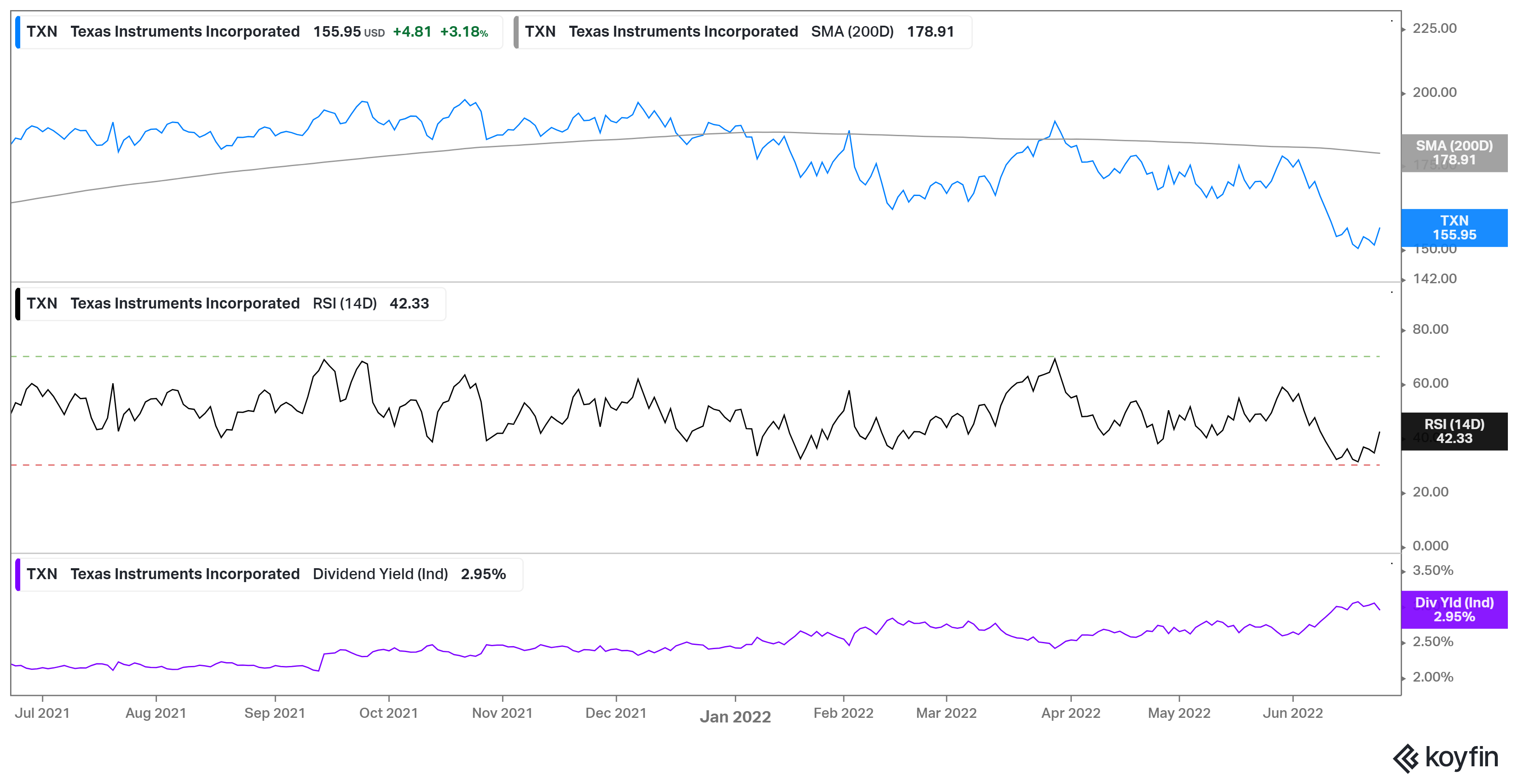 Click to Enlarge
Aside from its dividend and outperformance vs. its peers, Texas Instruments has growth. While not industry-leading growth, it's still earnings and revenue growth at a time where economic growth is hard to come by. All while trading at just under 17 times earnings.
On the date of publication, Bret Kenwell held a long position in NVDA and O. The opinions expressed in this article are those of the writer, subject to the InvestorPlace.com Publishing Guidelines.