Real estate investment trusts (REITs) have had a challenging go of it in the last few years. That meant smaller dividend increases. And it might not get better in the near term, which makes finding the best REITs to buy a more challenging task.
In June, Fitch Ratings reduced its U.S. REIT sector outlook to Deteriorating from Neutral, primarily due to the tightening of commercial lending standards brought on by the regional banking issues.
"Performance by property type will likely vary widely over the next two years. Sectors experiencing strong fundamentals, such as industrial and shopping centers, will likely see some cooling in demand, with tenants showing greater reluctance to lease space, including delaying decisions, resulting in less pricing power for landlords," Fitch stated.
However, some REITs are doing fine and continue to raise their dividend game to appeal to investors looking for reasonable income from their stocks.
To qualify, a REIT must have a market capitalization of at least $12 billion and have increased its dividend by 15% over the past year. In addition, I'll make sure to select REITs from three different property types.
Host Hotels & Resorts (HST)
Host Hotels & Resorts (NASDAQ:HST) is a hotel and resort REIT. It is the largest lodging REIT in the world. It owns a portfolio of 77 luxury and upscale hotels worldwide (72 in the U.S.) with 41,900 rooms.
Of the major brand-managed hotels, Marriott International (NASDAQ:MAR) accounts for 60% of the properties owned, with Hyatt (NYSE:H) representing 21% and Four Seasons at 5%.
In 2023, it expects its hotels to generate a $344 comparable hotel total revenue per available room (RevPAR), up 8.1% from 2022, with adjusted funds from operations (AFFO) of $1.86 a share.
Its most recent acquisition was the Four Seasons Resort and Residences in Jackson Hole, Wyoming, in November 2022. It paid $315 million for the 125-room luxury resort. The RevPAR at the resort is an eye-popping $855, making it one of the top three assets owned by the REIT.
In June, the REIT declared a quarterly cash dividend of 15 cents, 25% higher than the previous payment. The 60-cent annual rate yields 3.7%.
Host continues to push toward annual earnings before interest, taxes, depreciation and amortization (EBITDA) of $2 billion, up from the $1.6 billion expected to earn in 2023.
Rexford Industrial Realty (REXR)
Rexford Industrial Realty (NYSE:REXR) is an industrial REIT. As is typical with this type of REIT, Rexford owns and redevelops industrial properties in Southern California. Its current portfolio comprises 358 properties with 43.6 million in rentable square feet.
As e-commerce has slowed post-pandemic, industrial REITs have become less attractive to investors. However, that shouldn't stop you from investing.
On July 24th, 2023, the REIT announced that it had acquired an industrial property in the Los Angeles area for $210 million. The building acquired has nearly 600,000 square feet, sits on 22.4 acres, and is leased by two tenants. The building currently earns a levered cash yield of 5%, increasing to 6.2%, through annual rent escalations and higher rents from new tenants.
In the second quarter, it generated core funds from operations (core FFO) of $108.4 million, nearly 33% higher than a year earlier. Meanwhile, its same property portfolio net operating income (NOI) increased by 8%. Its average occupancy rate is 98.0%. Regarding the balance sheet, its net debt is just 16% of its $10.9 billion enterprise value.
In February, Rexford announced it had raised its quarterly dividend by 21%, to $0.38, from $0.315 in its January payment. The $1.52 annual rate yields 2.9%.
Down 23% over the past year, now is a good time to consider taking a position.
Invitation Homes (INVH)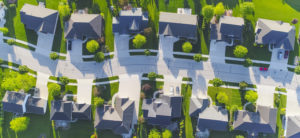 Invitation Homes (NYSE:INVH) is a leading owner of single-family rental properties in the U.S. It owns 82,837 homes, 92.5% of which it's owned for the past 13 months. In July, the company acquired a portfolio of nearly 1,900 homes for $650 million. It paid for the homes primarily with cash and a small amount from its credit facility.
In the second quarter, it acquired 276 homes for $88 million and sold 378 homes for $141 million. Its same-store NOI in Q2 2023 was $355.4 million, 3.6% higher than a year earlier and 1.3% higher than in Q1 2023.
In July, I suggested that INVH was a stock to own for the next 50 years. I argued that because five large institutional investors owned 51% of its stock, the stability provided by these investors and their faith in the business was invaluable.
Three things stand out about Invitation Homes' business.
First, more than 95% of its portfolio is located in growth areas, such as Florida and the Western U.S. Secondly, it averages approximately 5,200 homes for each of the 16 markets it's in, providing plenty of scale. Lastly, it has boots on the ground, with over 1,000 operations personnel in each market, making it a top-notch landlord for renters interested in living in single-family dwellings.
In February, Invitation raised its quarterly dividend to 26 cents from its previous payout of 22 cents, an 18.2% increase. The $1.04 annual rate yields 3.0%.
On the date of publication, Will Ashworth did not hold (either directly or indirectly) any positions in the securities mentioned in this article. The opinions expressed in this article are those of the writer, subject to the InvestorPlace.com Publishing Guidelines.