Do you still use cash?
It's a dying payment method. But not a dead one. Today, cash – once the dominant form of payment in America – accounts for about 12% of U.S. personal consumption expenditures.
That number will fall to zero over time.
Why?
Because cash has zero advantages over modern alternative payment methods, like payment cards and digital wallets.
Cash is irreplaceable. If you lose your credit card, you can cancel it and order a new one. If you lose $20, it's gone forever.
Cash is clunky. Bills are made of paper and take up physical space. The more you have, the more space they take up. Conversely, cards and digital wallets are space-efficient.
Cash is slow. You have to take the cash out of your wallet and hand it to the cashier, who then has to open up the register, count the change, and return some cash back to you. Cards and digital wallets, though, are one-tap solutions.
And, perhaps most importantly, cash is physical. You can't use cash to buy something on Amazon.com. You have to use a payment card or a digital wallet.
Big picture: Cash has enormous shortcomings. These shortcomings are killing paper money. Eventually (and inevitably), cash will be a relic of the past.
Of course, the investment implications of this multi-trillion-dollar cashless revolution are paradigm-shifting.
The obvious actions here are to buy stock in payment card providers like Visa (NYSE:V) and Mastercard (NYSE:MA), as well as digital wallet providers like PayPal (NASDAQ:PYPL). Wall Street analysts call this trio "MVP" – for Mastercard, Visa, and PayPal.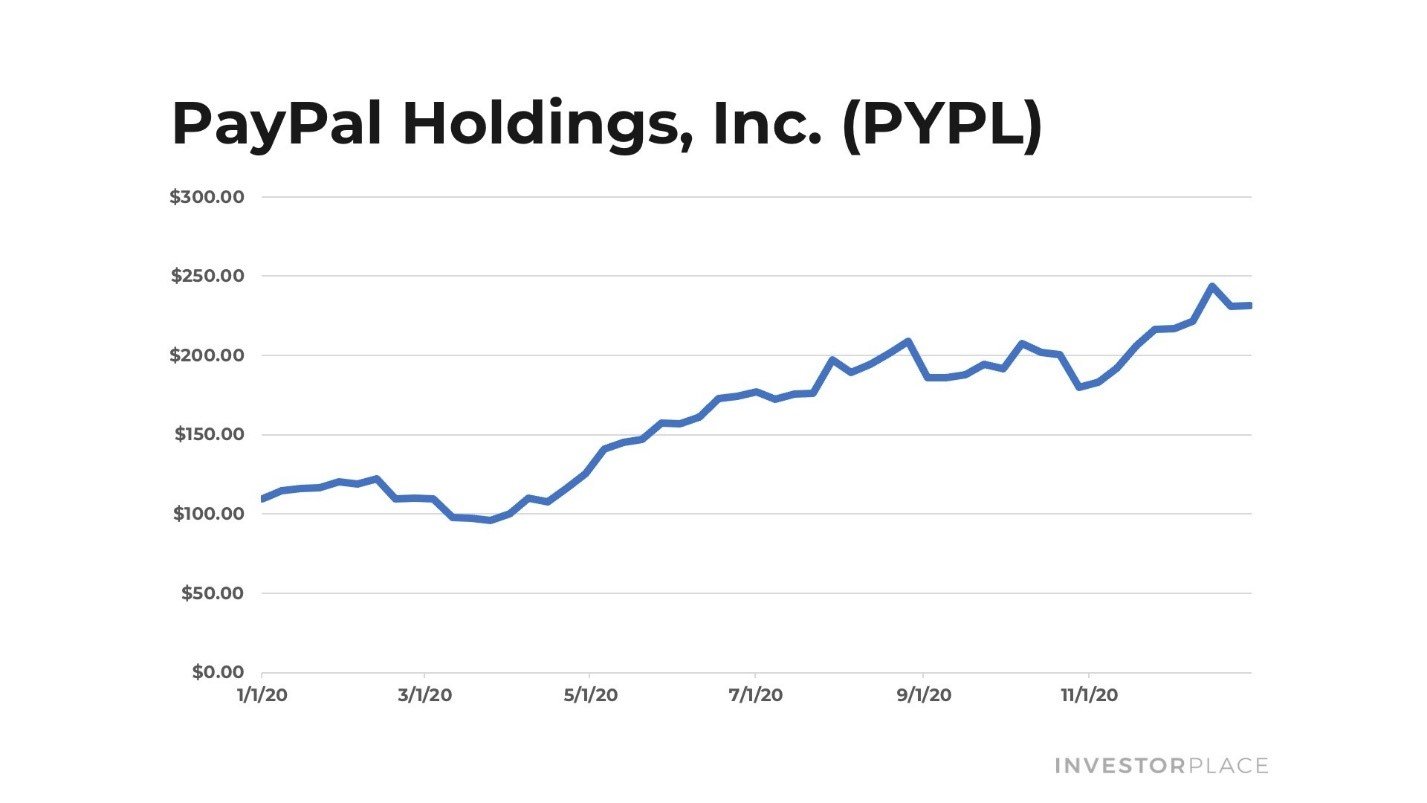 I like the MVP trade. Mastercard, Visa and PayPal are all solid stocks, and secular cashless tailwinds will propel steady gains in each of those three names.
But they aren't where the big money will be made in the cashless revolution…
That's because the cashless revolution will not be equal.
It will have some slow-growth segments, and some hypergrowth segments.
MVP has broad exposure to the entire cashless revolution… but other companies have focused exposure to the hypergrowth niches of this megatrend.
Which companies am I talking about?
Shopify (NYSE:SHOP) and Square (NYSE:SQ) are at the top of my list. That's because while big businesses have already broadly adopted e-commerce and digital point-of-sale payment processors, a lot of small businesses have not.
But Covid-19 provided an impetus for those small businesses to change. And change they have. Demand for Shopify's e-commerce tools and Square's alternative payment processing services have surged over the past few quarters. Both companies reported revenue growth in excess of 95% last quarter.
This momentum will persist for the foreseeable future, because small businesses will continue to lean more and more heavily into digital payments and online sales. Shopify and Square are the two best ways to play this "small business digitization" niche of the cashless revolution.
I also like Shift4 Payments (NYSE:FOUR). The company is basically Square… but with a QR code twist.
In essence, the company is pioneering a breakthrough technology that enables consumers to pay their bill at restaurants and retail shops simply by scanning a QR code with their phones. No waiters. No sales associates. Just a phone and a payment method.
This is another hypergrowth segment of the cashless revolution, as contactless payments are becoming popular amid the pandemic. Shift4 stock is the best way to play this contactless payment megatrend.
Repay Holdings (NASDAQ:RPAY) is another interesting name. Payment cards are already the dominant payment method among consumers, at ~70% penetration. But in business-to-business (B2B) payments, payment cards account for just 8% of transactions.
This discrepancy exists for no good reason outside of the lack of efficient, omnichannel payment processing services for B2B payments. Until now. Repay is that company. It's basically Square for B2B payments – and to that end, Repay stock is a great way to play the cashless revolution in the B2B world.
Another industry that is a late adopter of non-cash payments? Casinos.
Before Covid-19, casinos were still cash-heavy operations. Gamblers brought in stacks of cash. They swapped that cash for chips. Played poker games with those chips. Then, at the end of the night, swapped those chips back out for cash.
This is now all changing because of the pandemic – and over the next decade, casinos will rapidly adopt cashless payment methods.
The stock to buy to play this hypergrowth sub-segment of the cashless revolution? Everi Holdings (NYSE:EVRI), a slot machine maker whose brand-new product – CashClub Wallet – is a breakthrough, all-in-one digital wallet solution for casinos with enormous upside potential.
Online sports betting is a rapidly emerging industry with a ton of potential – but you cannot use cash to place online sports bets. So, digital wallets are also becoming a big thing in iGaming, and the company creating online sports betting digital wallets is Paysafe (NYSE:BFT).
So… in a nutshell… the cashless revolution is here, and it won't stop until cash is history.
Want to play this trend through a blue-chip, low-risk approach? Chase the MVP trade.
Looking for more firepower? But still want to balance risk? Consider Shopify and Square.
Looking for a potential 10X winner in the hypergrowth niches of the cashless revolution? That's where Shift4, Repay, Everi, and Paysafe come in.
Thus, no matter what your investment style or risk tolerance, the cashless revolution is a hypergrowth megatrend we all can invest in.
On the date of publication, Luke Lango did not have (either directly or indirectly) any positions in the securities mentioned in this article.
The New Daily 10X Stock Report: Dozens of triple-digit winners, peak gains as high as 926%… 1,326%… and 1,392%. InvestorPlace's bold new initiative delivers one breakthrough stock recommendation every trading day, targeting gains of 5X… 10X… even 15X and beyond. Now, for a limited time, you can get in for just $19. Click here to find out how.
In addition, you can sign up for Luke's free Hypergrowth Investing newsletter. Click here to sign up now.