The holidays may be a few months away, but one glance at the headlines shows that Christmas has come early for gadget lovers. Amid much fanfare, Apple Inc. (NASDAQ:AAPL) unveiled a number of new products that will hit shelves over the next few months. Let's take a look at the highlights and determine whether or not AAPL stock is a buy right now.
As usual, the biggest announcement involved the new iPhone 13. The tech giant announced the new iPhone 13 and iPhone 13 Pro will have low light capabilities, for capturing better photos in dark settings, as well as astrophotography capabilities.
The new iPhones will feature Apple's ProMotion technology, which aids in refresh rates. This technology makes gameplay and scrolling quick while the refresh rate slows down when not needed, improving battery life.
In terms of design, there isn't much news. Apple did shrink the size of the notch at the top of the phone's display for more screen space as well as rearrange the orientation of the rear cameras.
The company also unveiled its new Apple Watch Series 7 with a 20% larger display. However, folks have to wait until later this fall for the new iWatch, but can put in reservations. Apple also announced new and improved iPads and iPad minis. The tablets will have similar upgrades as the iPhone, with better screens, processing chips and rear and front cameras.
These new phones with better cameras, bigger batteries and new OLED screens will be snapped up, but the change is not enough too many investors excited. The stock has been sleepy all year and its price-to-earnings ratio is very low compared to the rest of the FAANG — Facebook (NASDAQ:FB), Amazon (NASDAQ:AMZN), Netflix (NASDAQ:NFLX) and Google (NASDAQ:GOOG, NASDAQ:GOOGL) — stocks.
Apparently, Apple briefly mentioned "the car," so that will be a big deal when it is announced. Beginning as early as 2017, the Apple autonomous electric car project has been nicknamed "Project Titan." The project is rumored to have as many as 1,000 car experts rumored to be actively working on developing the vehicle for Apple.
The bottom line is that Apple is just resting and boosting its service revenue until it can make the next exciting thing, which will be "the car" and/or the "folding 5G phones."
So, Is AAPL a Buy?
You may know that last Friday was a rough day for Apple because it had a bad court decision on its app software. Even though the judge did not find Apple had a monopoly on the software, the stock declined 3% on the news. While many see the tech giant as a sort of bellwether, the reality is Apple is just a weak performer right now.
According to my Portfolio Grader, while it earns a B-rating for its Fundamental Grade, earnings momentum has a D-rating and cash flow has a C-rating. Its Quantitative Grade, which measures institutional buying pressure, holds a C-rating. AAPL's Total Grade is a C-rating, making it a "Hold" right now.
I do not view the stock as a good buy right now, as there are plenty of more fundamentally superior stocks that will remain an oasis for investors.
Take one of my Growth Investor stocks, for example. EPAM Systems, Inc. (NYSE:EPAM) is a software engineering services company introduced in 1993. Today, EPAM Systems operates in more than 35 countries, with more than 43,450 EPAMers and more than 275 Forbes Global 2000 customers. The company also has strategic partnerships with big-name corporations like Adobe, AWS, Google, Microsoft, Salesforce and SAP.
So, what services does EPAM Systems offer to attract such noteworthy partners? Simply put, EPAM Systems helps businesses adapt, grow more agile and faster, and stay competitive amidst a constantly evolving digital world. The company offers consultants and data expertise, designers to customize and develop digital experiences, engineers to construct software platforms, next-generation software solutions and process optimization solutions.
EPAM Systems collaborates with clients in a variety of industries, including automotive, retail, business information services, financial services, life sciences, travel and hospitality, software and insurance. The company has also partnered with healthcare clients, which includes Curogram. EPAM Systems is working with Curogram to help healthcare systems implement a simplified COVID-19 crisis response solution.
EPAM also shows strong earnings growth. During the second quarter, reported on August 5, revenue increased 39.4% year-over-year to $881.4 million, while earnings rose 43.5% year-over-year to $155.2 million, or $2.05 per share. The consensus estimate called for earnings of $1.93 per share on $860.36 million in revenue, so EPAM topped earnings estimates by 6.2% and revenue forecasts by 2.4%.
For fiscal year 2021, EPAM now expects revenue to grow about 37%, while earnings per share are forecast to be between $8.25 and $8.44. That compares to earnings of $6.34 per share in fiscal year 2020, and this forecast is also nicely higher than current estimates for $7.74 per share.
Investors cheered the news, boosting the stock up 4% in the wake of its strong earnings results.
Now as you can see in the chart below, EPAM has significantly outperformed AAPL this year.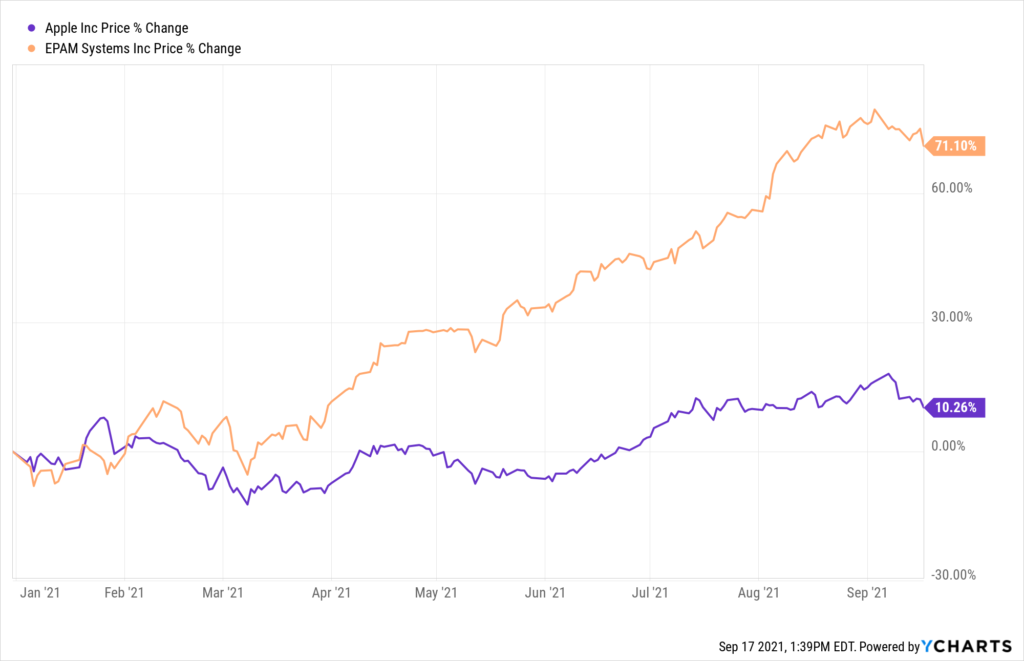 While EPAM isn't as well-known or as "exciting" as AAPL, it offers a great deal more growth potential right now.
Of course, EPAM isn't the only high-quality growth stock I recommend right now. My Growth Investor Buy List is chock-full of fundamentally superior stocks that are poised to do well in the coming weeks and months. This includes two stocks that have the potential to be some of the biggest winners of the shift to electric vehicles (EVs).
If you'd like to learn more, click here now.
Sincerely,
Louis Navellier
P.S. There is a great divide opening up in America — and investing in my Growth Investor stocks will help get you on the right side of it. On one side is a new aristocracy that's amassing more wealth more quickly than any other group in American history. For people like me, the one percent, life has never been better, more prosperous.
On the other side, the opposite is happening. Wealth is flowing out of the pockets of ordinary Americans at an unprecedented rate.
What's happening is only going to gather in strength over the coming decades. It certainly won't weaken.
Few Americans even know that any of this is going on. I've never seen anyone from my side of the chasm step forward to explain any of these things.
It's why I put together this video. In it, I'll lay out exactly what is happening, including several key steps every American should take right now.
It doesn't matter if you have $500 in savings or $5 million. You can benefit from the information in this video.
It's free to watch, and by doing so, I know you'll be ahead of everyone else struggling to understand what is really going on.
Note: The Editor hereby discloses that as of the date of this email, the Editor, directly or indirectly, owns the following securities that are the subject of the commentary, analysis, opinions, advice, or recommendations in, or which are otherwise mentioned in, the essay set forth below:
EPAM Systems, Inc. (EPAM)
Louis Navellier, who has been called "one of the most important money managers of our time," has broken the silence in this shocking "tell all" video… exposing one of the most shocking events in our country's history… and the one move every American needs to make today.